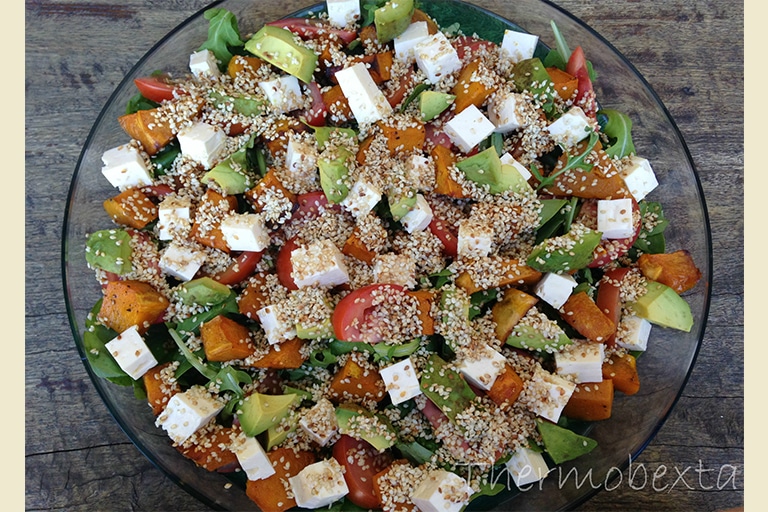 No Thermomix necessary for this one! Even though it is used to make the dressing, those without can make it by simply crushing the garlic and shaking all ingredients vigorously in a jar.
Salad
400g pumpkin, peeled, deseeded and diced into 1.5-2cm cubes (peeled weight)
1-2 tbs macadamia oil (or oil of your choice)
salt and pepper
140g baby spinach
40g rocket
150g feta cheese, diced into 1cm cubes
1 avocado, peeled and diced
2 tomatoes, halved and sliced into wedges
50g sesame seeds
Dressing
1 clove garlic
40g apple cider vinegar
30g tamari
30g sesame oil
30g raw honey
1. Preheat oven to 200°C (fan forced).
2. Place pumpkin on a lined tray and drizzle with oil, sprinkle with salt and pepper. Bake for 20 minutes. Remove and set aside to cool.
3. Place sesame seeds in a small frying pan and toast until golden.
4. To make the dressing, place all dressing ingredients in mixer bowl. Blitz for 20 seconds/speed 8/MC on.
5. Into a large serving bowl, place the salad leaves then tomatoes, feta, avocado, cooled pumpkin and sesame seeds. Drizzle with dressing.
You might also be interested in these recipes...