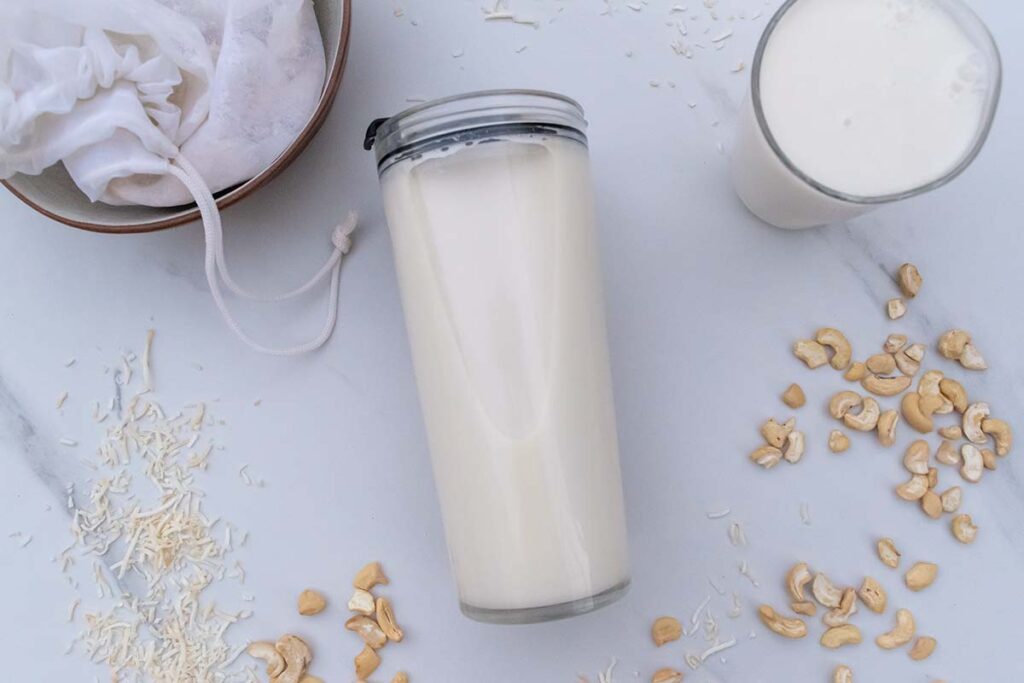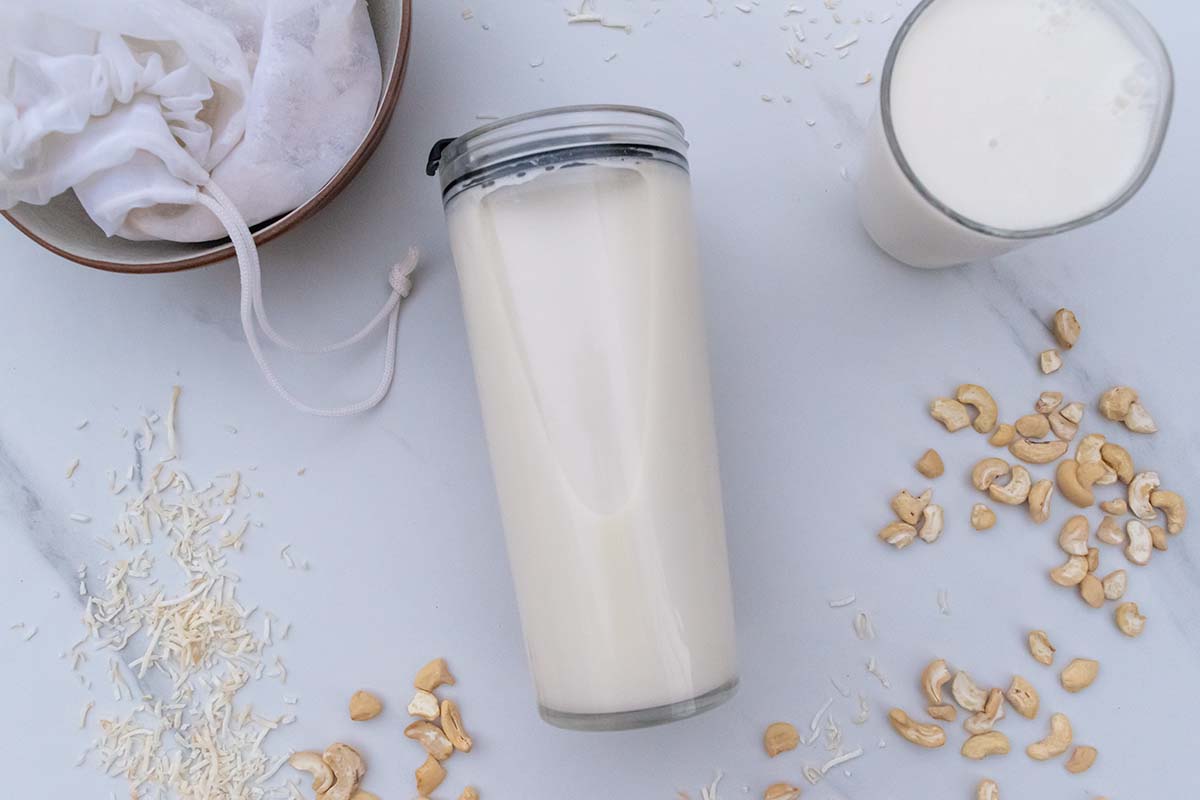 Making nut milks like this cashew coconut milk in the Thermomix is so quick and easy. The balance of ingredients in this recipe produces a creamy plant based milk that you can use anywhere you'd use 'regular' milk. Whether that be in your coffee or tea, baking, creamy sauces, or just drink on its own, it works well!
A couple of years ago, I decided I wanted to switch from cows milk to a plant-based milk. I knew that the Thermomix would make nut milk with ease!
After much experimenting with various types of nuts and different ratios of nuts to water, I came to a ratio that is perfect for my family.
The Ultimate Thermomix Nut Milk Ingredient Weight Ratio
Using 1.2L of water and 140g of nuts and/or coconut gives creamy milk perfect to use in any way you'd normally use regular milk.
Many recipes for Nut Milks use a much higher weight of nuts to water, which yields milk too rich for our tastes and also works out very costly.
The combination of cashews and coconut in this Thermomix plant based milk recipe produces milk that is perfect for adding to hot drinks. It doesn't split like most plant based milks do when used in this way!
Tips and Tricks for making Thermomix Nut Milk
What can I use Cashew Coconut Milk for?
This Thermomix plant based milk can be used for anything you'd normally use regular milk for.
I don't really like the taste of coconut, can I leave it out?
Yes, you can leave the coconut out but be sure to replace with the same weight of cashews (or other nuts).
I want milk now and don't have time to soak the nuts, what can I do?
It's not essential to soak the nuts. Doing so removes the phytic acid and this aids digestion. If you have the time, give them a soak but if you don't, it's ok to skip.
Can I use this recipe to make almond milk?
Yes, you can use this recipe to make any type of nut milk. Simply replace the cashews and coconut with 140g nuts of your choice, ie. almonds, to make Thermomix almond milk. For some nuts, a longer soaking time is more beneficial. For example, it's best to soak almonds overnight before turning them into milk.
I only have roasted cashews, can I use them in this recipe?
I wouldn't recommend using roasted nuts of any kind in any nut milk. Raw nuts are best.
Can I sweeten Cashew Coconut Milk?
For sure! You can add things like:
A couple of medjool dates
Half a vanilla bean
A spoonful of vanilla powder
A teaspoon or so of cinnamon
A splash of honey
Some maple syrup
These things will both sweeten and add a hint of different flavour.
How do I store Cashew Coconut Milk and how long can I keep it for?
The best way to store any home made milk is in a glass bottle or jar. It will keep for 4-5 days in the fridge.
Can I halve this recipe?
Yes, this recipe is fine to halve. To do so, halve all ingredients and follow the method as it is written.
The How-To
All you need is three ingredients:
80g raw cashews
60g coconut flakes, or shredded
1.2 L water (plus more for soaking)
After soaking the nuts in water for a couple of hours, strain them. All that's needed then is to add the nuts and fresh water to you thermal cooker and blitz! Strain the solids with a nut milk bag. Voila!
Don't throw away the pulp, instead you can use it my Nut Milk Pulp Banana Bread!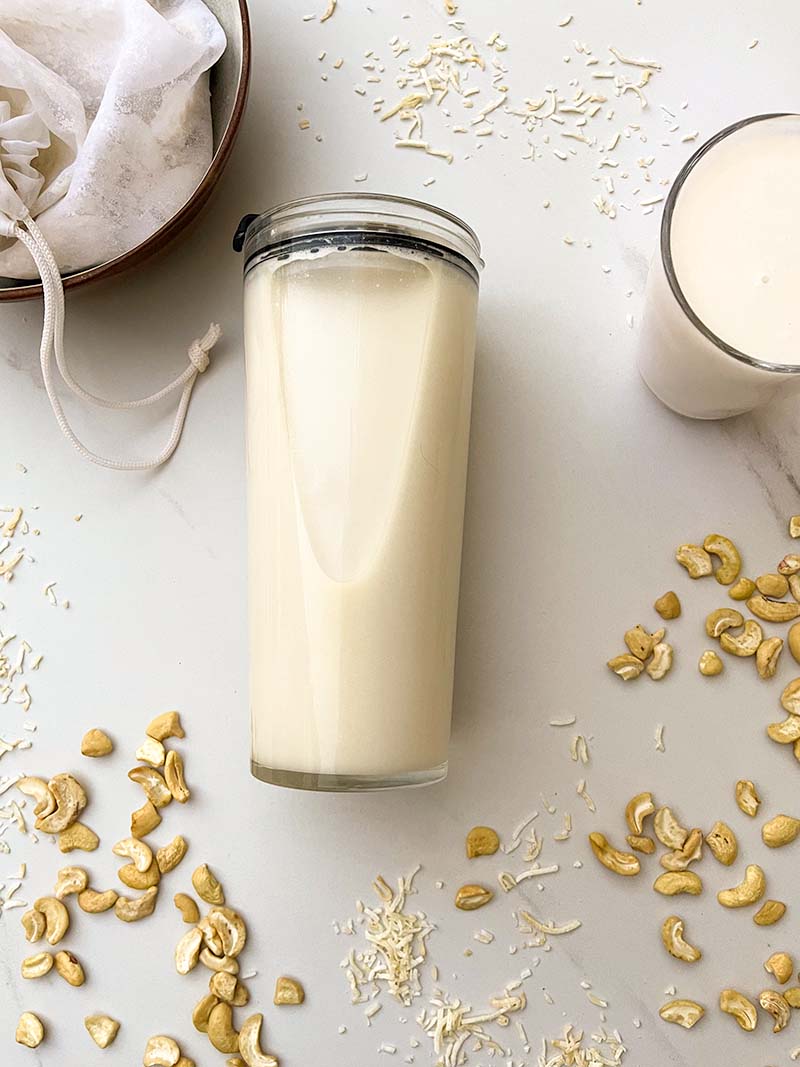 Cashew Coconut Milk
This simple recipe makes the best plant based milk if you're looking for something versatile, that won't split in your coffee or tea.
Ingredients
80

g

cashews

raw

60

g

coconut

flakes or shredded (replace with 60g more cashews if preferred)

1.2

L

water

+ more for soaking
Instructions
Place cashews and coconut in a bowl and cover generously with water. Leave to soak for 2-3 hours, then drain (this step is optional, I skip it if I am rushed).

Place nuts, coconut and 1.2L water in mixer bowl. Blend 2 minutes/speed 9/MC on.

Line a large bowl with a nut milk bag. Pour milk into the bag and squeeze to remove as much liquid as possible, being sure to catch it in the bowl.

Store milk in a glass bottle or jar in the fridge for 4-5 days.
Notes
Milk can be sweetened or flavoured by adding other ingredients, such as: a couple of medjool dates, half a vanilla bean or a teaspoonful of vanilla powder or cinnamon, a splash of honey or maple syrup.
140g nuts + 1.2L is the perfect ratio to use when making any type of nut milk, so experiment by replacing the cashews and coconut with almonds, brazil nuts, cashews, hazelnuts or straight cashews or coconut.
After trying a few brands of nut milk bags, I discovered the best there is – Living Synergy brand. A little more expensive than some but overall much better value. You can find them at health food stores or online.
Please note, nutrition information is calculated via an online recipe nutrition calculator and is a guide only. It is provided as a courtesy and is not guaranteed 100% accurate. I am not a nutritionist or trained health professional.
Tried this recipe?
Please rate it and leave feedback in the comments section below, or mention @Thermobexta or tag #Thermobexta on Instagram.
You might also be interested in these recipes...