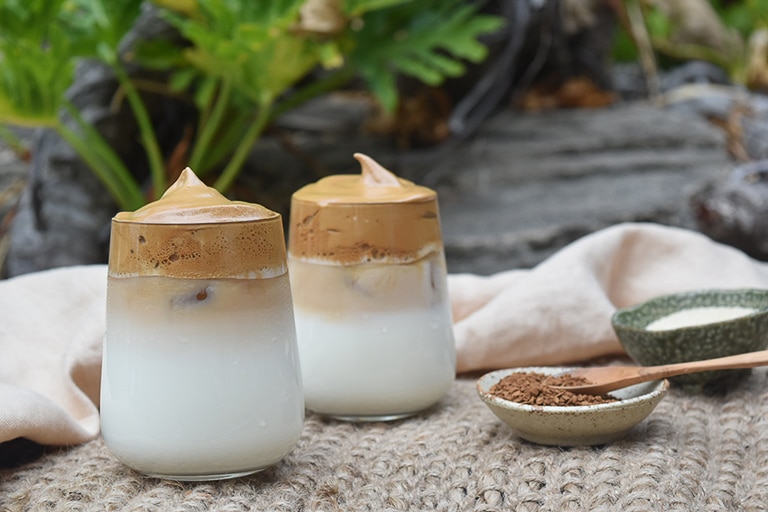 This viral sensation is taking the internet by storm at the moment and my Thermomix Dalgona Coffee recipe makes light work of it by putting our mixers to (very) good use!
I first tried it one night a couple of weeks ago and was hooked. Since then, it's been making a regular appearance here, much to the delight of my now-working-from-home partner, who gets deliveries to his desk!
I feel it's only fair to share my Thermomix Dalgona method with you, so you too can be hooked from your first cup!
Are you missing your morning latte? Never fear, Thermomix Dalgona Coffee is here!
This is the perfect way to get your morning (or afternoon, or evening) cafe-style coffee in while practising social distancing and only going out if absolutely necessary during the COVID-19 global pandemic.
Not only can you make this into a warm coffee, but also a Thermomix iced coffee!
I promise, these are even better than cafe bought coffees and cost a fraction of the price!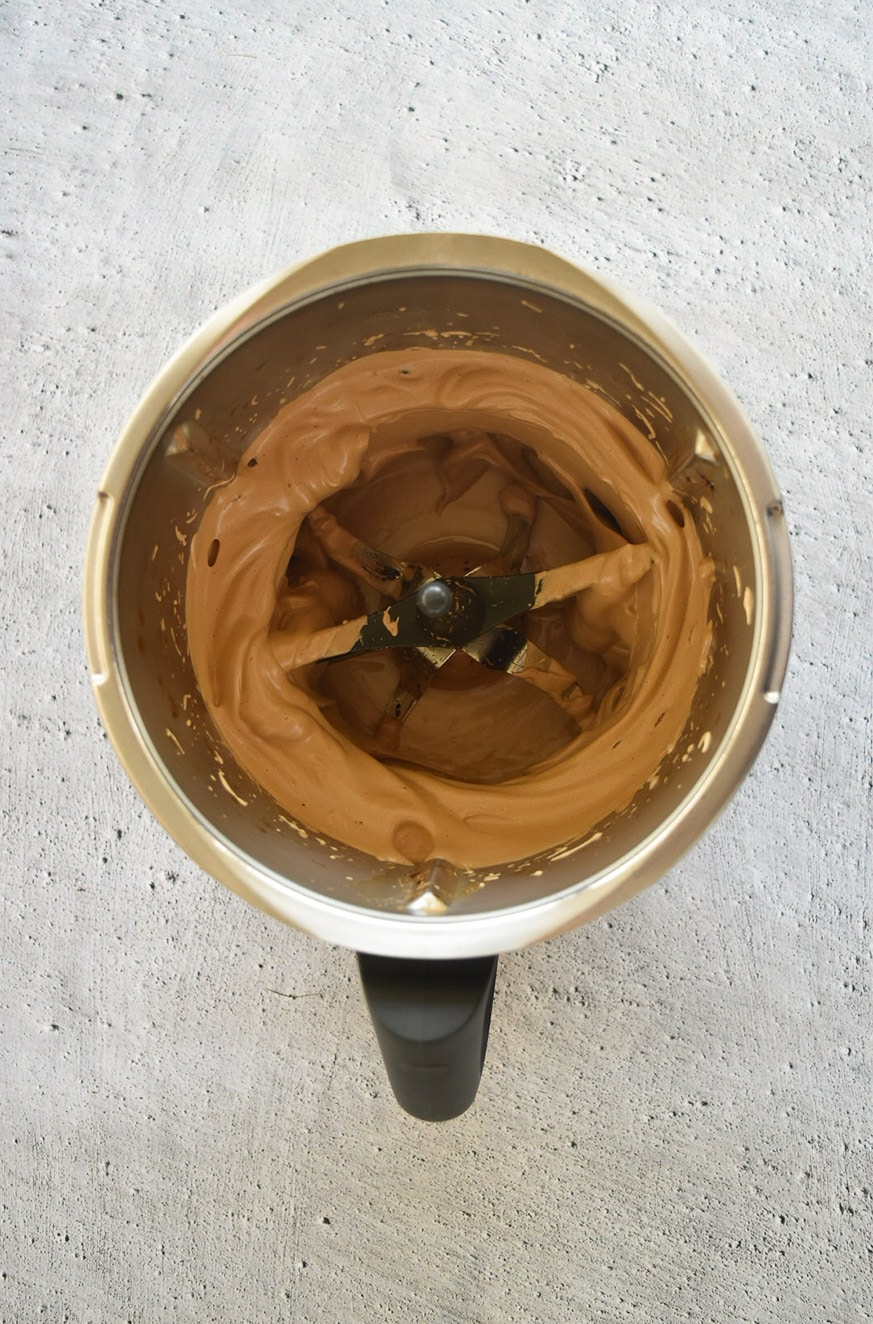 What is a Dalgona Coffee?
In a nutshell, Dalgona coffee is made by whipping equal proportions of coffee, sugar and water together until light and fluffy then using to top milk.
Many people make it by beating the ingredients with a hand whisk. I don't have the time (or the arm strength) for that. Luckily, thermal cookers make light work of beating!
Dalgona is very cheap to make, having just three basic ingredients (plus milk). It works on a 1:1:1 ratio, so feel free to double or triple the ingredients, but be sure you stick with the same ratio of instant coffee:sugar:water.
I have done a lot of experimenting, trying with different water temperatures, different brands of coffee and different quantities of ingredients. Below, I will answer what I hope will be any questions you may have.
Tips and Tricks
Can I use espresso coffee?
No, freeze dried instant coffee is what is needed for this to work.
Can I leave out the sugar?
Technically, the sugar can't be left out. The magic happens with the combination of all three ingredients. However, see below for a low carb alternative.
Can I reduce the sugar?
I recommend sticking to the ratio using equal parts. When we tried halving the sugar, it did thicken a bit, but was nowhere near as good as the real deal.
Can I use a sugar alternative to sweeten?
Yes. The very talented Megan from Mad Creations has tried a range of sweeteners, with success.
Can I make this vegan?
Yes, you can use a plant based milk of your choice.
Can't I just heat the water in the Thermomix?
Boiling the kettle gave us the most consistent results.
Can I halve the recipe?
We had mixed results when testing with half the ingredients. This brand of coffee worked perfectly for me several times at half the quantities, but we were less successful with other brands.
Is there a specific brand of instant coffee you recommend?
Not really! We tested several and using the quantities in the recipe, had success all round.
Can I make decaf Dalgona?
Yes. We tested this brand of decaf coffee (widely available from supermarkets or online) and it worked perfectly. I think that provided you use a freeze dried instant decaf coffee, it should work.
Can left over Dalgona be saved for later?
Yes. Leftover topping can be refrigerated in an airtight container overnight.
So how do we make this Thermomix Dalgona magic?
All you need are four ingredients:
freeze dried instant coffee granules
raw sugar
boiling water
warm or cold milk (plus ice cubes if serving cold)
It's a throw in and whizz up recipe! The full method is below.
Whip It Good!
Check out the difference between 1 minute, 2 minutes, 3 minutes and 4 minutes of whipping!
By three minutes, it will be the same consistency as stiff beaten egg whites.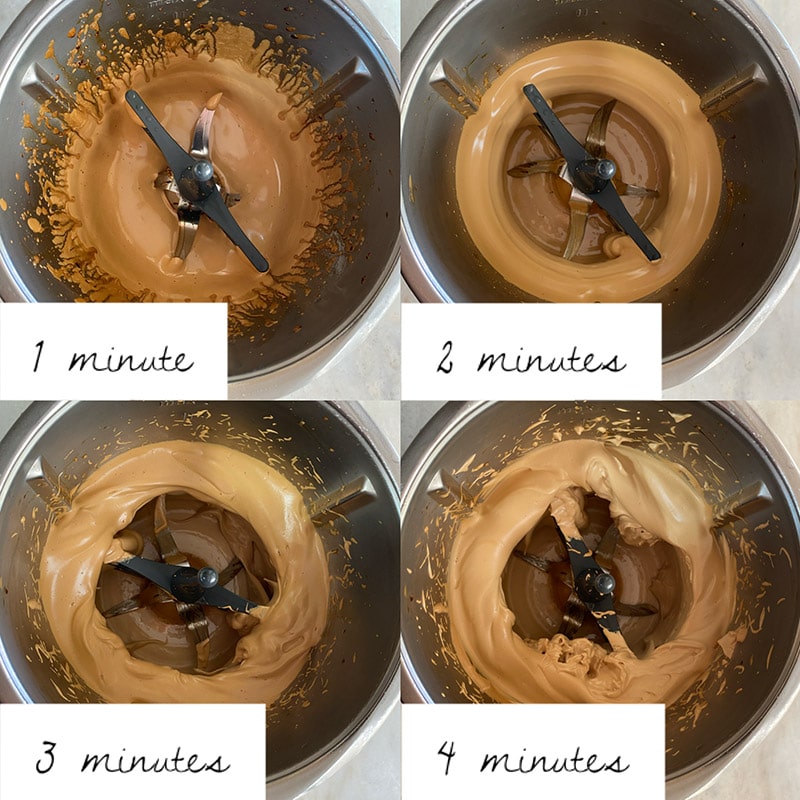 Enjoy your coffee!
Let Me Know What You Think!
If you like this recipe, I'd love it if you could please leave me a comment underneath!
For cooking inspiration, come over and join my Facebook group and don't forget to check out my cookbooks for hundreds more amazing recipes!
Thermomix Dalgona Coffee
This creamy Thermomix Dalgona whipped coffee is the perfect topping for warm or cold milk, making a cafe-style coffee at home in mere minutes!
Ingredients
Dalgona Whipped Coffee
2

tbsp

freeze dried instant coffee

2

tbsp

raw sugar

2

tbsp

boiling water
To Serve
400-500

ml

milk of choice

warm or cold (200-250ml per serve)

ice cubes

if serving cold
Instructions
Set butterfly in place on blades. Add coffee, sugar and water to mixer bowl. Turning the speed dial up slowly, blend 1 minute/speed 4/MC off.

Scrape down sides and bottom of bowl, mixing in any undissolved granules. Whip a further 2-3 minutes/speed 4/MC off, until thick and creamy.

Meanwhile, pour milk into glasses, about 3/4 full, along with ice if serving cold.

When dalgona topping is ready, spoon on top of milk.

Serve with a spoon and give a stir before sips.
Notes
1. The above makes two strong coffees. If preferred, you can use less Dalgona whipped coffee topping and get up to four serves out of one batch.
2. VEGAN: For a vegan Dalgona coffee, try using my Cashew Coconut Milk.
3. Nutritional values based on 2 serves, using 200ml milk per serve.
Nutrition
Serving:
1
serve
|
Calories:
188
kcal
|
Carbohydrates:
25
g
|
Protein:
7
g
|
Fat:
7
g
|
Saturated Fat:
4
g
|
Cholesterol:
20
mg
|
Sodium:
89
mg
|
Potassium:
441
mg
|
Sugar:
22
g
|
Vitamin A:
324
IU
|
Calcium:
233
mg
|
Iron:
1
mg
Please note, nutrition information is calculated via an online recipe nutrition calculator and is a guide only. It is provided as a courtesy and is not guaranteed 100% accurate. I am not a nutritionist or trained health professional.
Tried this recipe?
Please rate it and leave feedback in the comments section below, or mention @Thermobexta or tag #Thermobexta on Instagram.
You might also be interested in these recipes...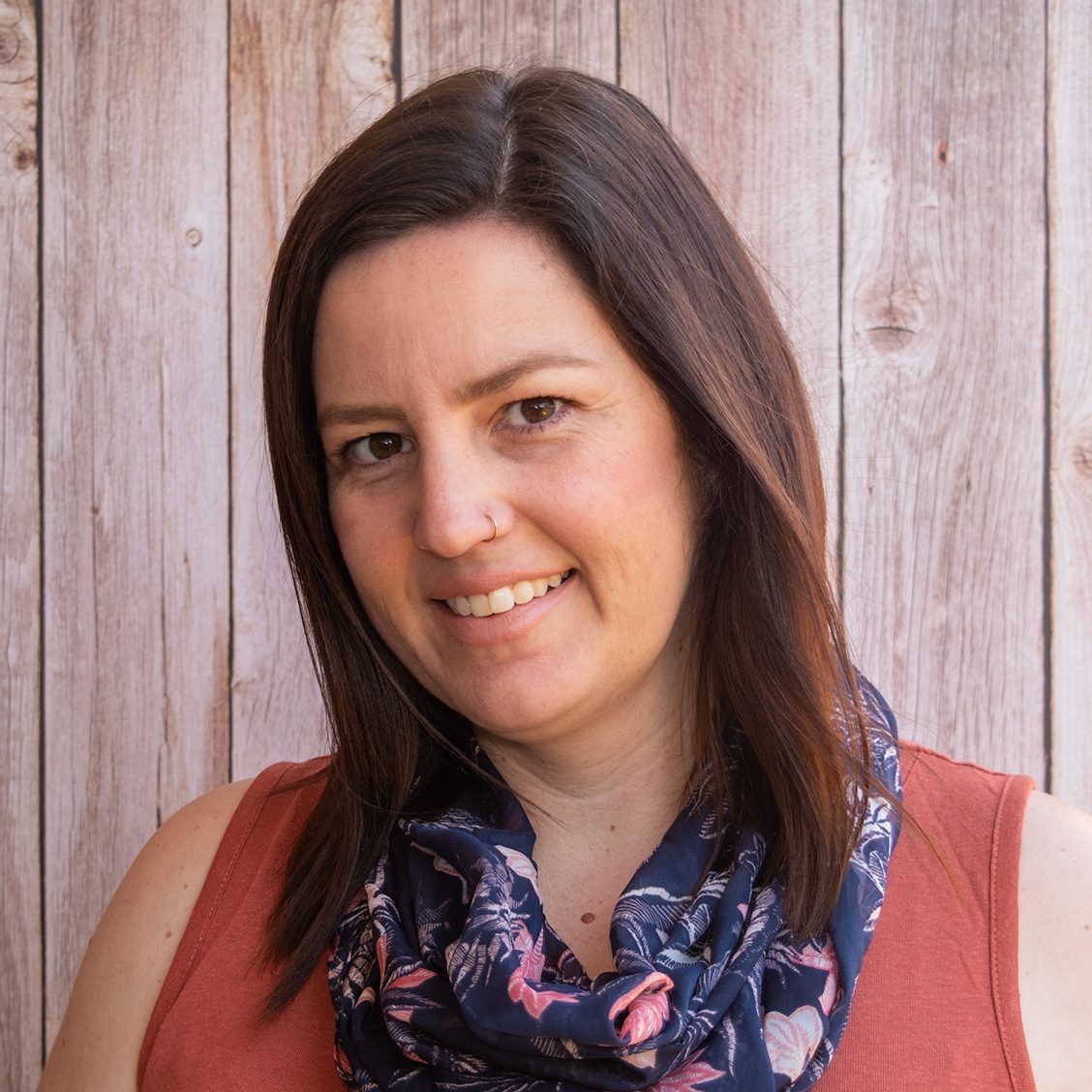 Hi, I'm Bec
I specialise in great tasting vegetarian Thermomix recipes and cater for a wide range of dietary needs. I love sharing here and in my cookbooks my healthy, delicious recipes (of course the odd treat too!) Whether you're looking to ignite your thermo mojo, or just after some new, really tasty family friendly recipes, there really is something here for everyone