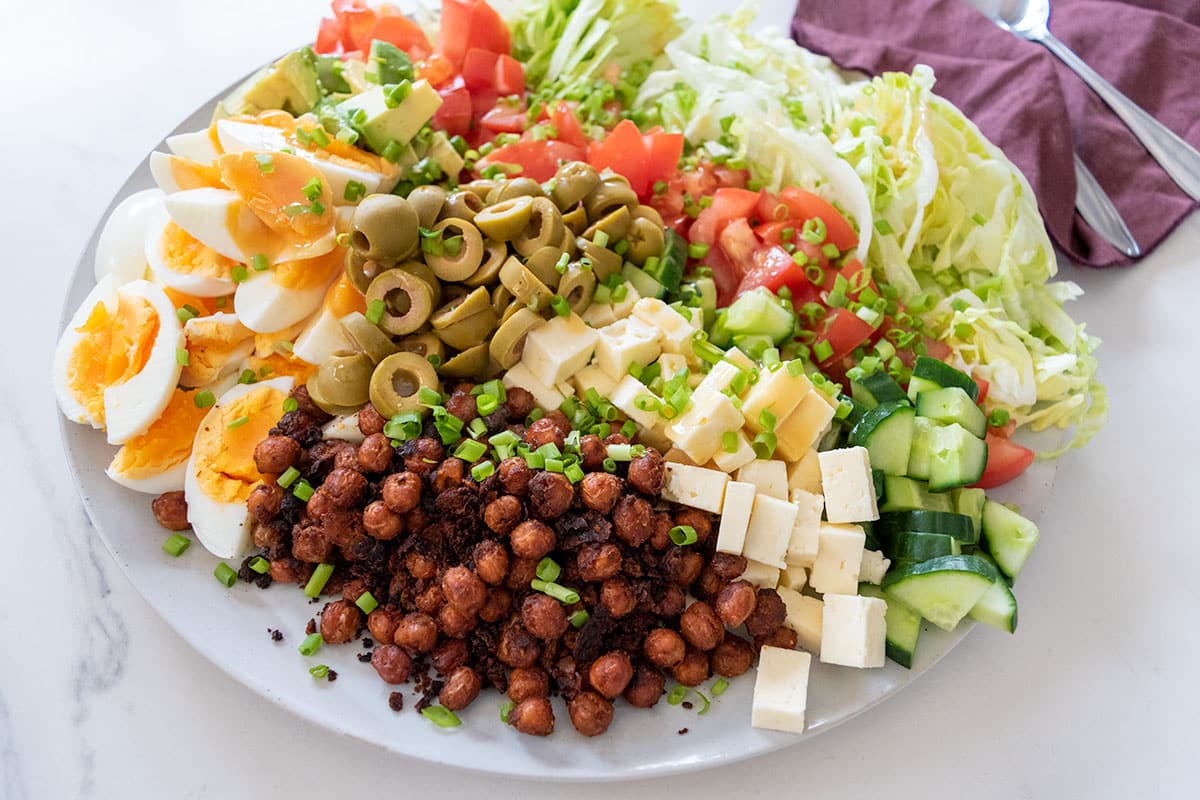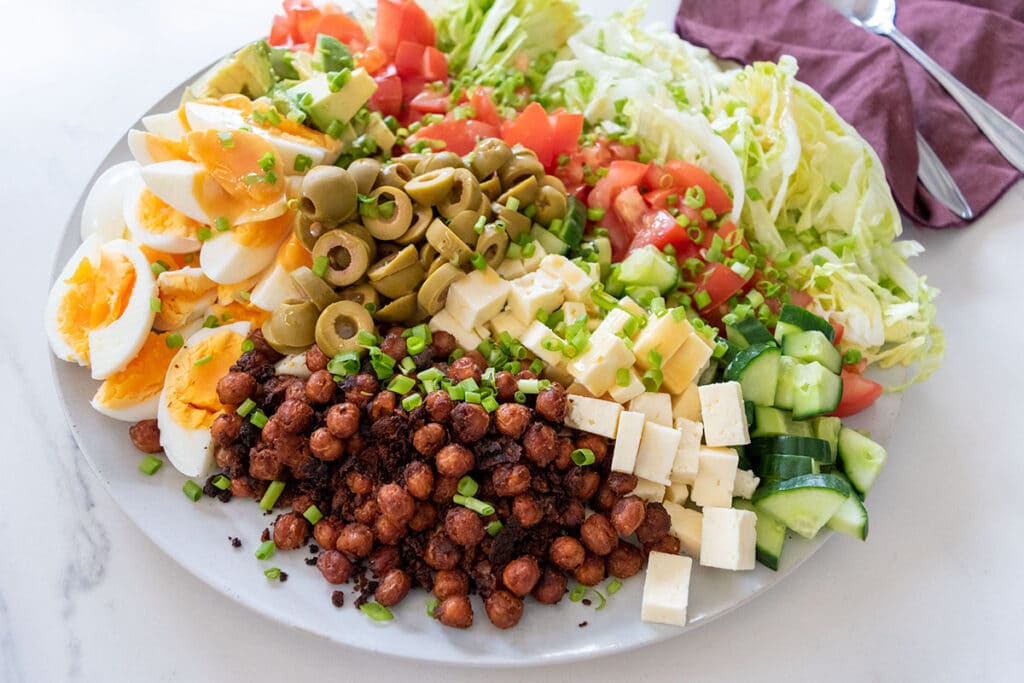 This vegetarian version of the classic Cobb Salad is a real winner whether you eat meat or not! It makes a light, fresh, healthy meal – perfect for those hot summer evenings, or a nice lunch on the weekend.
I recently released my 10th Thermomix cookbook – Salads For All Seasons II, which is the third salad themed cookbook in the Thermobexta collection. The response to it has been nothing short of amazing and I would like to thank each and every one of you that have purchased it (or purchased any of my cookbooks). Having such a strong support and loyal following is quite surreal for me, even after all these years. I love what I do and I love the food that I create, but to know that so many of you also love it means the absolute world to me.
With so many recipes already here on the website and given the fact that I write cookbooks, it's not often that I add new recipes to the blog. But I do like to share fresh content when I can and I am sharing this one in particular both as thanks to those that have purchased Salads For All Seasons II, and for those that may not be able to afford to do so. Everyone deserves great Thermomix salad recipes.
So, let's get into it!
What is a Cobb Salad?
A Cobb Salad is an American style garden salad. It consists of rows of chopped lettuce, raw chopped salad veggies, boiled eggs, chicken, bacon and blue cheese. The dressing is traditionally a red wine vinaigrette.
How is this vegetarian Cobb Salad different to a regular Cobb Salad?
In this version, we leave out the chicken and bacon, instead including roasted chickpeas and olives. The blue cheese is swapped out for fetta. You can use the traditional ingredients if preferred, or a mix of all! The dressing is a simple mix of a few basic ingredients, coming together as a lovely red wine dressing.
Cobb Salad ingredients
You really can customise this and use whatever you like in salads! Any mix of salad veggies should be fine in this vegetarian Cobb Salad.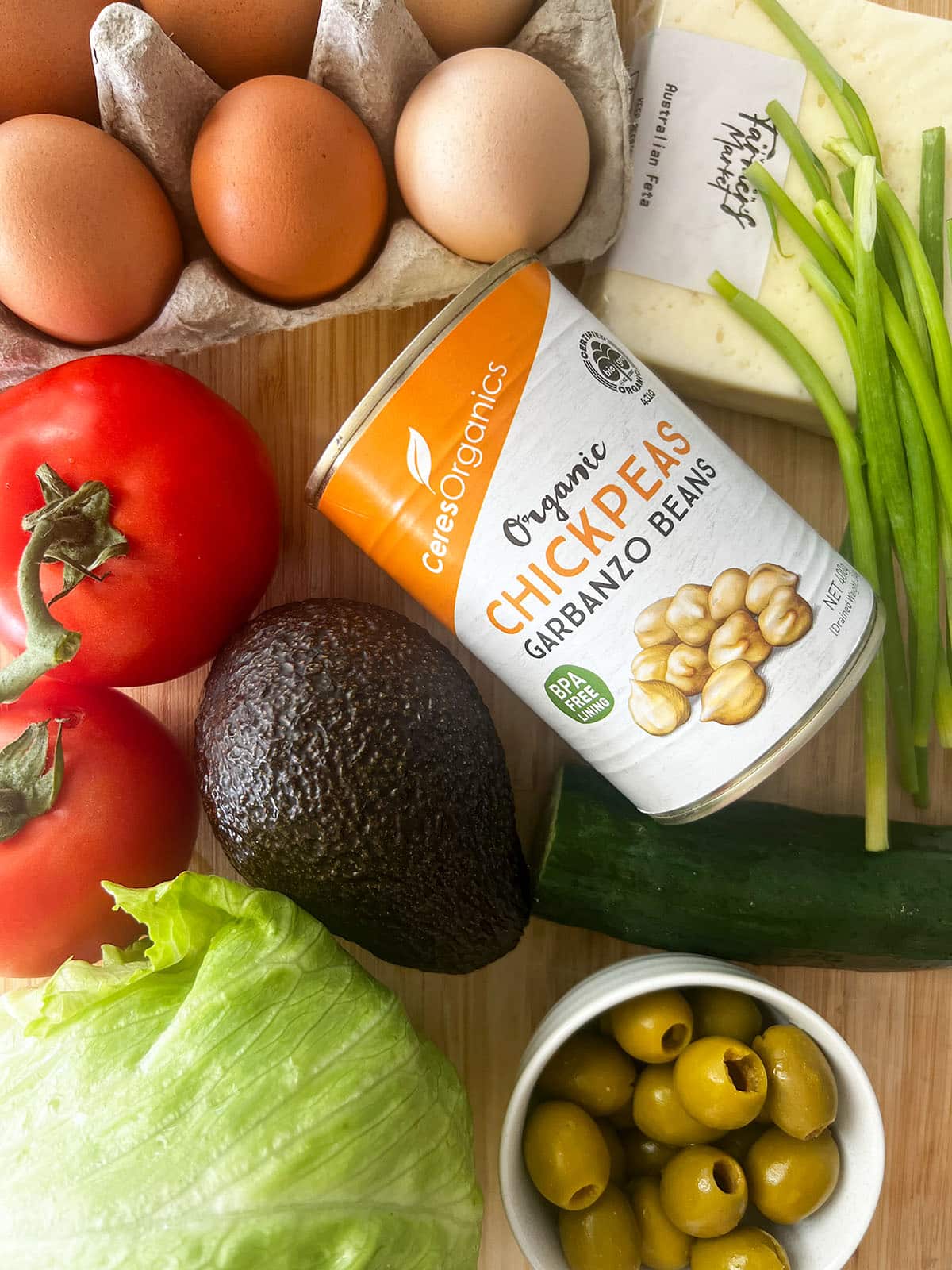 LETTUCE – nothing fancy needed here, Cos or Iceberg are perfect. Finely shredding the lettuce gives the best texture rather than keeping it too chunky.
TOMATOES – vine-ripened tend to have the best flavour. Halved cherry tomatoes, or baby roma are also great options.
CUCUMBER – adds freshness and crunch, any variety will be fine. We prefer the telegraph cucumbers or Lebanese – I tend to buy whichever is the cheaper of the two.
AVOCADO – contributes good fats, creaminess, nutrition. Let's face it, avocado is just great.
CHIVES – these are added for flavour, plus they finish off the look of the salad beautifully. If preferred you could add some finely diced red onion, or spring onion.
OTHER SALAD VEGGIES – feel free to use other veggies too – capsicum, carrots, snow peas, beetroot, radishes, sweetcorn, asparagus.
EGGS, FETTA CHEESE – these are included for protein, nutrition, texture, appeal and of course taste. If you're vegan, dairy free or egg free, they can be left out. Vegan fetta can be used if you like, but its not essential.
OLIVES – I love olives and add them to simple salads to jazz them up. Any sort of olives work well in this so use your preference. Or leave them out if you don't like them!
ROASTED CHICKPEAS – to me, these are a non-negotiable in this salad. They're cooked in the thermie for a while with ingredients to flavour them. Heating them in this way really helps to infuse the flavours. Some of the skins may come off in the TMX and you can choose to include them on the tray to roast, or discard them. I like the way they crisp up and would recommend including them.
RED WINE VINAIGRETTE – The dressing is simple and it really is all that's needed. Olive oil. Red wine vinegar. Dijon mustard. Sugar/maple syrup. Salt.
Roasted chickpeas really take this up a notch
Smoky, salty, umami, crunchy little morsels. These oven-roasted chickpeas are so so good!
They're super easy to make too. A simple mix – just a tin of chickpeas combined with olive oil, tamari, maple syrup, apple cider vinegar, paprika and garlic powder. To really infuse the flavours, we heat the ingredients up in the Thermomix for a few minutes. Then it's into the oven for half an hour to dry them out and further develop flavour.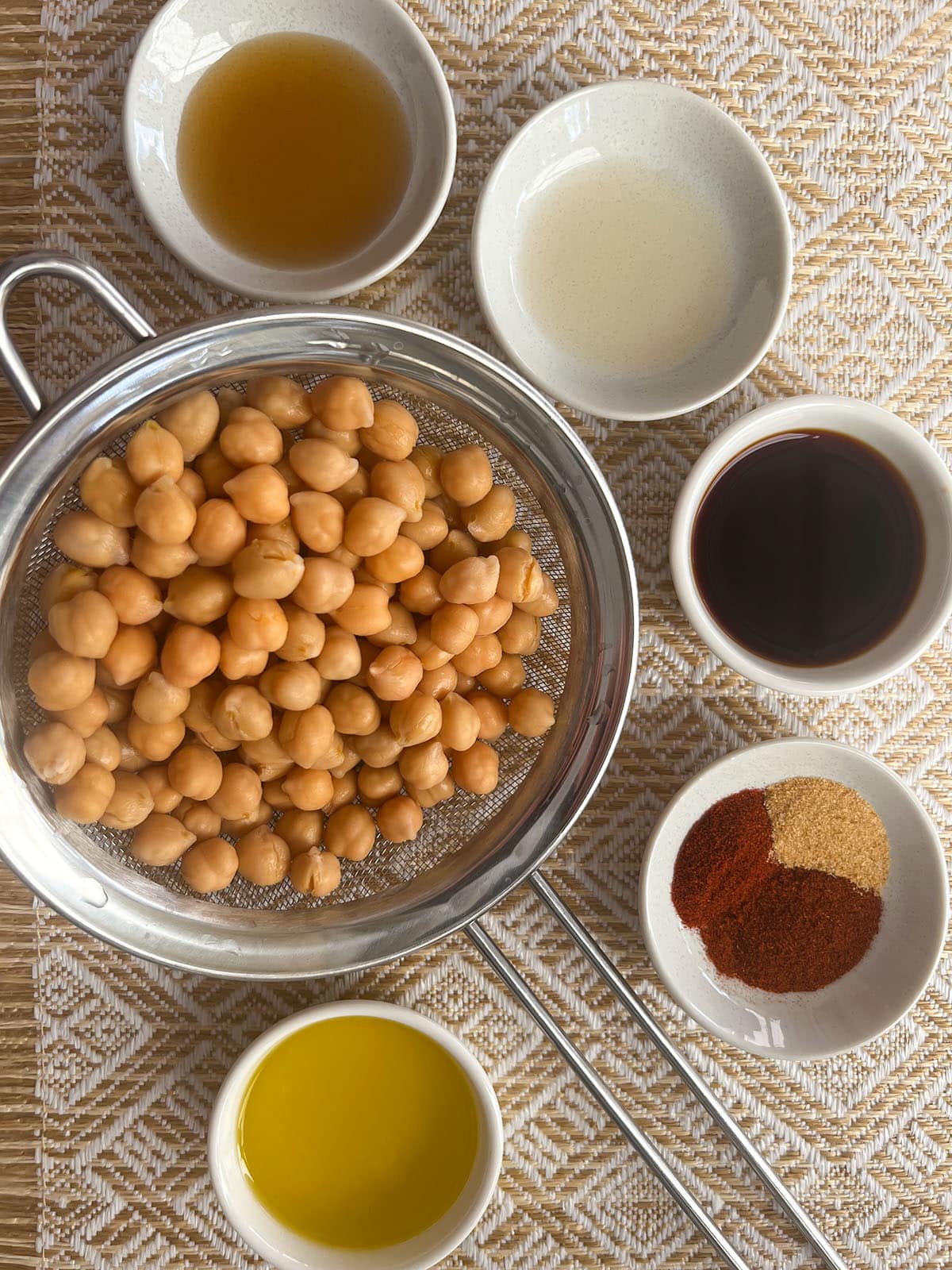 Best ways to serve this Thermomix salad
On it's own! This salad is a terrific example of an entire meal salad. It has a great balance of ingredients that make it filling and nutritious. It's satisfying and really yummy – eating it on its own and not alongside something else will not leave you feeling like something was missing from the meal. It's an all round great meal!
When it comes to serving it up, it's entirely up to you how you do it. Everything is placed on the serving plate in rows, so it's very easy to just dish up a bit of everything. The other option is to toss it all right before serving and scoop it up with salad servers.
However you serve it up, whatever veggies and other bits and pieces you use, I hope that you absolutely love this salad.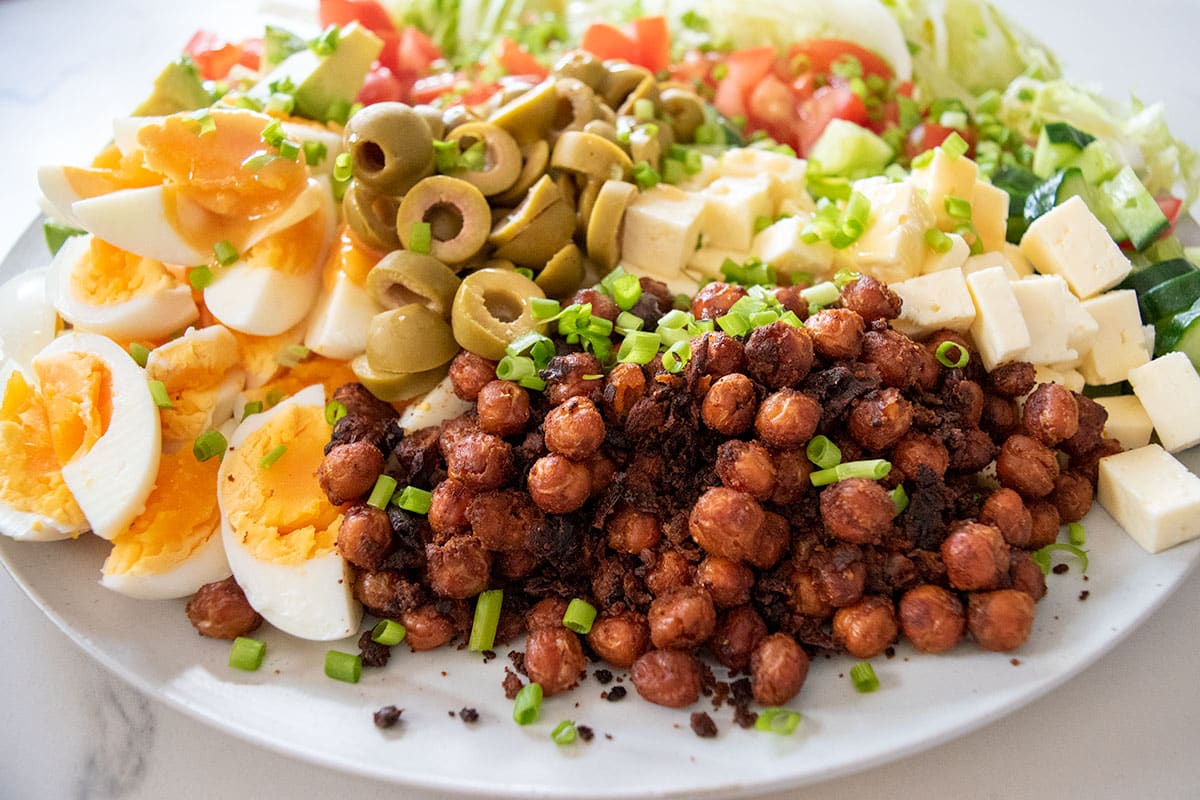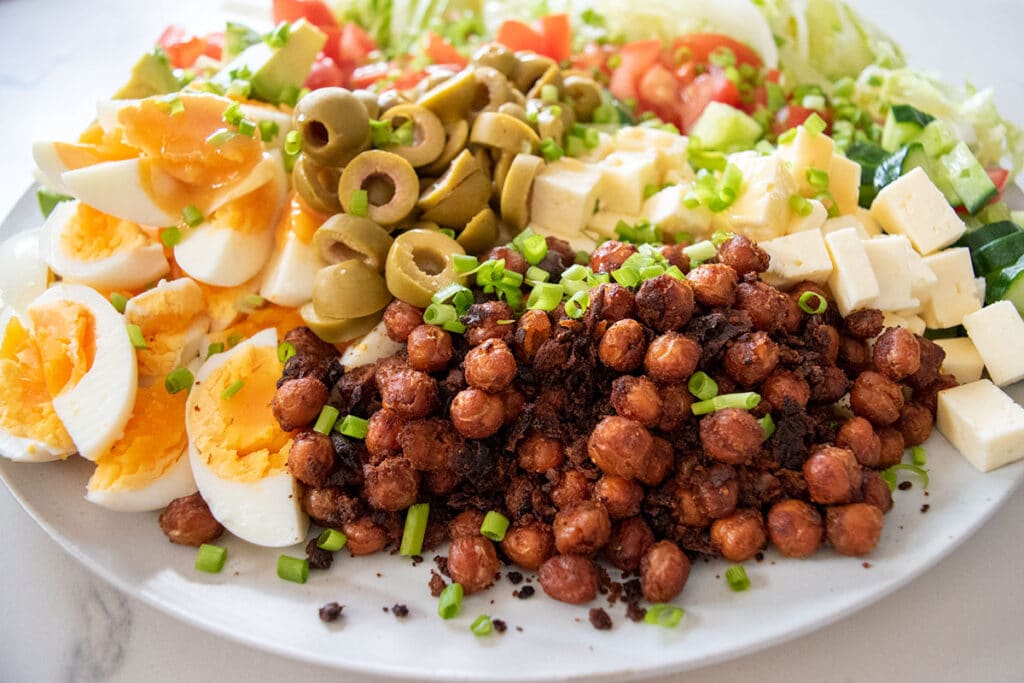 Looking for more fabulous Thermomix salads?
I have lots and lots of fantastic recipes for you, especially when it comes to (epic) salads!
Here on the blog you can find things like Nicoise Salad, Caramelised Onion Potato Salad, Summer Pasta Salad, Sesame Roast Pumpkin Salad, Festive Couscous Salad and more.
Three of my cookbooks are salad based too, and they're incredibly popular: Summer Meal Mix Up, Salads For All Seasons and of course the brand new Salads For All Seasons II. In them you'll find an abundance of pasta salads, chopped salads, potato salads (you HAVE to try the honey mustard smashed potato salad in the latter!), beet salads, pearl couscous salads, noodle salads, and so much more!
Vegetarian Cobb Salad
This vego version of the classic Cobb Salad is tasty, nutritious and so delicious!
Ingredients
Roasted Chickpeas
400

g tin

chickpeas

drained, rinsed

20

g

olive oil

20

g

tamari

10

g

maple syrup

5

g

apple cider vinegar

0.5

tsp

mild paprika

0.5

tsp

smoked paprika

0.5

tsp

garlic powder
Salad
6

eggs

omit for egg free / vegan

0.25-0.5

lettuce

Cos or Iceberg

2

tomatoes

medium-sized

0.5

cucumber

Telegraph or burpless

1

avocado

200

g

Fetta cheese

use a vegan cheese for dairy free / vegan

80

g

pitted olives

any variety

10

g

chives
Red Wine Vinaigrette
50

g

olive oil

30

g

red wine vinegar

5-10

g

Dijon mustard

5-10

g

maple syrup

or 1 tsp sugar

1

tsp

salt
Instructions
For the Roasted Chickpeas
Pre-heat oven to 200C. Line a tray with baking paper.

Place all ingredients in mixer bowl. Heat 6 minutes/100/reverse/speed soft. Transfer to the tray. Some of the skins may come off the chickpeas – just scrape everything onto the tray, it all crisps up and adds to the end result. Roast for 30 minutes, or until dry, removing from the oven once or twice to carefully give the tray a shake to move the chickpeas around for even cooking. Allow to cool a little on the tray.
For the Salad
While the chickpeas roast, prepare the rest of the salad. Firstly, set simmering basket in place inside rinsed mixer bowl. Add eggs. Weigh in 500g water. Steam 16 minutes/100/speed 4.

While the eggs cook, prepare the vegetables, arranging in rows on a large serving platter as you go – be sure to leave enough room for the eggs and chickpeas. Shred the lettuce; dice the tomatoes, cucumber and avocado; dice or crumble the fetta; slice the olives.

Finely chop the chives. Set aside for now.

When eggs are cooked, transfer to a bowl of cold water to prevent overcooking from residual heat. Peel and cut each into four pieces. Add to the serving dish.

Add chickpeas to the serving dish. Sprinkle chives over entire salad.
For the Dressing
Place all ingredients in mixer bowl. Blend 10 seconds/speed 5. Drizzle over the salad.
Nutrition
Serving:
1
main
|
Calories:
463
kcal
|
Carbohydrates:
28
g
|
Protein:
18
g
|
Fat:
32
g
|
Saturated Fat:
9
g
|
Polyunsaturated Fat:
4
g
|
Monounsaturated Fat:
17
g
|
Trans Fat:
0.02
g
|
Cholesterol:
193
mg
|
Sodium:
1247
mg
|
Potassium:
639
mg
|
Fiber:
9
g
|
Sugar:
7
g
|
Vitamin A:
1207
IU
|
Vitamin C:
12
mg
|
Calcium:
251
mg
|
Iron:
4
mg
Please note, nutrition information is calculated via an online recipe nutrition calculator and is a guide only. It is provided as a courtesy and is not guaranteed 100% accurate. I am not a nutritionist or trained health professional.
Tried this recipe?
Please rate it and leave feedback in the comments section below, or mention @Thermobexta or tag #Thermobexta on Instagram.
You might also be interested in these recipes...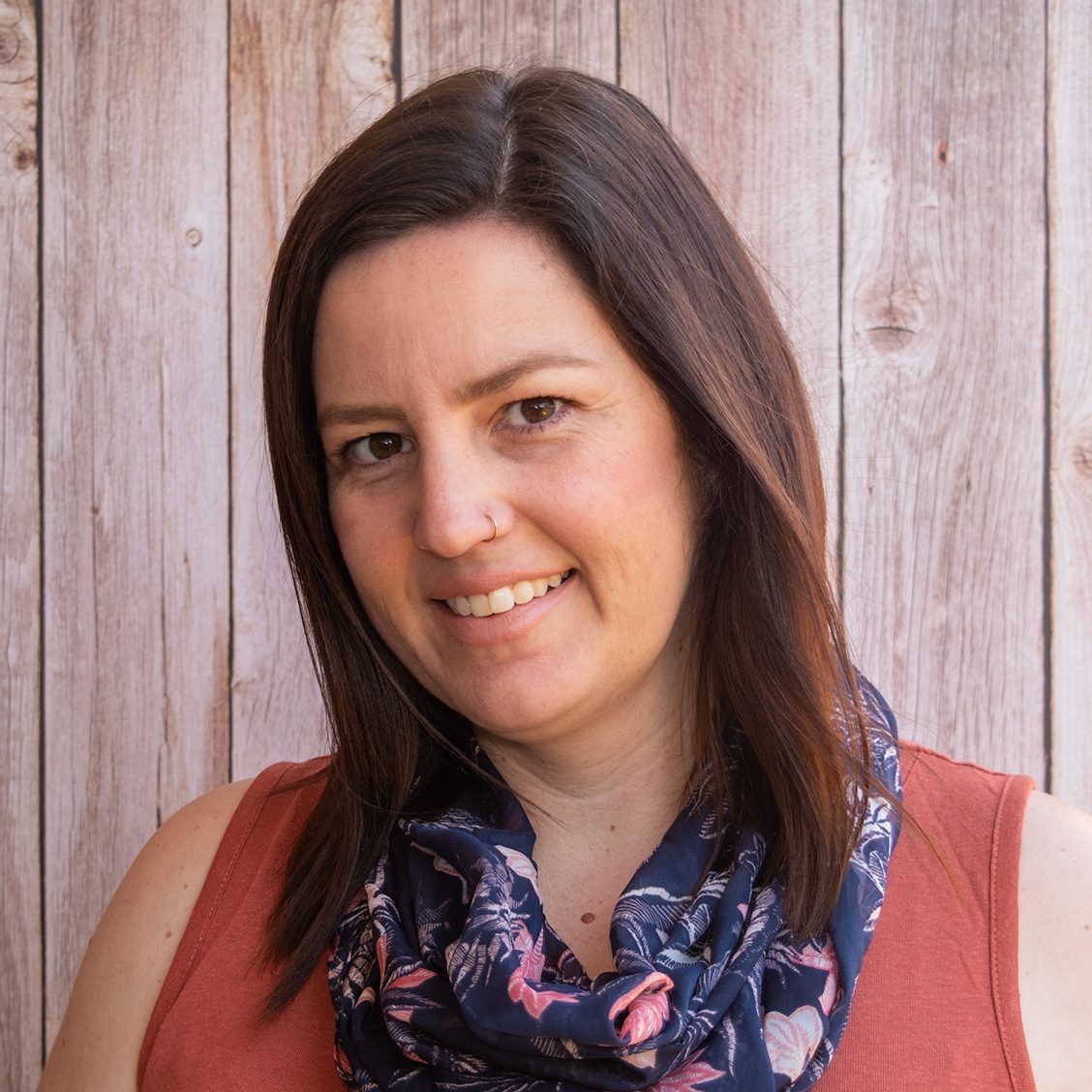 Hi, I'm Bec
I specialise in great tasting vegetarian Thermomix recipes and cater for a wide range of dietary needs. I love sharing here and in my cookbooks my healthy, delicious recipes (of course the odd treat too!) Whether you're looking to ignite your thermo mojo, or just after some new, really tasty family friendly recipes, there really is something here for everyone