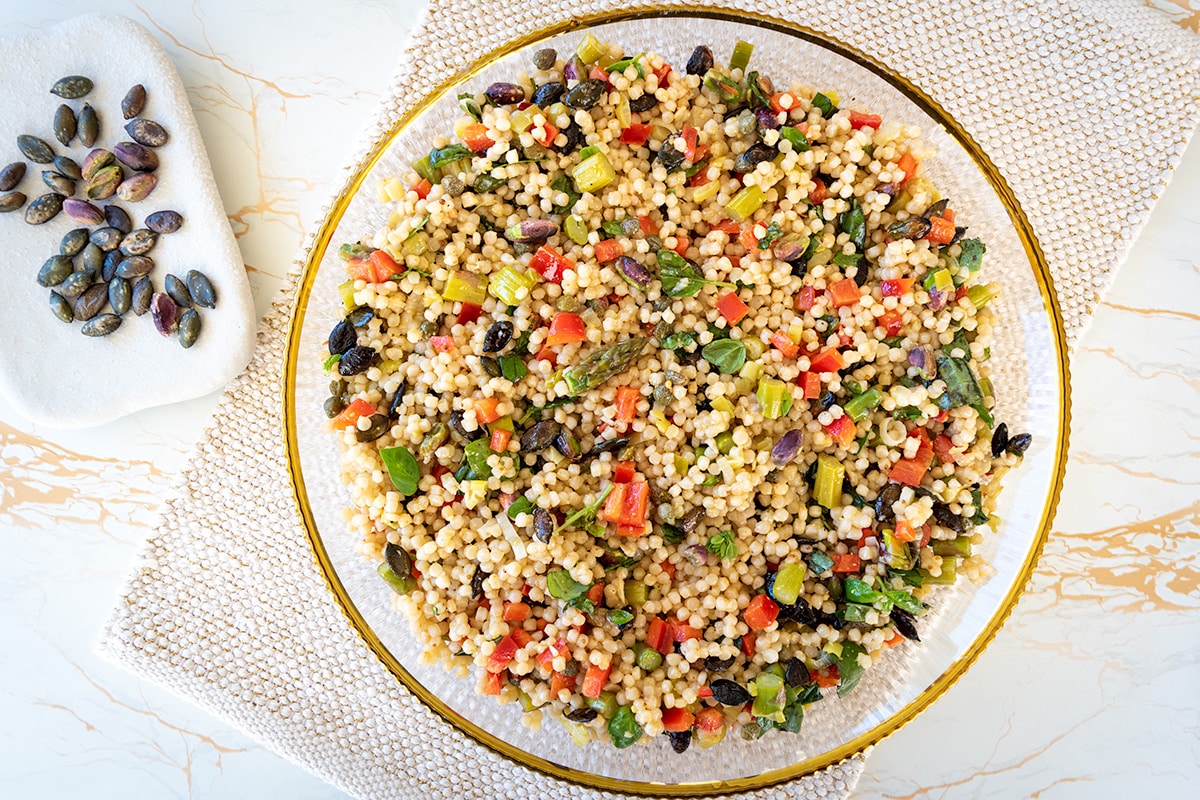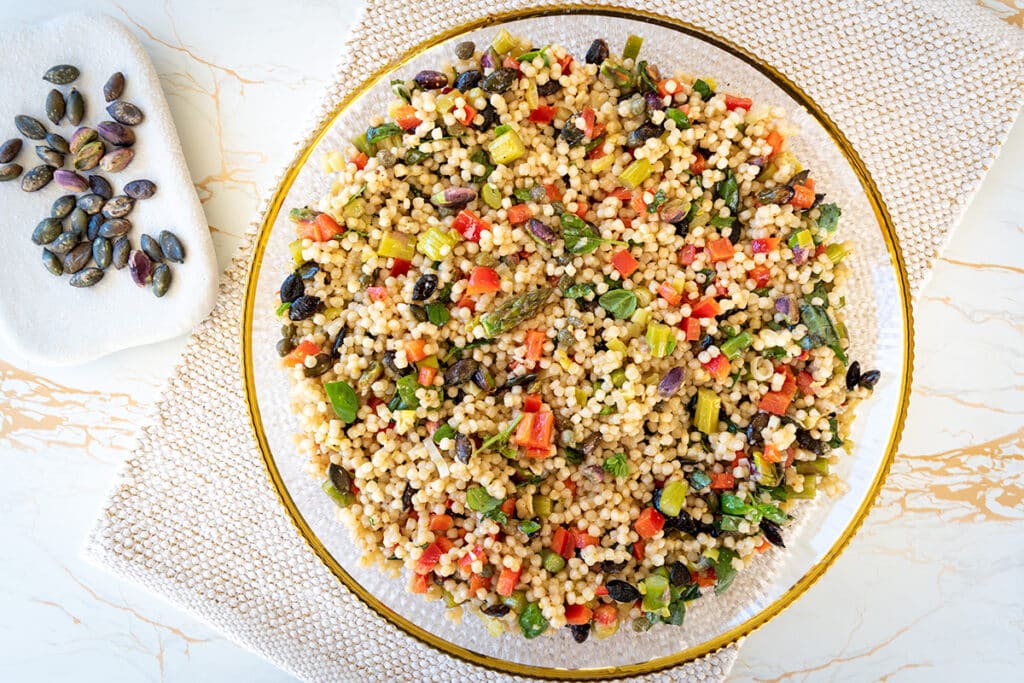 There is an improved, more streamlined version of this Thermomix pearl couscous salad recipe in my cookbook, Summer Meal Mix Up. You can find it here.
This is a vibrant and flavoursome salad great for any time of the year, but a particularly good one for Christmas! A big bonus is that it can be made a day or two in advance. If doing this, it's best to keep the dressing separate until just before you're ready to serve.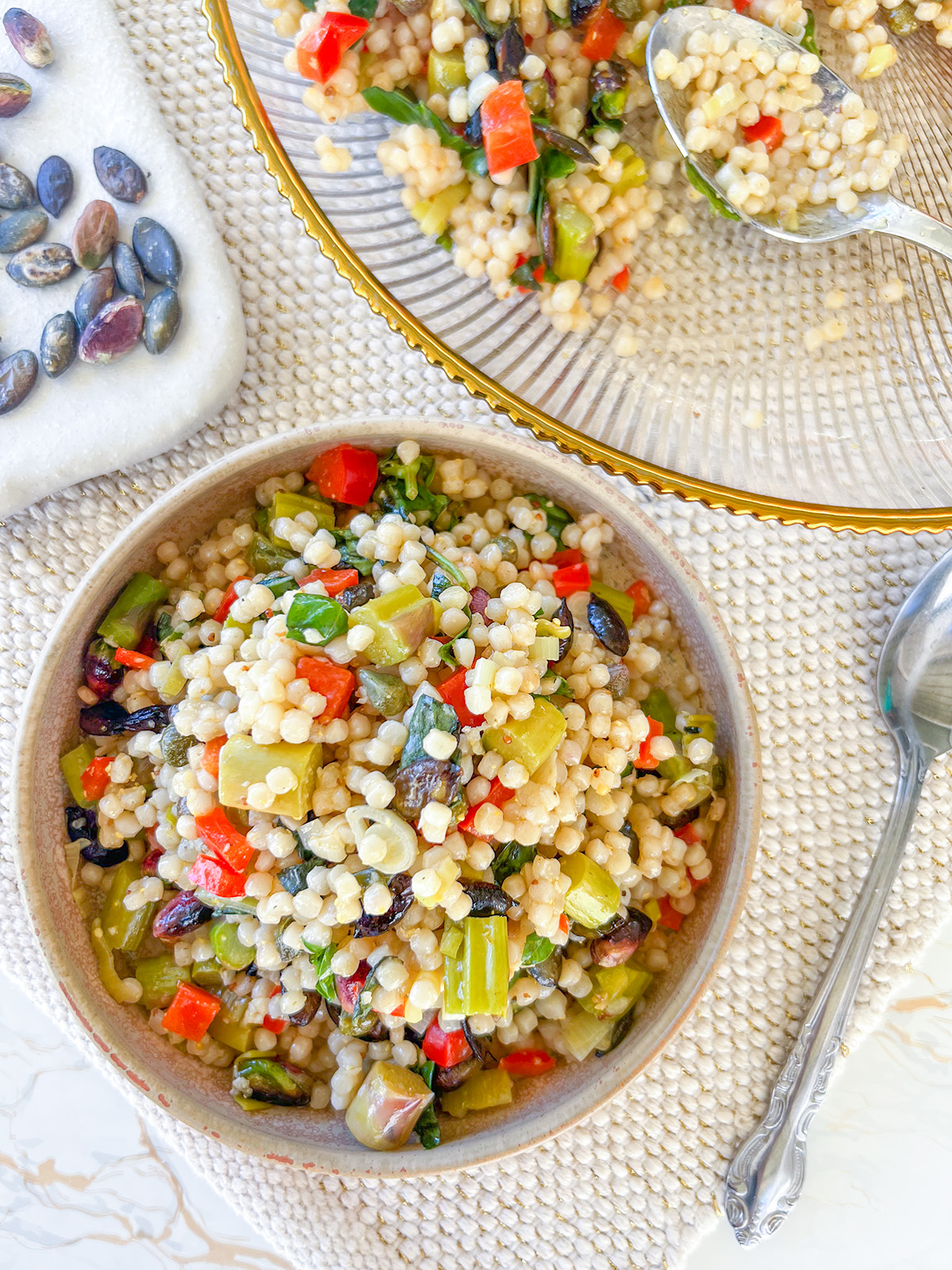 Pearl Couscous – what it is and where to buy

Pearl couscous is a type of pasta, very different in texture to the more common 'instant couscous'. It is also known as Israeli couscous.
You can find it in most supermarkets in the pasta section, usually on the bottom shelf. Check out my ingredient photo further down for a visual on the brand I use and recommend.
Check your packet for cooking time and if required, adjust cooking time in the recipe accordingly.
Quinoa is a nice alternative to the couscous and is the best option for those that can't eat gluten. Rinse the quinoa thoroughly before use and increase the 10 minutes cooking time to 14 minutes before adding the asparagus.
How to make Festive Couscous Salad in the Thermomix
(See the full ingredients list and instructions to make this salad, in the recipe card at the bottom of this post).
This salad doesn't take too long! The longest part is the cooking of the couscous, but using that time to prepare the other ingredients makes it pretty quick to put together.
These are the ingredients needed for the salad: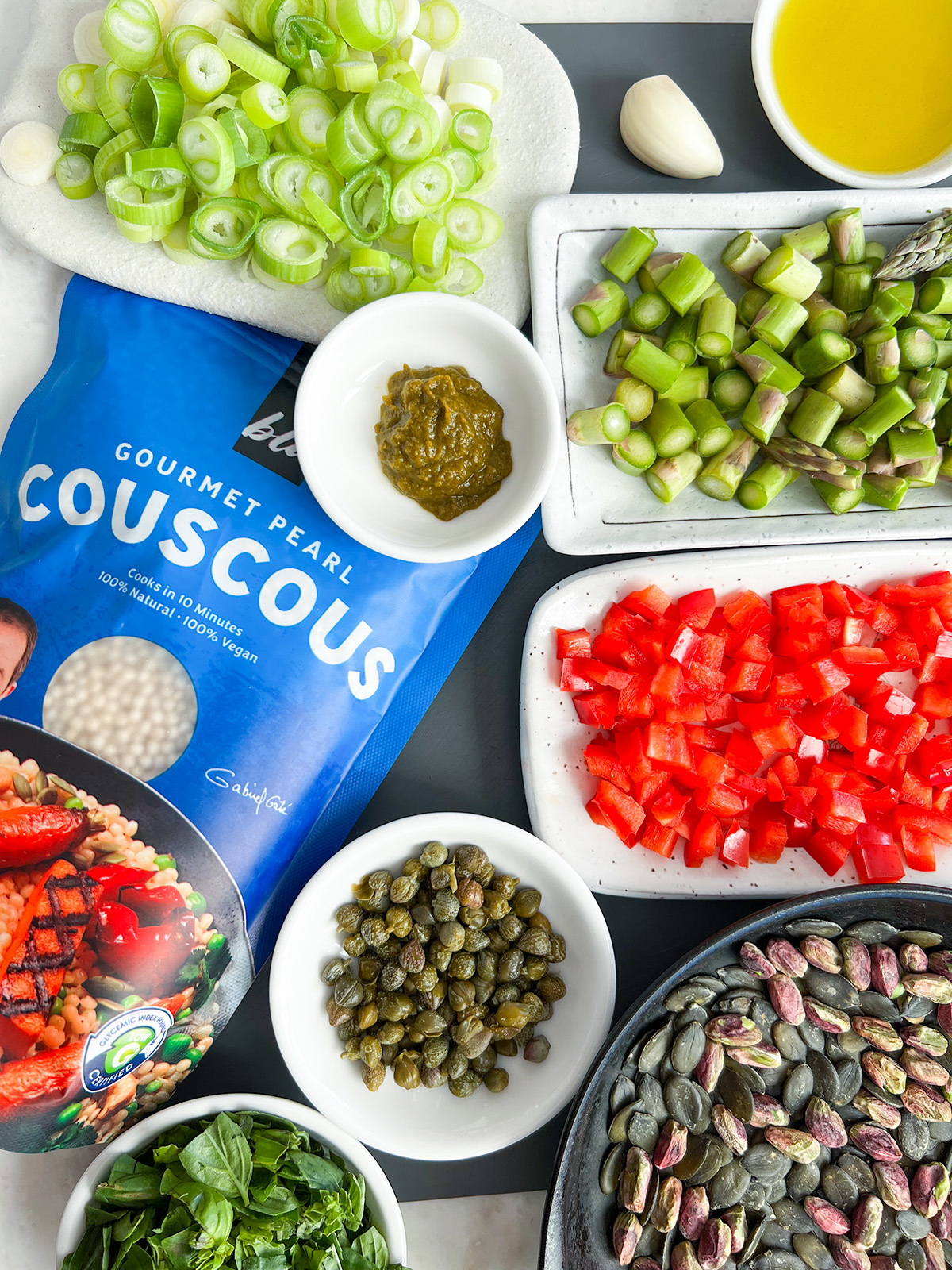 Spring onion and garlic are first cooked in oil for a few minutes. Once done, we weigh the pearl couscous into the simmering basket. On top of the couscous we add a little veggie stock paste, then the sautéed spring onion and garlic.
The basket goes into the bowl, along with 1 litre of water. It is then cooked until almost al dente. After this time, the asparagus is adding in on top and cooked with the couscous for just a couple of minutes.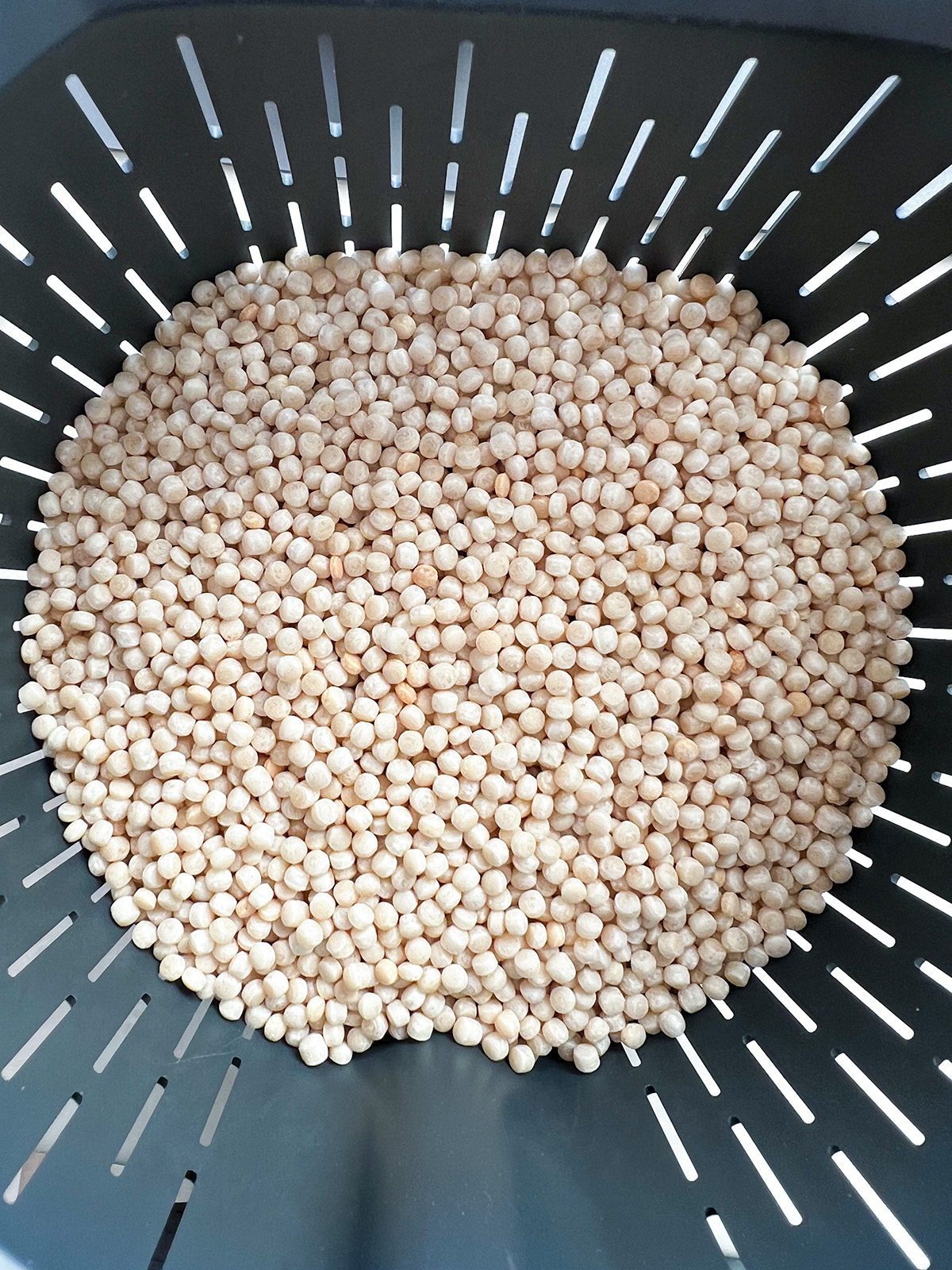 After cooking, these ingredients are transferred to a large bowl, fluffed with a fork and left to cool.
While the ingredients cook, take this time to prepare the remaining ingredients. Toast the nuts and seeds, slice up the capsicum, tear up the basil and weigh out the capers.
Discard the cooking water and while the couscous cools, it's time to make the dressing. This is what is needed: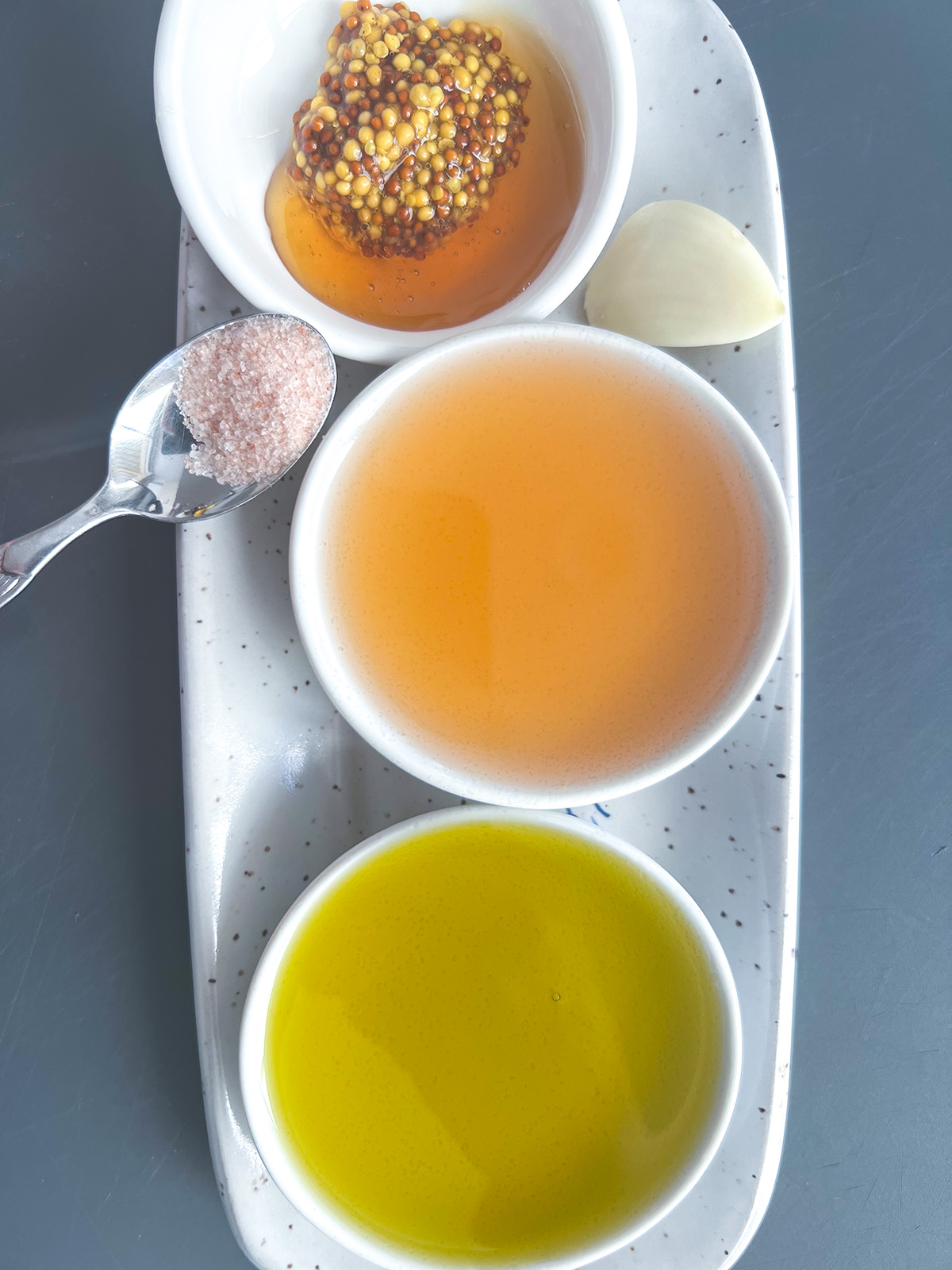 Making the dressing is as simple as throwing the ingredients into the Thermomix, then blitzing.
After the couscous has had time to cool, all ingredients are combined to come together into what I'm sure will be one of the most delicious salads you've eaten!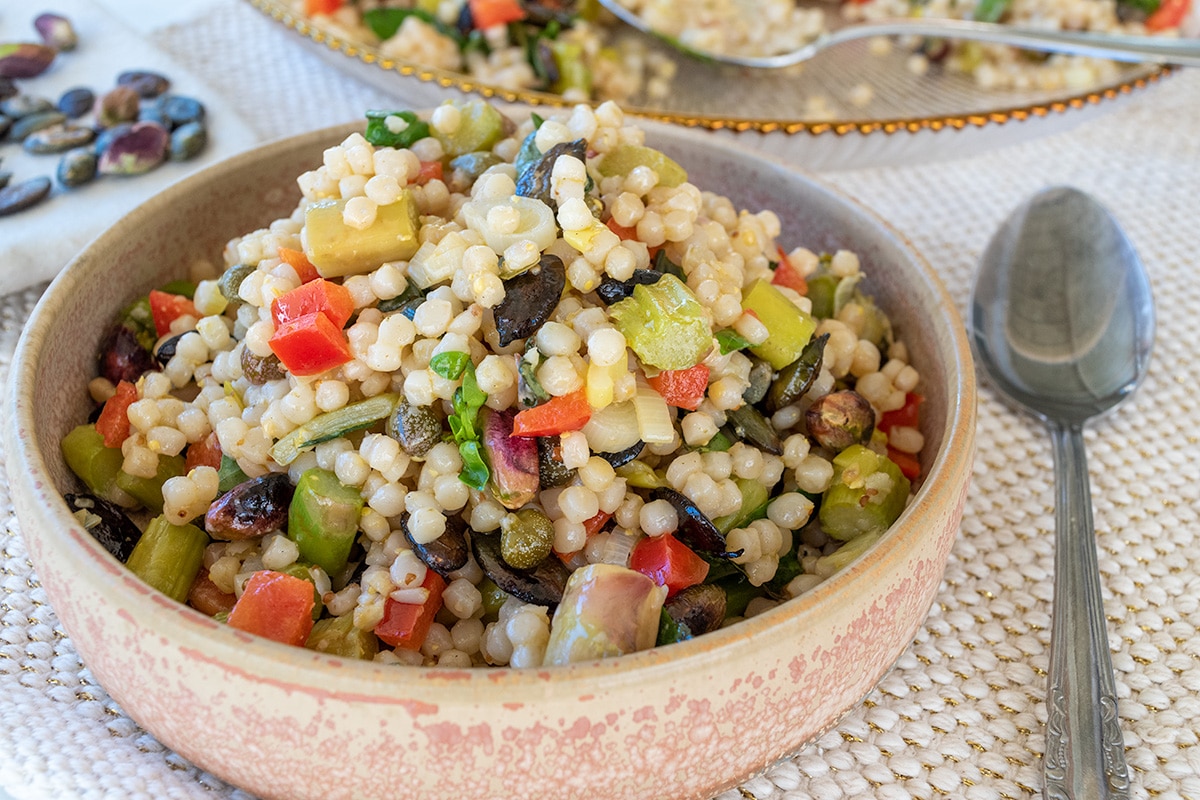 FAQ's on Festive Couscous Salad Thermomix recipe
Is pearl couscous gluten free?
No it isn't, however you can make this salad gluten free if needed! Simply swap couscous for quinoa, and increase the cooking time at Step 4 to 14 minutes. I suspect rice would be another good alternative (though haven't tried it myself). White rice needs 15 minutes/100/speed 4 and brown rice needs 35 minutes/100/speed 4.
I don't like that tiny instant couscous, so I don't think I'd like this either…
Even if you don't like the more common instant couscous, I highly recommend you do try this recipe and use the pearl couscous. Pearl couscous is very different to instant couscous. The texture is really interesting and the flavour is like a nutty pasta flavour.
I'm allergic to pistachios, can I leave them out?
Pistachios add a good flavour to this salad, but not only that, they add a lovely crunch! It is fine to swap them for another nut if you need to. I recommend almonds, walnuts, or cashews. If you can't eat any nuts at all, you can either increase the pepitas, or you can replace with sunflower seeds. Toast your choice of replacement as you would the pistachios.
My kids won't eat asparagus, what can I use instead?
I've made this with small pieces of diced zucchini in place of the asparagus before, it's just as good! It's nice to include something softer in texture than the crunchy raw capsicum and nuts and seeds.
Can I add any other veggies to this salad?
Yes, absolutely! I have made this salad with so many different additions over the years. I've added celery, cherry tomatoes, cucumber, grated carrot, red onion,
What about other things? Can I add other bits to add different flavour elements?
Of course. A recipe is a guide and this recipe is no different! I really do love this salad as it's written and it has been a very popular recipe of mine over the years. That said, if you want to add things like olives, or cranberries, or currants, or fetta, or baby bocconcini, feel free. You really can't go wrong to be honest!
More great Thermomix salads
Since creating this festive couscous salad Thermomix recipe back in 2015, I have become quite well known for being a reliable source of epic salad recipes!
Three of my cookbooks are salad themed and they are incredibly popular! For more awesome salad recipes, the absolute best recommendation I have for you is the Salads and Sides Collection, available here. Or you can purchase individually:
Join us on Social Media
If you've not yet discovered our friendly Facebook group, head on over and join. Lots of great chatter about recipes, thermie, food and more.
Festive Couscous Salad
This salad is jam packed full of flavour and has a great mix of textures. It's the ultimate when it comes to salads, especially for entertaining.
Ingredients
Salad
1

garlic clove

5g

70

g

spring onions

thinly sliced

20

g

olive oil

250

g

pearl couscous

1

bunch

asparagus

trimmed, sliced 1cm

40

g

shelled pistachio nuts

40

g

pepitas

100

g

red capsicum

diced small

20

g

basil leaves

torn

30

g

baby capers
Dressing
40

g

olive oil

40

g

apple cider vinegar

10

g

wholegrain mustard

10

g

honey

1

clove

garlic

5g

0.25

tsp

salt
Instructions
Place garlic in mixer bowl. Chop 3 seconds/speed7. Scrape down bowl.

Add spring onion and oil. Saute 4 minutes/steaming temperature/speed soft.

Meanwhile, measure the couscous into steaming basket. Place the stock paste on top of it.

When garlic finishes cooking, pour it out onto the couscous then place the steaming basket into the mixer bowl, along with 1L water. Cook 10 minutes/100/speed 4.

While the couscous is cooking, toast the pistachios and pepitas in a dry frying pan, shaking the pan intermittently to prevent burning. When the pepitas start to pop, turn the heat off and leave to cool down.

Give the couscous a stir, then place asparagus in on top of it. Cook a further 2 minutes/100/speed 4, then remove basket from mixer bowl and pour contents into a large serving bowl. Run a fork through to fluff up the couscous. Discard water.

Place dressing ingredients in mixer bowl. Blitz 30 seconds/speed 7.

When couscous has cooled to room temperature, add to it the capsicum, basil and capers, along with 3/4 of the toasted nuts and seeds. Combine.

Pour dressing over the salad and combine again, then top with remaining nuts and seeds to garnish.

There is a greatly improved, more streamlined version of this recipe in my cookbook, Summer Meal Mix Up, which you can find in our online shop.
Nutrition
Serving:
1
serve
|
Calories:
270
kcal
|
Carbohydrates:
32
g
|
Protein:
8
g
|
Fat:
13
g
|
Saturated Fat:
2
g
|
Polyunsaturated Fat:
3
g
|
Monounsaturated Fat:
8
g
|
Trans Fat:
0.004
g
|
Sodium:
410
mg
|
Potassium:
325
mg
|
Fiber:
4
g
|
Sugar:
3
g
|
Vitamin A:
1050
IU
|
Vitamin C:
22
mg
|
Calcium:
44
mg
|
Iron:
3
mg
Please note, nutrition information is calculated via an online recipe nutrition calculator and is a guide only. It is provided as a courtesy and is not guaranteed 100% accurate. I am not a nutritionist or trained health professional.
Tried this recipe?
Please rate it and leave feedback in the comments section below, or mention @Thermobexta or tag #Thermobexta on Instagram.
You might also be interested in these recipes...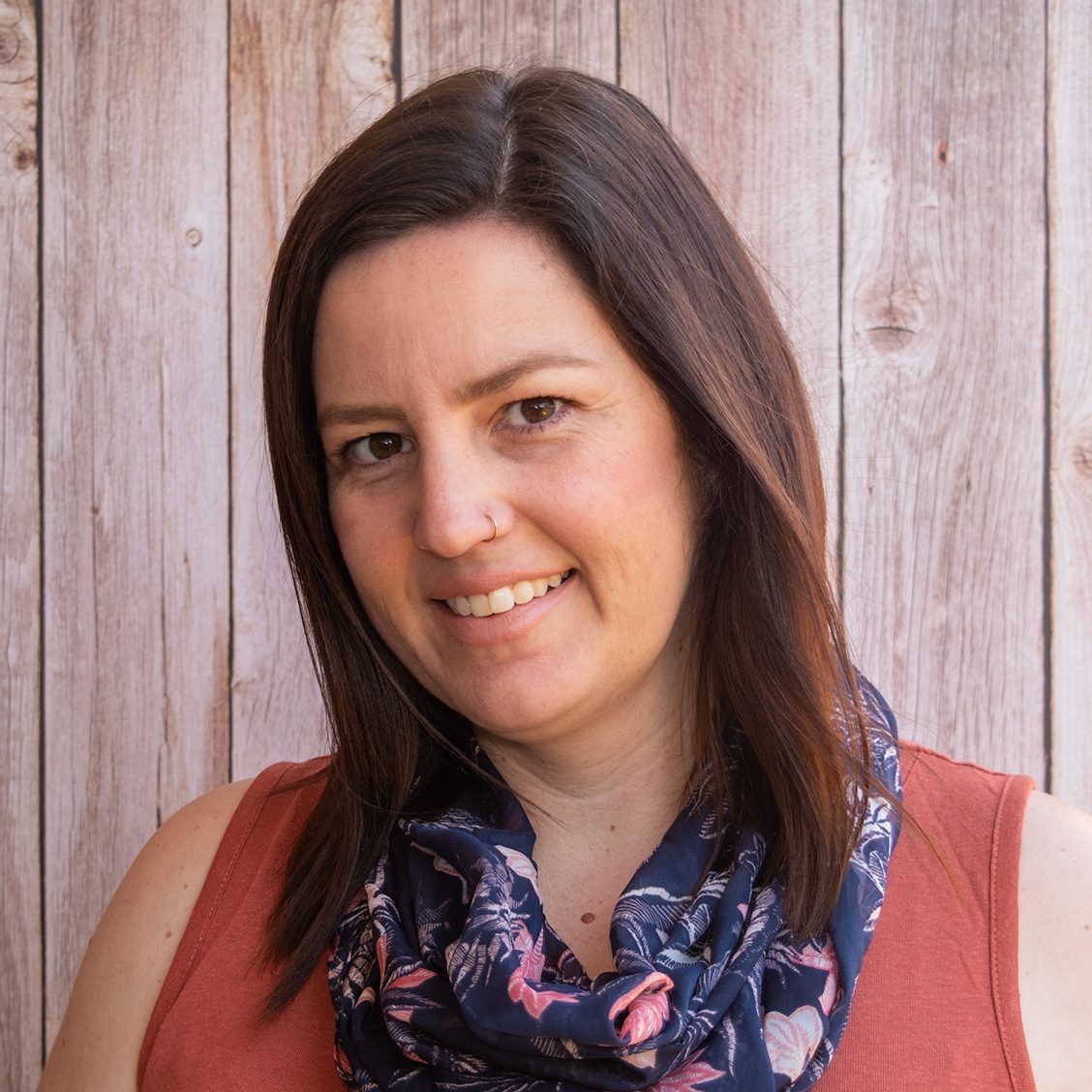 Hi, I'm Bec
I specialise in great tasting vegetarian Thermomix recipes and cater for a wide range of dietary needs. I love sharing here and in my cookbooks my healthy, delicious recipes (of course the odd treat too!) Whether you're looking to ignite your thermo mojo, or just after some new, really tasty family friendly recipes, there really is something here for everyone