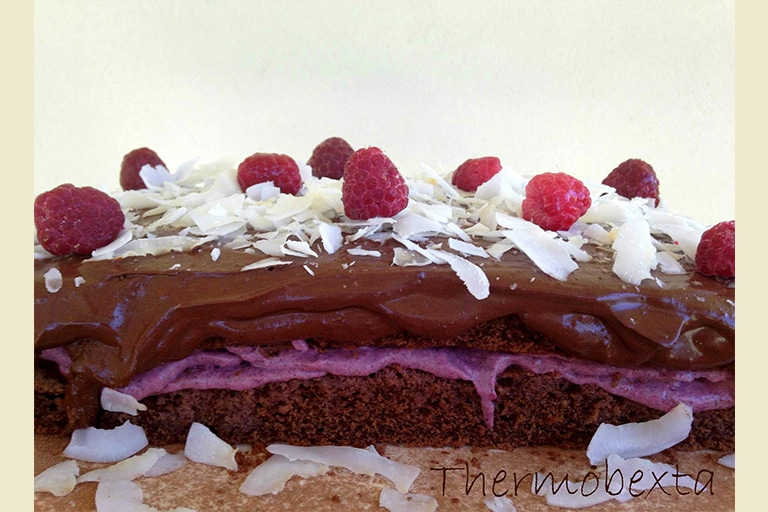 Who doesn't love a good old Aussie lamington?  I can't stand the thought of making them, though, after making them years ago and not really having enough patience to enjoy the process!  Too fiddly for me…  So I had this idea to make a giant lamington cake.  And even better, to make it chocolate 🙂  I purposely used a lamington tin, as I wanted the cake to be on the thin side, so I could sandwich some yummy berry creaminess in between two layers, just to make it extra special.  Happy Australia Day!
Cake
130g cold coconut oil (or room temperature butter)
110g raw honey
3 eggs
30g cacao powder
220g unbleached white spelt flour
3 tsp baking powder
1/4 tsp bi-carb soda
200g milk of your choice
Berry Cream and Rich Chocolate Ganache
270ml can Ayam full fat coconut cream, refrigerated overnight
80g raspberries, fresh of frozen and partly defrosted
1 tsp vanilla powder
1 tsp raw honey
40g cacao powder
30g honey
35-40g coconut flakes (or desiccated or shredded coconut)
1. Preheat oven to 180°C. Line a lamington tin (mine measures 24 cm x 29cm) with baking paper, allowing the edges of the paper to overhang.
2. Place coconut oil and honey in mixer bowl. Blitz for 10 seconds/speed 4/MC on, then set butterfly in place on blades. Beat for 2 minutes/speed 3/MC on, scraping down intermittently if required.
3. Add eggs, one at a time, allowing 30 seconds between each addition.  If you need to, stop the blades and scrape down the sides of the bowl before adding each egg.
4. Add cacao powder, beat for 15 seconds/speed 3/MC on. Remove butterfly.
5. Add flour, baking powder, bi-carb soda and milk. Combine for 20 seconds/speed 5/MC on. Transfer to your prepared tin, spreading mixture evenly to fill to the corners of the tin.
6. Cook for 20 minutes, or until starting to darken and a skewer comes out clean when inserted into the middle. When cake is cooked, remove from oven and transfer to a wire cooling rack and leave to cool completely.
7. When the cake feels almost cool, prepare the berry cream and rich chocolate ganache.

8. Remove coconut cream from the fridge, open and skim off the thick cream from the top. Place 150g of this cream in mixer bowl. Set butterfly in place on blades and whip for 1.5 minutes/speed 4/MC on, stopping every 20-30 seconds to scrape down sides of bowl. Remove from bowl and set aside. Remove butterfly.
9. Place berries, vanilla and 1 tsp honey in mixer bowl. Blitz for 3 seconds, speed 7.  Scrape down the sides of the bowl then add the whipped coconut cream back in to this mixture.  Combine for 5 seconds, speed 4.  Transfer berry cream to a bowl.
10. Place remaining contents of can of coconut cream, along with the cacao powder and 30g honey in mixer bowl. Combine for 30 seconds/speed 4/MC on, pausing halfway to scrape down the sides of the bowl.

11. Trim edges of the cooled cake so it is a perfect rectangle shape. Cut the cake in half so you have two identical smaller rectangular pieces. Place one half of the cake onto your serving plate. Top this with all of the berry cream, pouring carefully and using a spatula to push the cream out to cover the entire surface of the cake. Carefully place the other half of the cake on top. Top with the ganache, spreading it evenly over the surface of the cake. Sprinkle generously with coconut and a few berries, if you choose.
The coconut cream in this recipe can be replaced with regular cream, but won't need to be whipped for as long. If you choose to use regular cream, please keep a close eye on it whilst whipping.
You might also be interested in these recipes...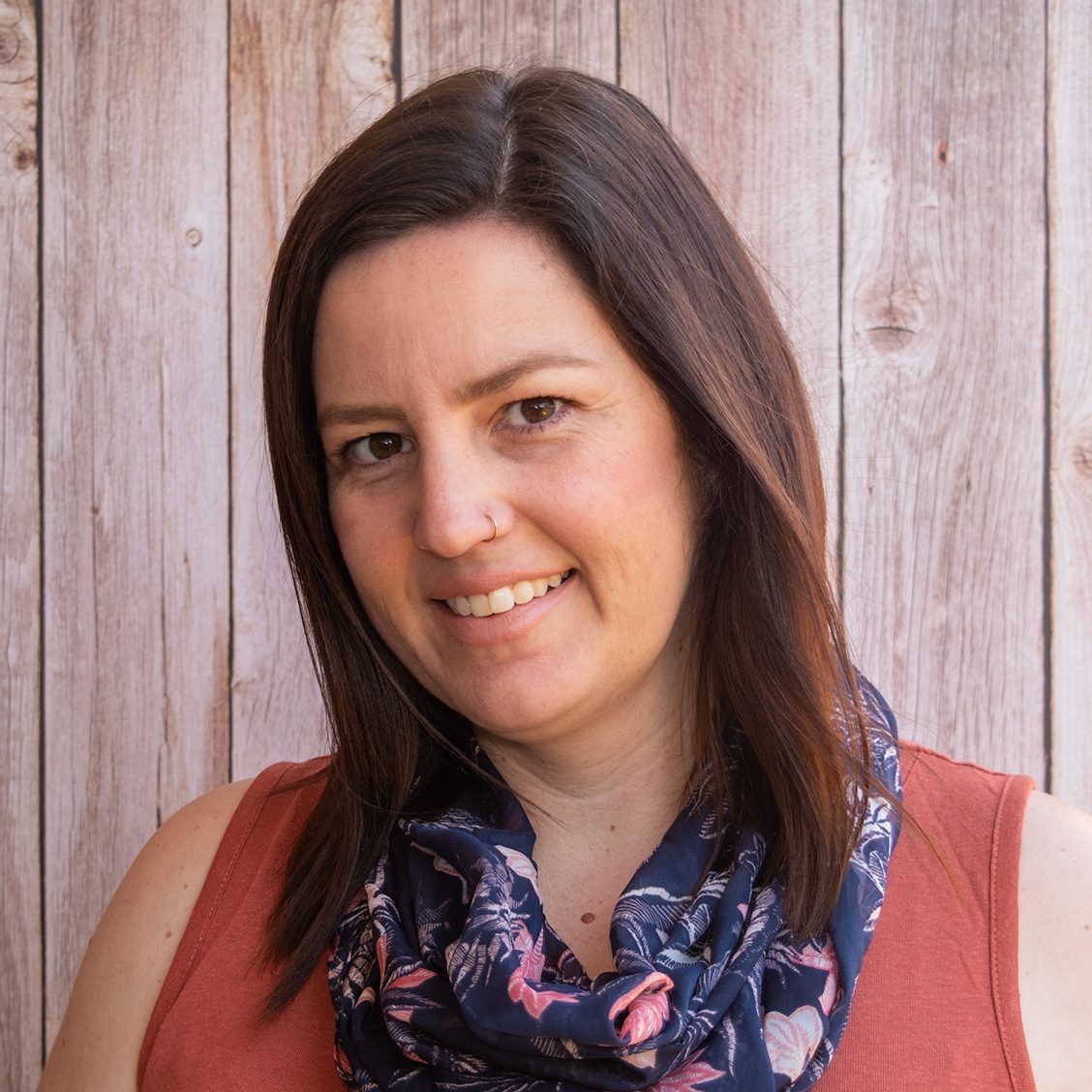 Hi, I'm Bec
I specialise in great tasting vegetarian Thermomix recipes and cater for a wide range of dietary needs. I love sharing here and in my cookbooks my healthy, delicious recipes (of course the odd treat too!) Whether you're looking to ignite your thermo mojo, or just after some new, really tasty family friendly recipes, there really is something here for everyone