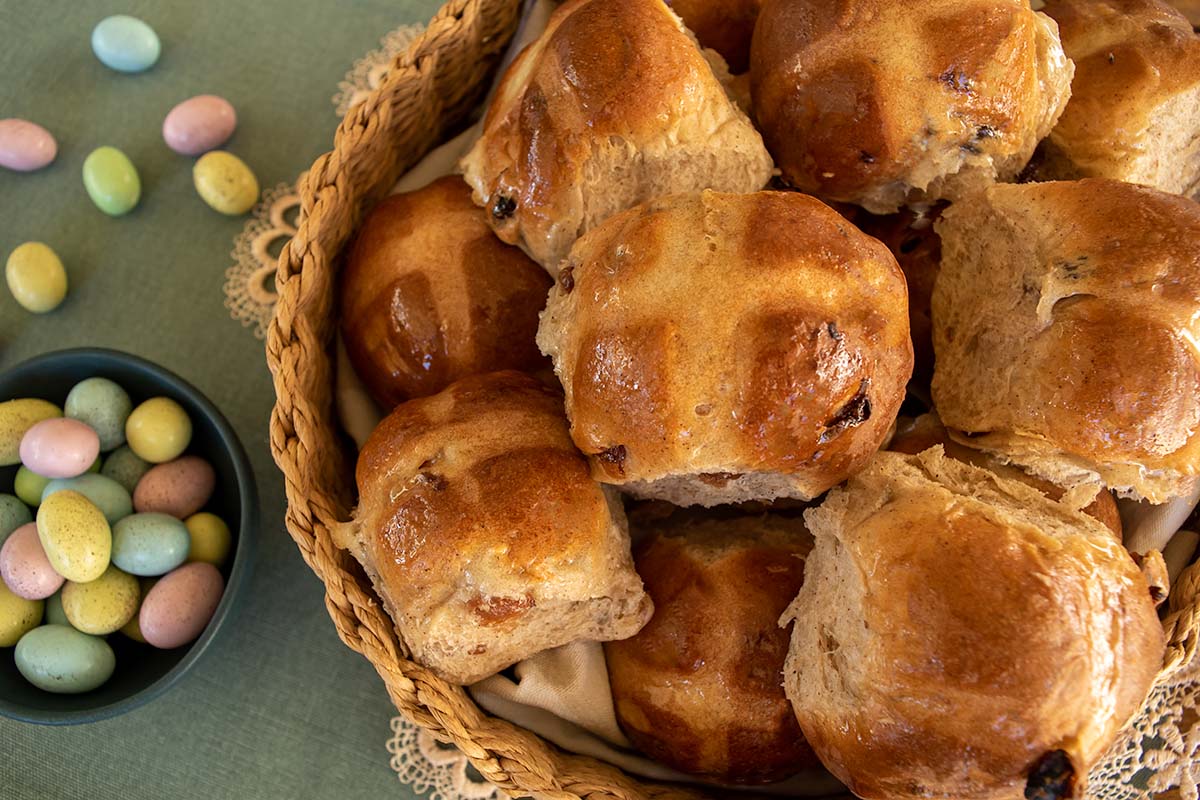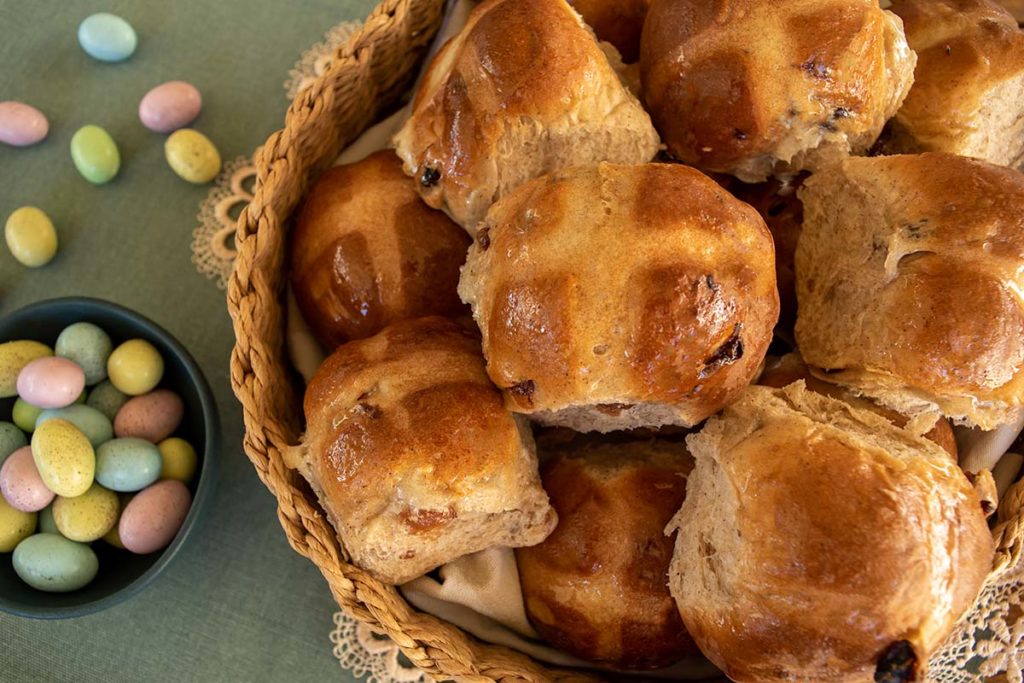 With Easter just around the corner, I thought it was high time to create some traditional hot cross buns! The Thermomix makes the dough for these hot cross buns, as well as the mixture for the crosses and the glaze to finish them off too. So easy and with really great results.
Six years ago, I developed my Double Chocolate Hot Cross Buns Thermomix recipe. This is crazy, I can't believe I've been blogging longer than six years! Well they're the only hot cross buns I ever make. I love them.
I've just never been all that keen on traditional HCBs… I've got bad childhood memories of those ghastly bits of dried peel they (used to?) have in them! Russ and the kids love traditional style hotties, so we buy them from time to time. Recently I tried one – the first time in many many many years! It wasn't actually that bad! So I decided to make a Bexta version.
Honestly, I am SO happy with how these turned out! I used my Double Chocolate Hot Cross Buns recipe as a base for these. I tweaked them here and there to remove all signs of chocolate, increased the spices a touch and added sultanas of course. The resulting buns are soft, fluffy, lightly spiced and have just the right amount of sweetness.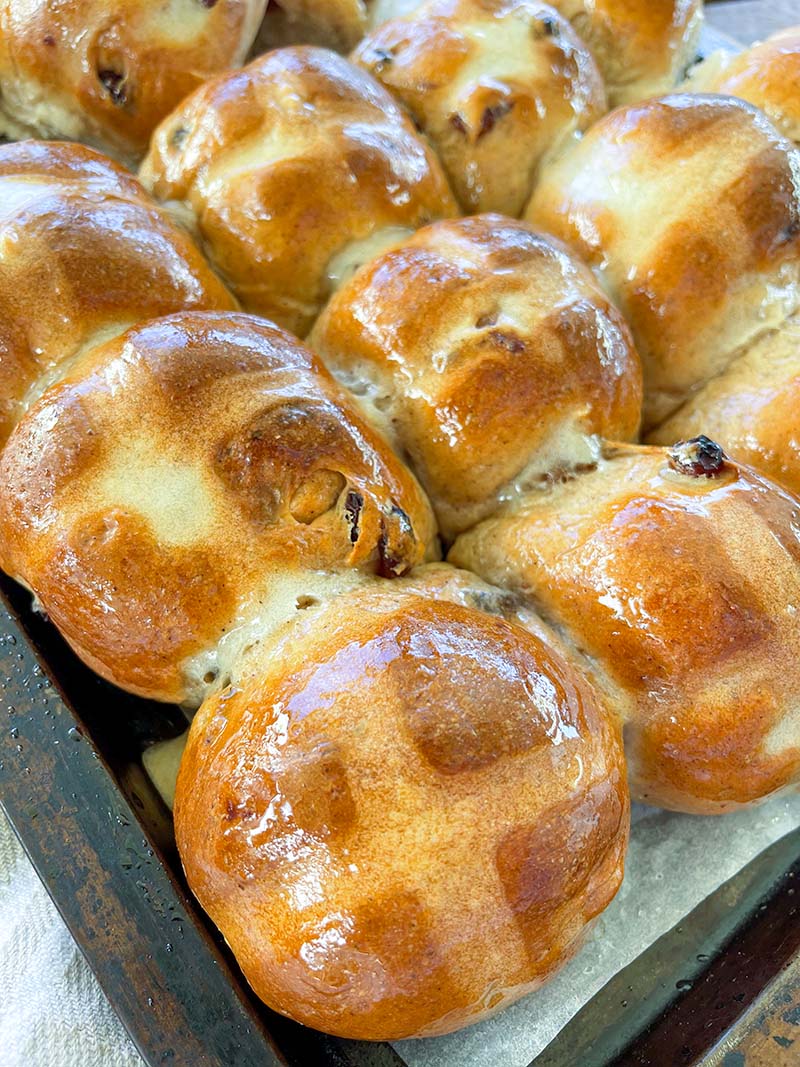 So perfect these are, that the sixteen hot cross buns the recipe made for me today were almost completely demolished by five kids (not all mine) after school! Ok, I devoured one too. I also sampled after they'd cooled down. I was pleasantly surprised with the texture of them so many hours after baking.
What we need to make the dough for these hot cross buns in the Thermomix
Chances are you probably have everything on hand to make these buns right now. Pictured below is everything you need for the hot cross bun dough.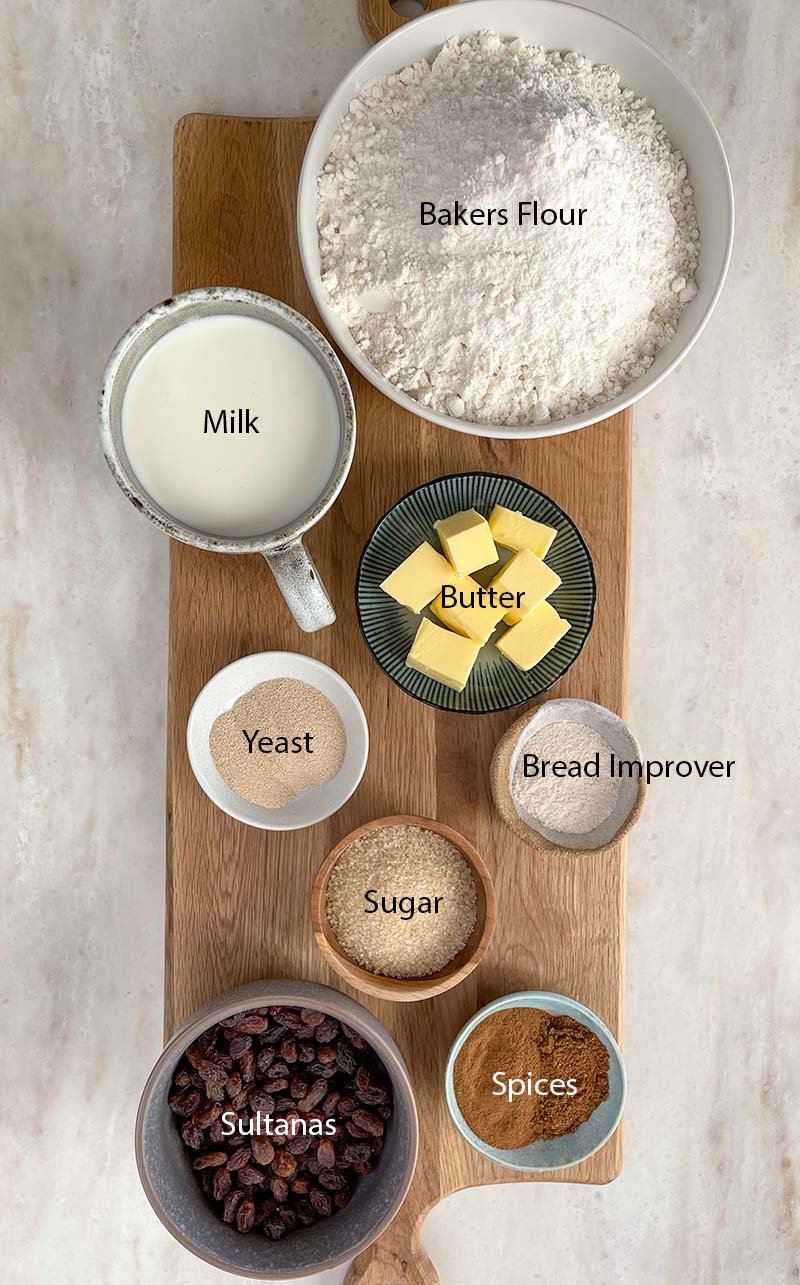 The only things you'll need in addition to what is pictured above, are the ingredients for the crosses:
Bakers flour
Water
And the glaze:
Sugar
Water
Proving the dough
These hot cross buns come together like most other breads and buns: Make the dough – Rest the dough – Shape the buns (or bread) – Rest again – Finish off with any toppings (in this case, the crosses) – Bake – Glaze (most breads don't need glazing, but hot cross buns do).
'Proving' (or 'proofing') the dough is the term for resting dough. During this time, the yeast ferments the dough, which causes it to produce gases and grow! It's a very important step in all bread making and if skipped, breads will be small, hard and not enjoyable.
Proving dough can prove a little confusing when you're first starting out making breads. Proving dough for hot cross buns is first done as soon as the hot cross bun dough is made. Leave it until it has about doubled in size. The time this takes can vary greatly and is dependent on environmental factors, especially temperature and humidity. In ideal conditions, half an hour is enough for this first rise. When it's cold, it can take over an hour!
After the first proof, the air needs to be punched out, dough split into 16 pieces and each bun shaped into a ball and placed on the tray they'll be baked on.
Time for the second proving now. About 20-30 minutes is enough for this second proving. They won't double, they'll grow about 75% bigger. The crosses then need piping on, this is an easy step that will take just a minute or two.
The buns can now be baked, and finally brushed with a sugar syrup to finish them off. Yum!
I've included below a visual reference for you when it comes to proving your dough. The image on the left is straight after the sultanas have been hand kneaded in. The dough is then shaped into a ball and placed in the oiled (large) bowl.
To the right the dough has finished proving. You can see that it has grown to about double the original size and now takes up the entire bowl.
How to store home made hot cross buns
Home made breads are best eaten the day they're made. That's when they're soft and fresh! However, if you like your hot cross buns toasted, (I think this is probably the way most people eat them anyway, regardless of freshness… My partner won't eat them any other way!) they are fine for a few days. Store in an air tight container at room temperature.
Best Hot Cross Buns…
If you make these HCBs, I'd love for you to leave me a comment under the recipe letting me know what you think! Have you tried these AND my Double Chocolate Hot Cross Buns? Which do you think of the two is the best hot cross bun recipe?
Best Ever Hot Cross Buns
These light and fluffy hot cross buns are sure to soon become your favourite recipe for this classic Easter food!
Ingredients
BUNS
200

g

sultanas

350

g

milk

*see notes

70

g

salted butter

*see notes

3

tsp

yeast

550

g

bakers flour

50

g

sugar

2

tsp

bread improver

optional but highly recommended

3

tsp

cinnamon powder

2

tsp

mixed spice
CROSSES
40

g

plain flour

60

g

water
Instructions
BUNS
Place sultanas in a bowl. Cover generously with boiling water. Set aside.

Place milk and butter in mixer bowl. Heat 2 minutes/37/speed 2/MC on.

Add yeast, flour, sugar, bread improver, cinnamon and mixed spice. Knead/5 minutes/MC on.

Drain (and discard) water from sultanas. Pat dry with a clean tea towel. Lightly flour your bench and tip the dough out onto it. Hand knead sultanas into dough, distributing them as evenly as you can.

Transfer dough to a silicon mat and wrap, or an oiled bowl and cover. Leave in a warm place to double in size.

Line a large oven tray with baking paper. Lightly flour your kitchen bench. Unwrap dough onto the bench. Punch the air out of it, then weigh the dough. Divide dough into 16 equal portions (75-80g each).

Work each piece of dough into a round bun, rotating each ball gently and pulling the dough to the underside as you go. Place each one on the tray as you form it, just touching each other. When all buns are shaped and on the tray, spray the tops with water (this will ensure they don't dry out). Set aside in a warm place and leave to rise for half an hour. You can also cover with a piece of lightly oiled cling wrap and I would recommend this especially if you are proving your buns outside.
CROSSES
When rising time is almost over, place flour and water in mixer bowl. Mix 10 seconds/speed 3/MC on, stopping halfway through to scrape down sides and base of bowl.

Transfer mixture into a zip lock bag and seal. Snip off a small corner. Pipe crosses on the tops of the buns.

Bake for 20 minutes, or until hollow sounding when tapped on top.
GLAZE
Just before buns are ready to come out of the oven, place sugar and water in mixer bowl. Heat 2 minutes/70/speed 1/MC on. Use a pastry brush to brush glaze onto the buns as soon as they come out of the oven.
Notes
For dairy free / vegan hot cross buns, use soy milk and replace butter with a non-dairy spread + a pinch of salt.
For Not Cross Buns, simply skip the crosses.
Nutrition
Serving:
1
HCB
|
Calories:
245
kcal
|
Carbohydrates:
46
g
|
Protein:
6
g
|
Fat:
5
g
|
Saturated Fat:
3
g
|
Trans Fat:
1
g
|
Cholesterol:
12
mg
|
Sodium:
45
mg
|
Potassium:
187
mg
|
Fiber:
2
g
|
Sugar:
14
g
|
Vitamin A:
147
IU
|
Vitamin C:
1
mg
|
Calcium:
44
mg
|
Iron:
2
mg
Please note, nutrition information is calculated via an online recipe nutrition calculator and is a guide only. It is provided as a courtesy and is not guaranteed 100% accurate. I am not a nutritionist or trained health professional.
Tried this recipe?
Please rate it and leave feedback in the comments section below, or mention @Thermobexta or tag #Thermobexta on Instagram.
You might also be interested in these recipes...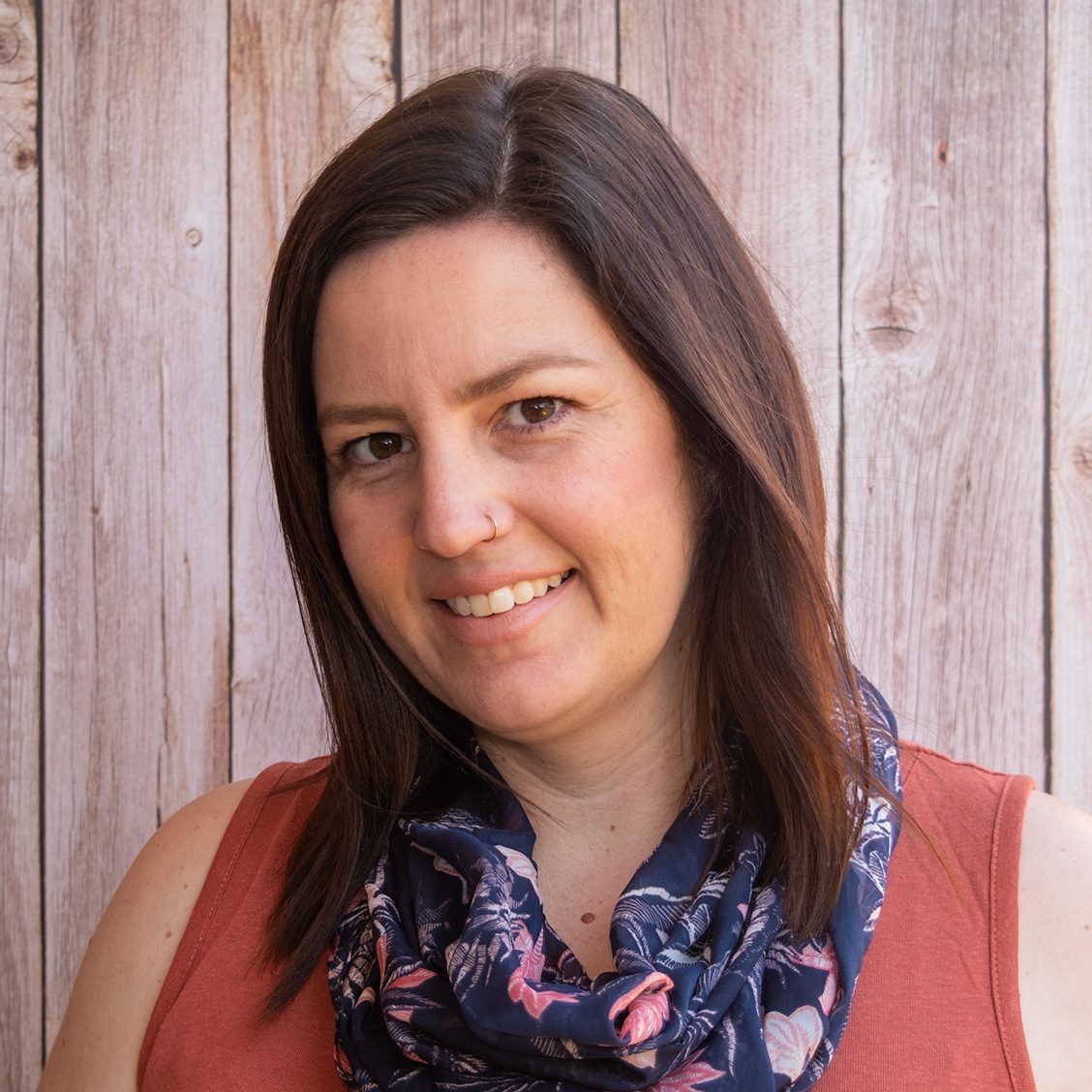 Hi, I'm Bec
I specialise in great tasting vegetarian Thermomix recipes and cater for a wide range of dietary needs. I love sharing here and in my cookbooks my healthy, delicious recipes (of course the odd treat too!) Whether you're looking to ignite your thermo mojo, or just after some new, really tasty family friendly recipes, there really is something here for everyone