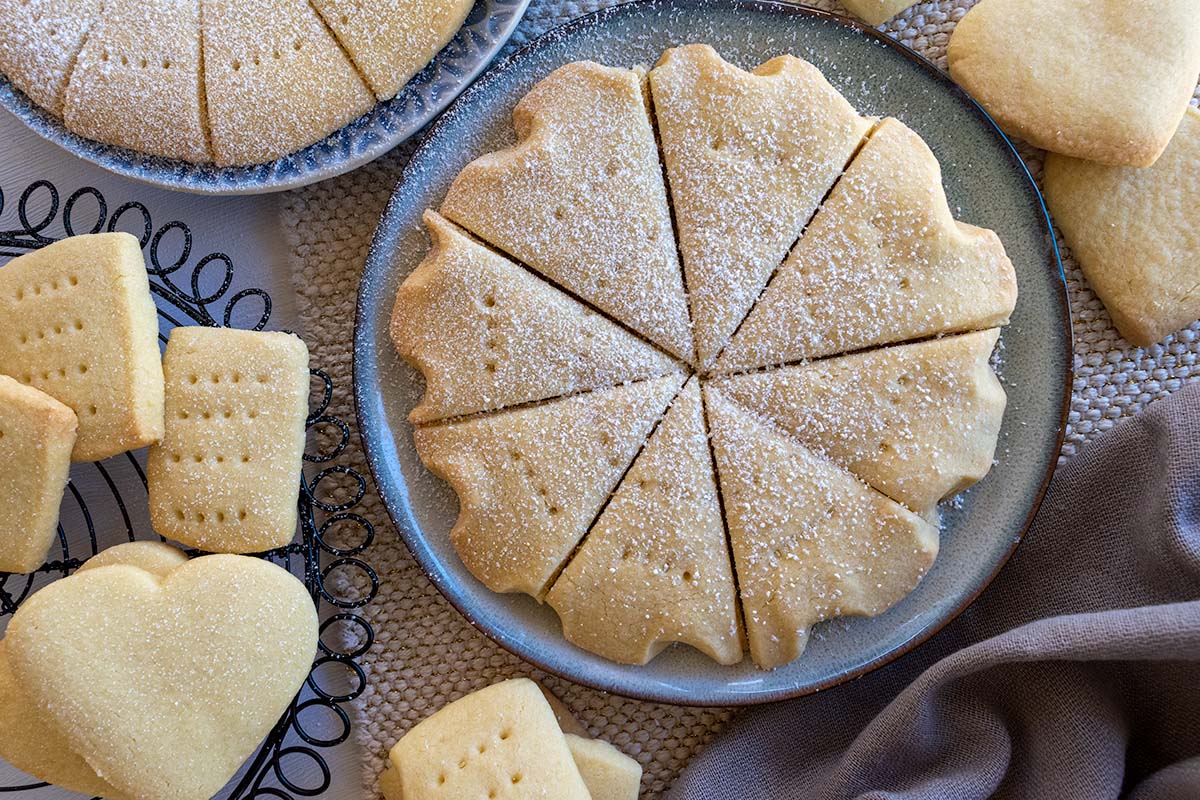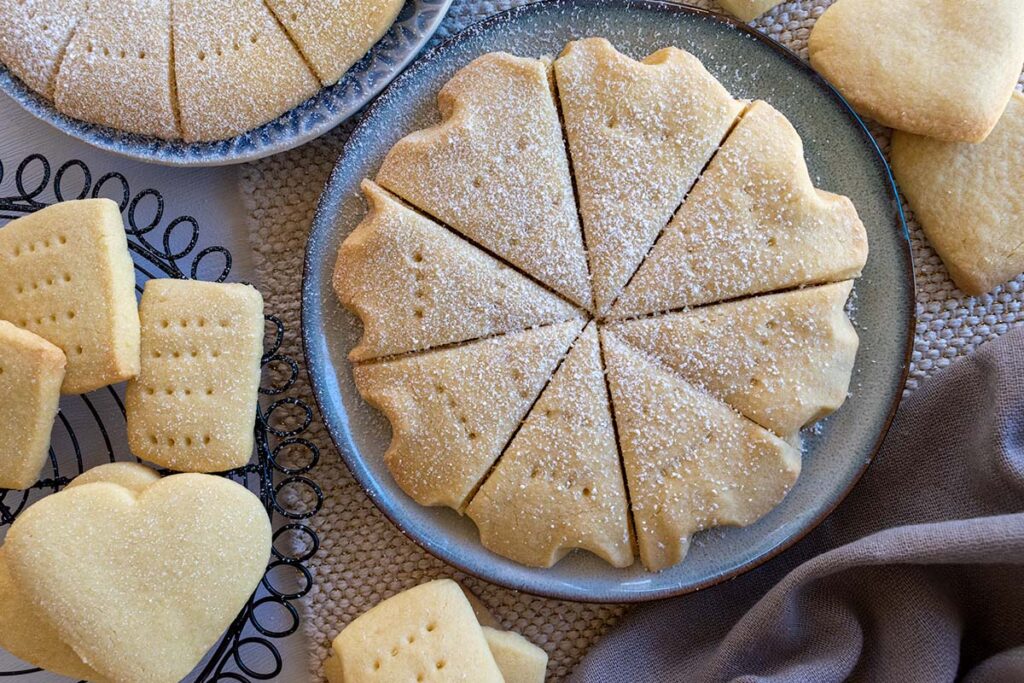 Shortbread is almost a Christmas necessity and making Shortbread in the Thermomix is so quick and easy! With just five ingredients and a few short steps, it couldn't be easier.
I have a list of recipes I planned on sharing here on the blog in the lead up to Christmas this year. This said, it's so close to Christmas now! I've been consumed by finishing my next cookbook – All Day Eats – and I've almost run out of time for sharing Christmas recipes. With just a few days to go, I've chosen to share my simple shortbread recipe. There are several reasons I've chosen this one to share:
The recipe is quick to whip up
It uses just five ingredients
Santa will appreciate you making this for him
It's a great one to get the kids involved with
Everyone loves shortbread!
There's nothing like freshly made shortbread. The smell of it cooking; the soft, sweet balance of simple flavours; the delicate texture.
Shortbread in the Thermomix – ingredients and the how-to
Short and sweet is a perfect way to sum up this recipe. Just five ingredients are needed and you probably won't even need to go to the shop to get them: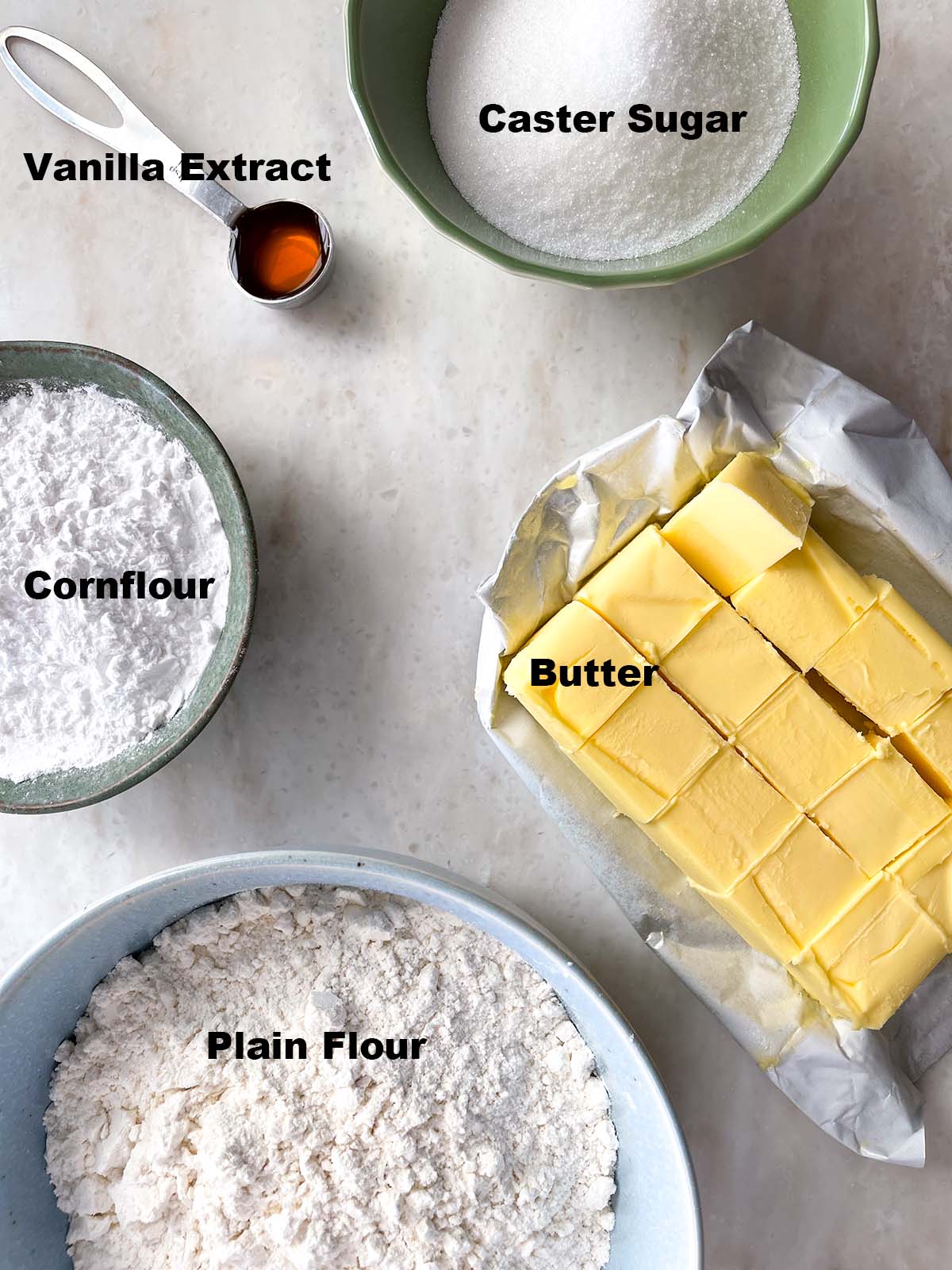 To make this simple shortbread in your Thermomix, first the sugar and flours have a quick sift. Then it's just a matter of adding the butter and vanilla, and a quick knead. Be sure to not over-knead the dough. As soon as most of it has come together, it's ready to work with. This is about what you're aiming for: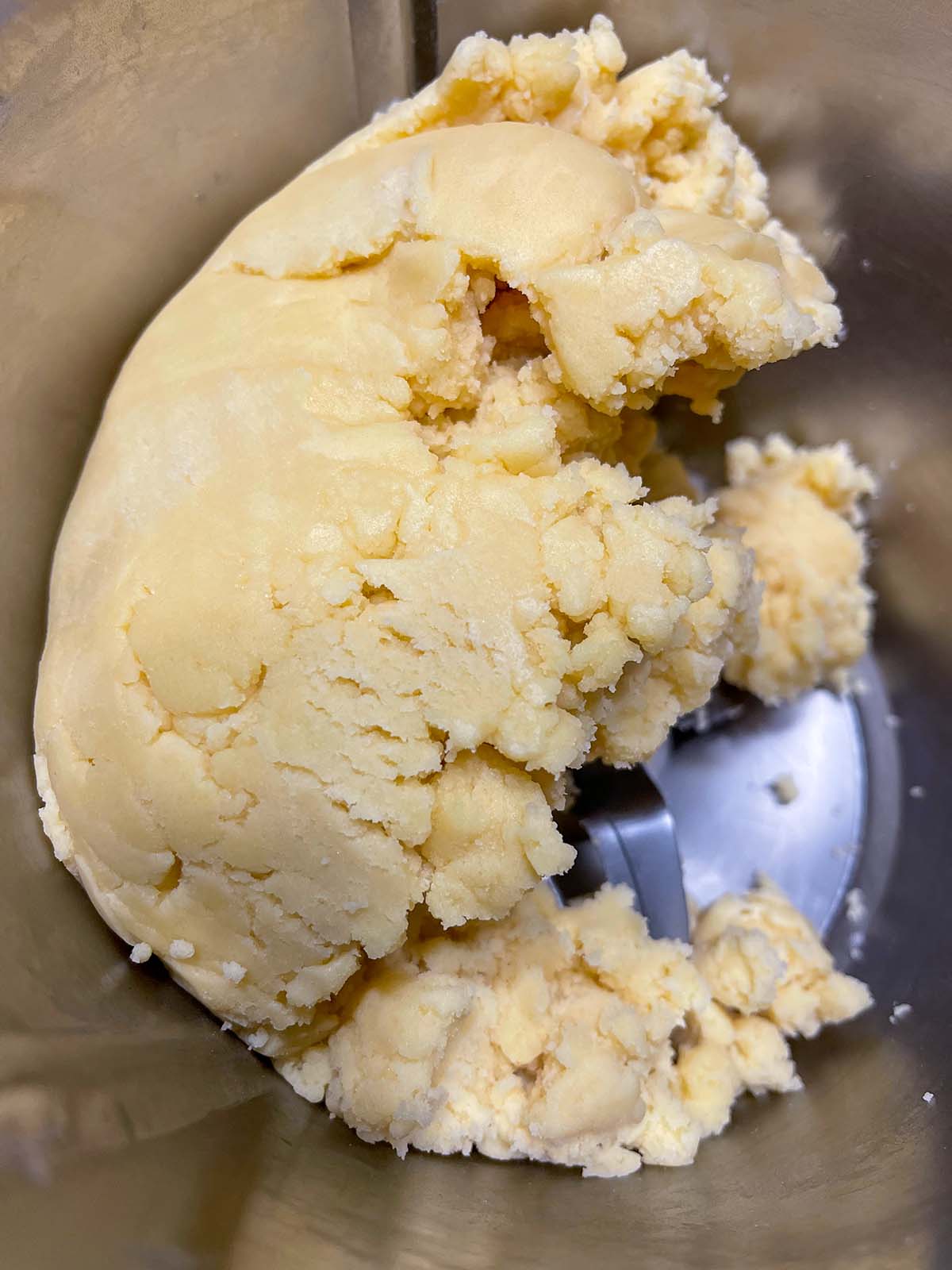 Next, remove the dough from the bowl, onto a silicone mat. Push it together into a ball. There are a couple of ways you can go from here.
The quickest (my favourite!) option: large round shortbread discs
My favourite way to go from here is to divide the dough in half and shape each half into a round disc. Smooth tops with a large knife or palette knife. Score each where you intend on cutting them – anywhere from eight to twelve pieces is good. Now, make them look pretty – you can carve designs into the top and/or press a pattern around the edges with a fork, or fingertips.
One thing I don't recommend skipping is pricking the shortbread all over with a fork before baking. The little holes all over will allow steam to escape while the shortbread bakes, preventing it from bubbling and ensuring it bakes evenly.
Once baked, slice where you scored earlier, then allow shortbread to cool. This is what it will look like: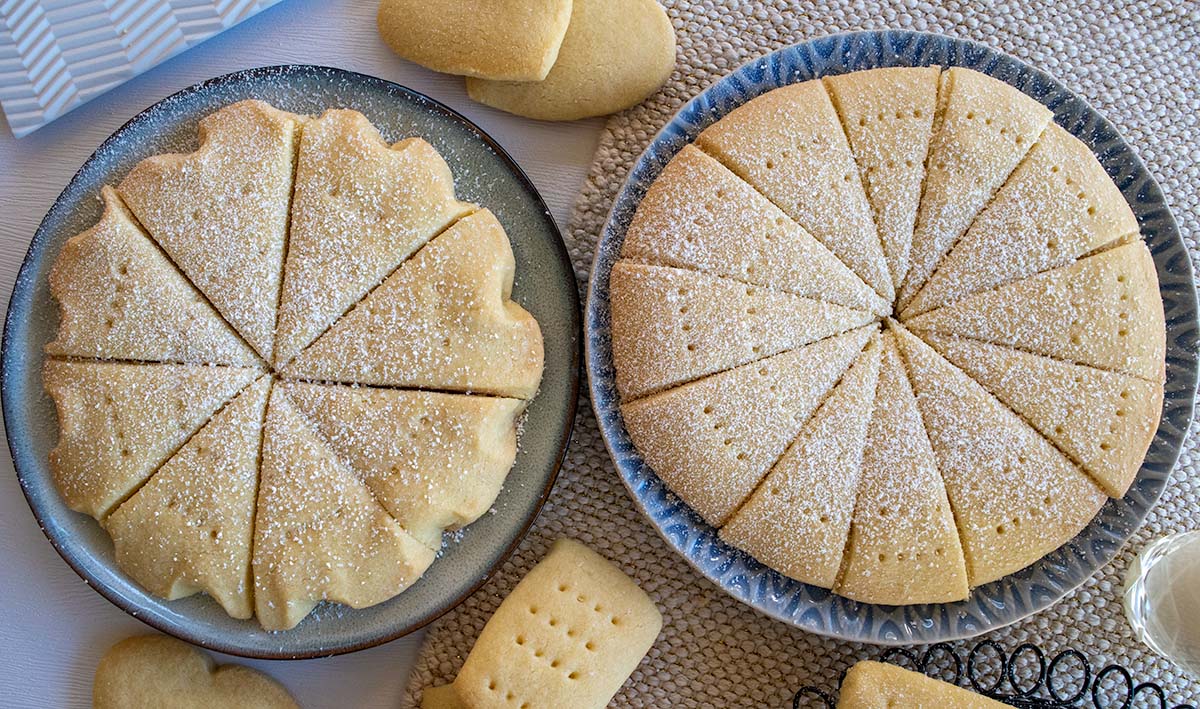 What about making individual shortbread biscuits?
I mentioned that there are a couple of ways you can go once the shortbread dough is out of the Thermomix bowl and sitting on the bench… The other way you can go is the way you'd choose if you'd like to bake individual bickies. Since shortbread dough is soft, it needs to firm up before cutting into biscuits. To do this, it will need refrigerating for about half an hour. I like to first divide the dough into two pieces and wrap each individually.
This is perfect for making shortbread shapes with cookie cutters. After half an hour in the fridge, unwrap one piece of dough, lay a piece of baking paper on top of it and roll it out to about 1cm thick. Use cookie cutters to make shapes, or simply slice into rectangles with a knife. Scraps of dough can be pushed together and rolled out again to cut into more biscuits. Repeat with the second piece of dough.
I made these love hearts with cookie cutters. For the rectangular biscuits I rolled the dough out into a rectangle and sliced it into rectangles: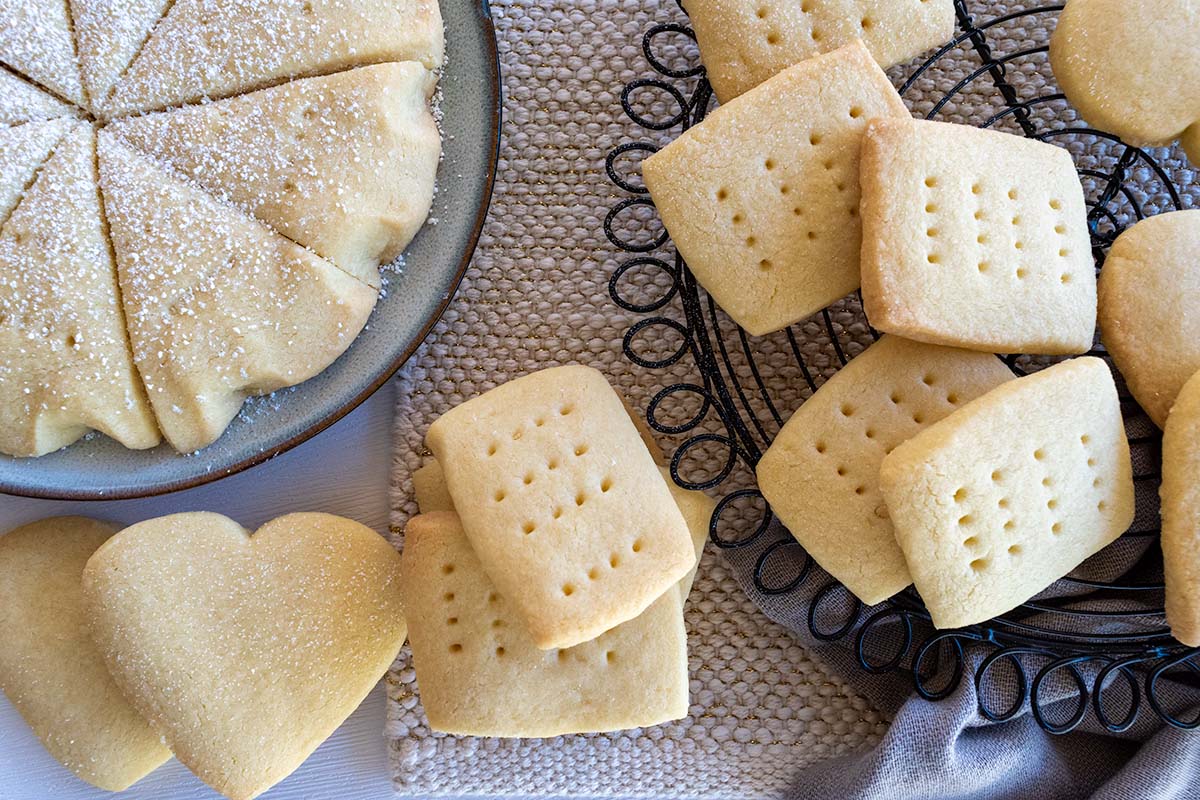 Another alternative is shaping the dough into a log and wrapping then refrigerating for half an hour or so. After this, you can simply slice into individual biscuits, prick with a fork and bake.
Different baking times
As always, its important to remember that baking times are given as a guide only. Temperatures vary from oven to oven and this affects baking time.
Large rounds will need 20-25 minutes baking time
Trays of individual biscuits will need around 12 minutes.
The shortbread is ready to come out of the oven when the edges begin to change colour.
Shortbread FAQ's
Can I make this shortbread vegan?
Yes! The wonderful Beth Watts in our testing team has successfully made this vegan by swapping butter for Nuttelex Buttery vegan spread. I've also since done so myself with perfect results. One difference is that I don't think it would be a good version to use with cookie cutters. So if you make the vegan version, you'll be best off making the two large circles of shortbread divided into wedges.
Can I make this shortbread gluten free?
I haven't tried a gluten free version of this shortbread. If you do, I'd love to know how you go!

Is salted or unsalted butter the best to use?
You can use either! I do like salted so if I only have unsalted on hand I use it and add a pinch of salt. Either with or without the salt, though, this is an irresistible shortbread.
Can I halve this shortbread Thermomix recipe?
Yes, it's perfectly fine to halve this recipe. All instructions remain the same, though the dough won't take as long to come together so just keep an eye on it through the hole in the TMX lid and stop it once it's looking similar to my photo above.
My dough is tearing, or it's cracking at the edges, why? What do I do?
This buttery dough is very forgiving! It may crack a little while you're shaping your discs, if it does, just rub it to re-join and smooth it out. It may tear a little while you're rolling it out after refrigerating, if it does, press it back together and be a little more gentle. I've only had this happen when I was rushing. Slowing down is all I needed to do.
Why is it recommended to prick holes in the shortbread before baking?
Pricking all over with a fork before baking ensures even cooking. It allows steam to exit the dough and prevents bubbling.
What's the best way to store shortbread?
Shortbread can be stored in an airtight container in the pantry for about a week. If you'd like to keep it longer than this, it will be fine to freeze.
More Thermomix baking inspo
While you can't actually bake in a Thermomix, you can certainly use one to whip up a fabulous dough, batter or mixture in no time. Here are some other baking recipe recommendations for you:
Brilliant Blueberry Lemon Loaf
Merry Christmas!
I wish you all the best for the festive season and thank you for your support this year. Whether you cook the free recipes here on the website, or from my cookbooks, participate in the Facebook group, or give the occasional post on Instagram a like or comment, I thank you.
Have a wonderful Christmas and a fabulous 2022.
Love Bec xx
Simple Thermomix Shortbread
This easy recipe combines just five ingredients into the most divine treat!
Ingredients
320

g

plain flour

80

g

caster sugar

40

g

cornflour

250

g

unsalted butter

cold, diced

1

tsp

vanilla extract
Instructions
Pre-heat oven to 160°C. Line two trays with baking paper.

Place plain flour, sugar and cornflour in mixer bowl. Sift 8 seconds/speed 7/MC on. Scrape down bowl.

Add butter and vanilla. Mix 5 seconds/speed 7/MC on, then knead/45 seconds-1 minute/MC on, until dough just comes together.

Turn out onto a silicone mat. Push dough together into a ball then divide into two pieces. Place one half of the dough onto one of the prepared trays. Press out into a circle about 18cm in diameter. If the edges crack a bit, smooth out with your fingers. Use the edge of a large knife (or a palette knife) to smooth out the top. Score lines on top, forming 8-12 equal wedges. Prick all over with a fork. Repeat with second piece of dough (on the second lined tray).

Bake for 20-25 minutes, until edges begin to change colour. Remove from oven and slice into wedges. Leave to cool completely on trays.
Notes
This is a versatile shortbread that can also be rolled into a log and cut into rounds, or rolled out and cut with cookie cutters. For these options, refrigerate dough for at least 30 minutes before shaping and baking. Reduce baking time to 12 minutes.
Nutrition
Serving:
1
biscuit
|
Calories:
143
kcal
|
Carbohydrates:
15
g
|
Protein:
1
g
|
Fat:
9
g
|
Saturated Fat:
5
g
|
Polyunsaturated Fat:
1
g
|
Monounsaturated Fat:
2
g
|
Trans Fat:
1
g
|
Cholesterol:
22
mg
|
Sodium:
2
mg
|
Potassium:
17
mg
|
Fiber:
1
g
|
Sugar:
3
g
|
Vitamin A:
260
IU
|
Calcium:
5
mg
|
Iron:
1
mg
Please note, nutrition information is calculated via an online recipe nutrition calculator and is a guide only. It is provided as a courtesy and is not guaranteed 100% accurate. I am not a nutritionist or trained health professional.
Tried this recipe?
Please rate it and leave feedback in the comments section below, or mention @Thermobexta or tag #Thermobexta on Instagram.
You might also be interested in these recipes...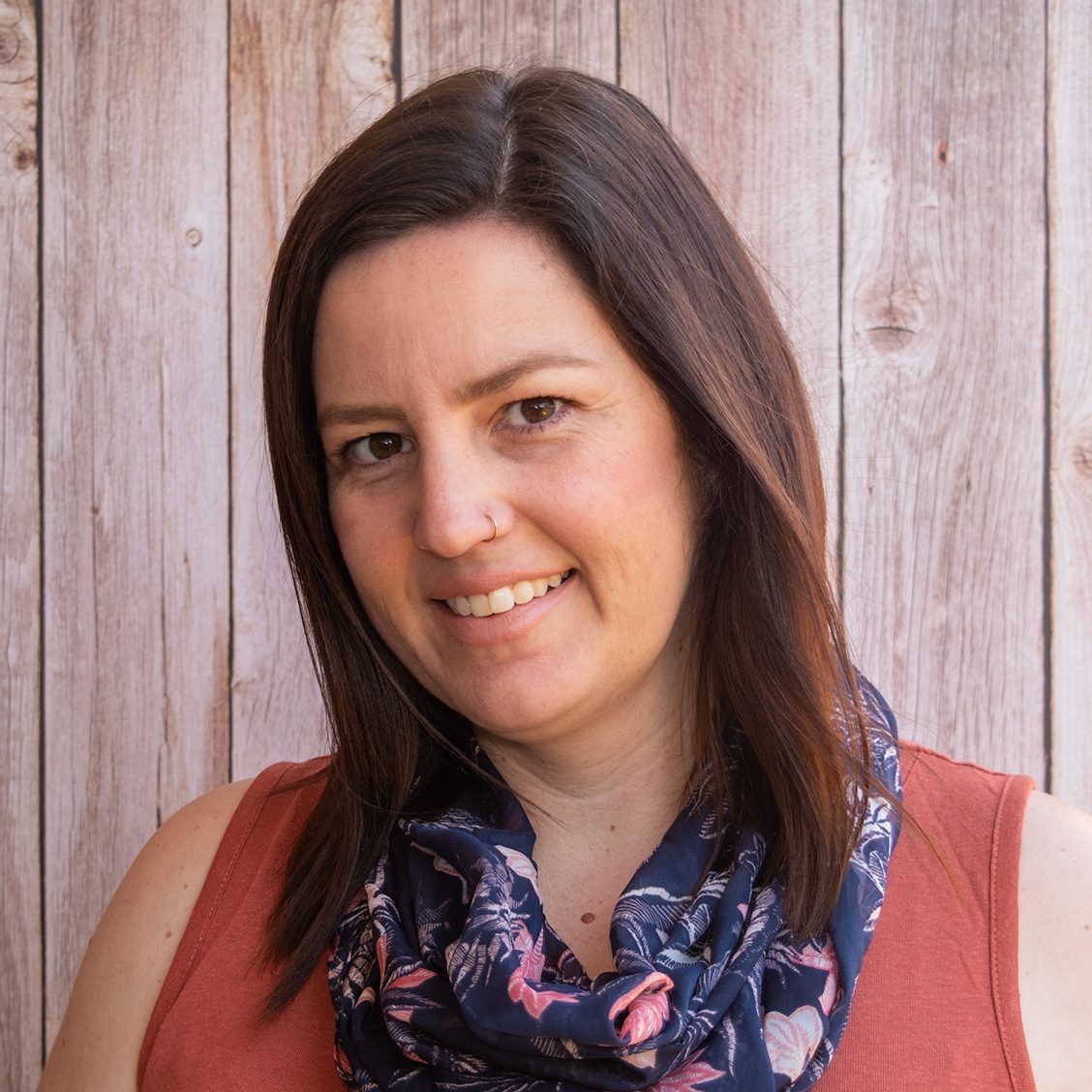 Hi, I'm Bec
I specialise in great tasting vegetarian Thermomix recipes and cater for a wide range of dietary needs. I love sharing here and in my cookbooks my healthy, delicious recipes (of course the odd treat too!) Whether you're looking to ignite your thermo mojo, or just after some new, really tasty family friendly recipes, there really is something here for everyone