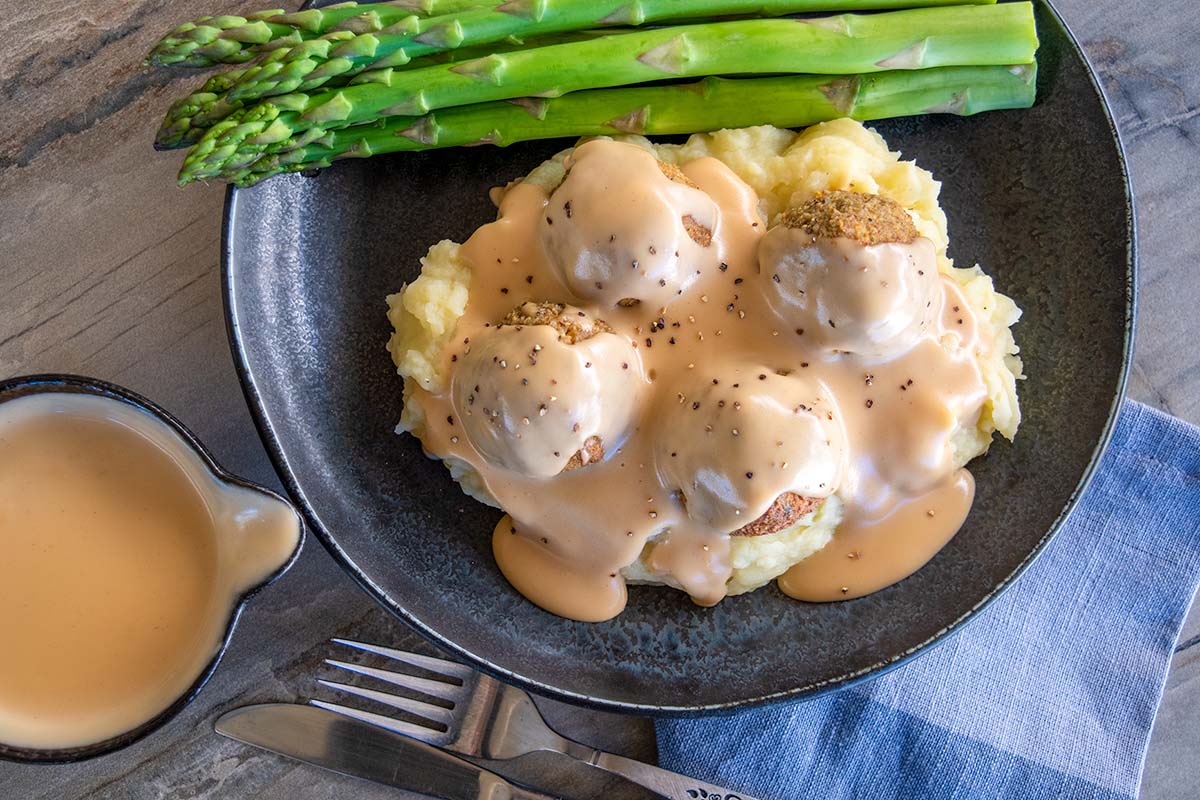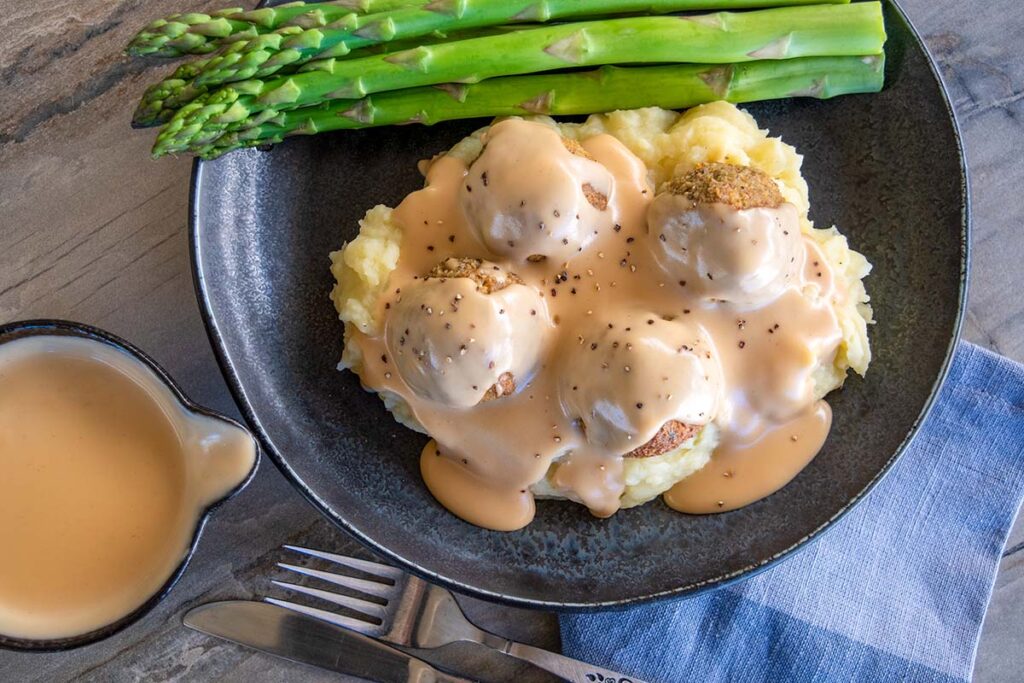 This Swedish gravy recipe for the Thermomix is rich, creamy and luxurious! It's just like the IKEA meatball cream sauce. A savoury, cream sauce, perfect for accompanying your meat-free (or meat!) balls, nut (or meat) loaves, steaks, veggies, and more.
Last year when much of the world started spending periods of time confined to their homes, IKEA shared their recipe for their famous meatballs and gravy. This recipe is inspired by the sauce component of that recipe. You can find their full recipe here.
The reason for this Swedish gravy
The reason I am sharing this tweaked, Thermomixed version of this iconic Swedish gravy… While my latest book was coming together, we created the fabulous 'Neatballs in Napoletana Sauce' which is a rollable meat-free nut-based meatball. The Neatballs are baked in a lovely rich tomato sauce that is made quickly in the Thermomix.
One of our amazing recipe development team members, Leanne, trialled baking the Neatballs on a tray without the sauce. It worked so well! She then made my Easy Peasy Gravy (recipe in Super Sides Made Easy) and turned them in to Neatball subs, which she then raved about so much that I had to do the same shortly after and goodness me they were GOOD! Seriously, that gravy is amazing stuff!!
Leanne then decided a vego take on Swedish meatballs and gravy was needed and I agreed. So I made a couple of small changes to the Neatballs and wrote a recipe for the cream gravy. We both tried it and whilst delicious, I wasn't happy that the gravy was 'Swedish gravy' enough.
So Leanne tried again, this time using her trusty Bellini to make a gravy using the IKEA recipe linked above and she and her family loved it. At the time I was super busy getting ready to launch the book so it went on the back burner, until now…
I really wanted to share this here with you, because Neatballs and gravy are totally divine together, but I know that not everyone has Super Sides Made Easy yet, so wanted to share an easily accessible gravy recipe for the Neatballs. You're welcome xx
If you're keen to make vego Swedish meatballs to have this Swedish gravy with, you'll find my Neatball recipe in Family Favourites Made Easy. Simply follow the directions in the tip underneath that recipe to bake them without the sauce. Then for the Neatball mixture, reduce fresh parsley to 10g and replace dried herbs with 0.25 tsp ground nutmeg and 0.25 tsp ground allspice.
And really, who wouldn't want to eat this!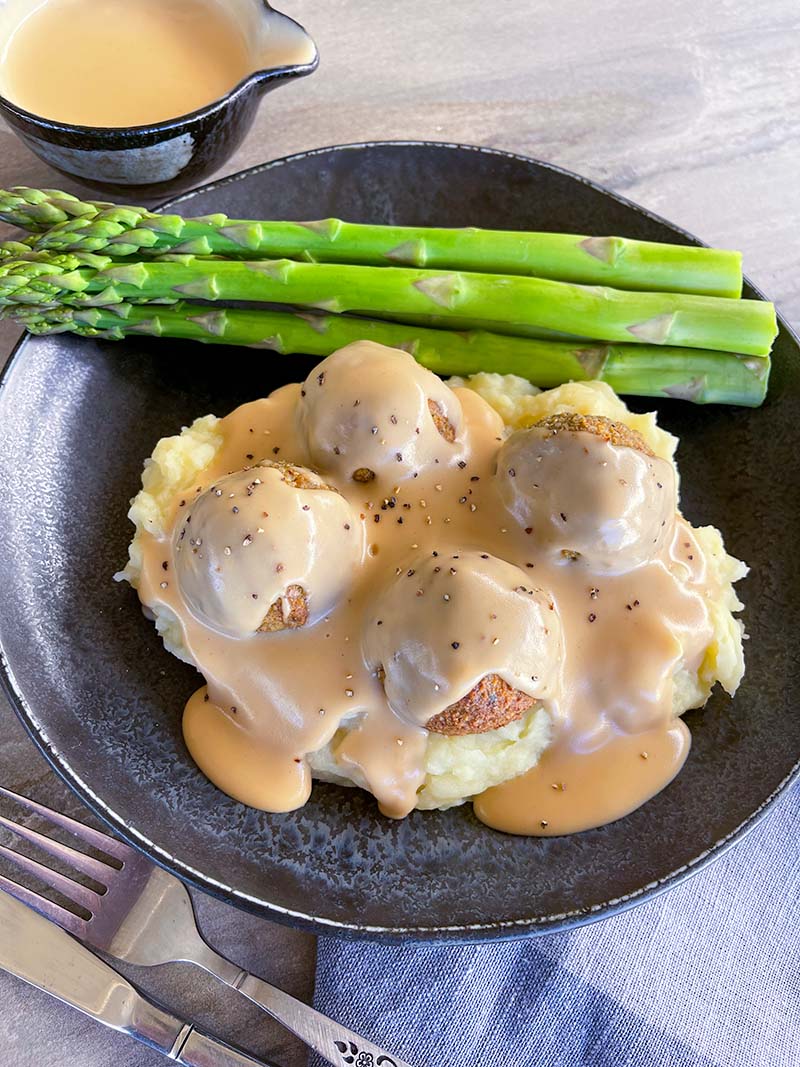 The how-to
(Scroll to the recipe card at the bottom for the full recipe).
It's really very simple. Stock + cream + butter + flour + flavour!
See the Swedish Gravy FAQs below the photo too for swaps for some ingredients, making this vegan and gluten free.
I've replaced some of the cream in the original recipe with a little more liquid stock, but it is still lovely and creamy. To tweak the flavours I've added a splash of Worcestershire sauce and a pinch of nutmeg. All together, the ingredients you see below really do make such a delicious creamy gravy sauce.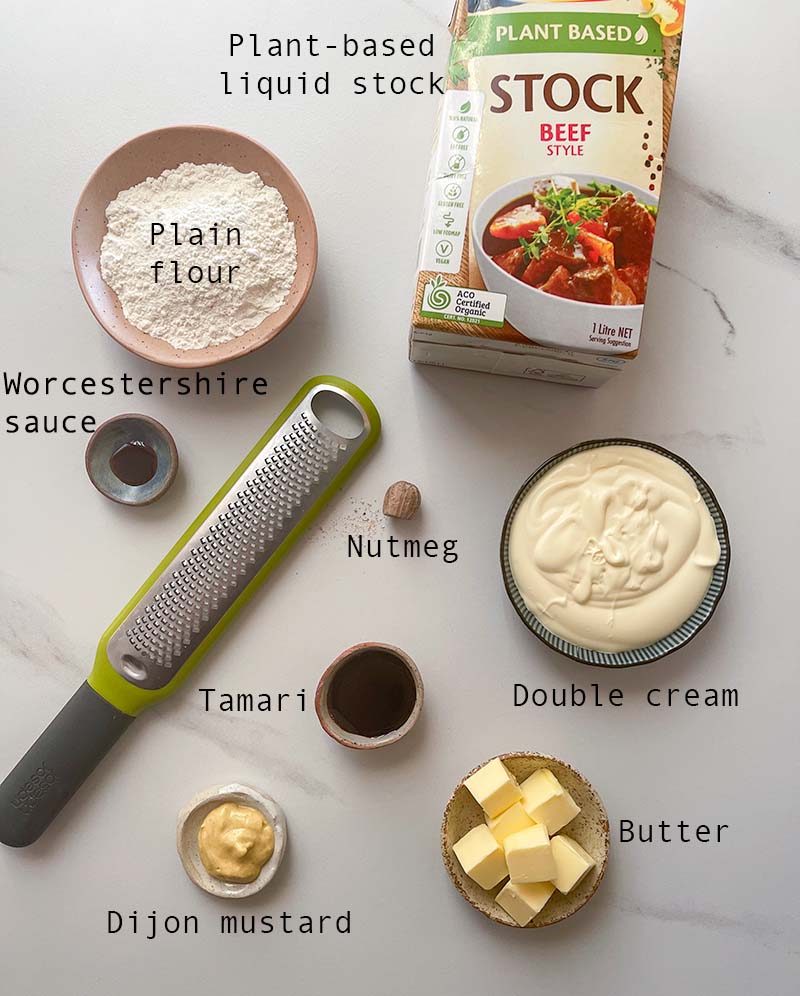 Swedish Gravy FAQs
Can I make this vegan?
You sure can! Ensure your Worcestershire sauce is anchovy-free. Replace the butter with a plant-based spread and the double cream with a plant-based milk. My vegan daughter has made this with Nuttalex buttery and oat milk with great success. This version isn't as creamy, but it is still an incredibly tasty gravy! If you don't mind a bit of a coconut flavour, I think coconut cream will probably work very well too.
Can I make it gluten free?
Yes, you can use a gluten free plain flour.
Can I use something other than double cream?
Double cream is what IKEA's recipe uses and it does give the creamiest, best results. That said, Leanne did try thickened cream with good results and I believe full-cream milk will also work well, given the oat milk worked well in the vegan version!
Worcestershire sauce isn't vegetarian, I thought Thermobexta was a vego blog?
There are several brands of vegetarian Worcestershire sauce. I use Melrose Organic, which I buy through a co-op, I've also seen it in health food shops. Coles and Woolworths home brand Worcestershire sauce, as well as Spring Gully are also vegetarian. Please check the labels before purchasing, in case the ingredients change in the future.
I'm not vegetarian, does the liquid stock have to be plant-based?
Absolutely not! If you're a meat eater, it's totally fine to use a liquid beef stock.
Can this recipe be doubled?
I haven't tested doubling, however I think it should be fine to double all ingredients. The general rule of thumb when doubling a recipe in the Thermomix is to increase cooking time by 20%, so I'd recommend increasing Step 1 to 3.5 minutes and Step 2 to 7-8 minutes.
Can this recipe be halved?
Again, halving hasn't been tested but I do think it will be fine to do so. The general rule of thumb when halving a recipe in the Thermomix is to decrease cooking time by 20%. This would mean decreasing cooking time to 2.5 minutes at Step 1 and 5 minutes at Step 2.
Join us on Social Media
Have you found us on social media yet? We have a great, friendly group on Facebook, you can find it here.
I also have a Facebook page which is less chatty, but great to follow.
I really love seeing photos of Bexta recipes of Fb that have been cooked by you! Please feel free to share in the group, or tag me if you share on your page.
My Instagram can be found here. Please tag me on your Inta posts and stories if you post a pic of one of my recipes you've cooked!
Pin this recipe here: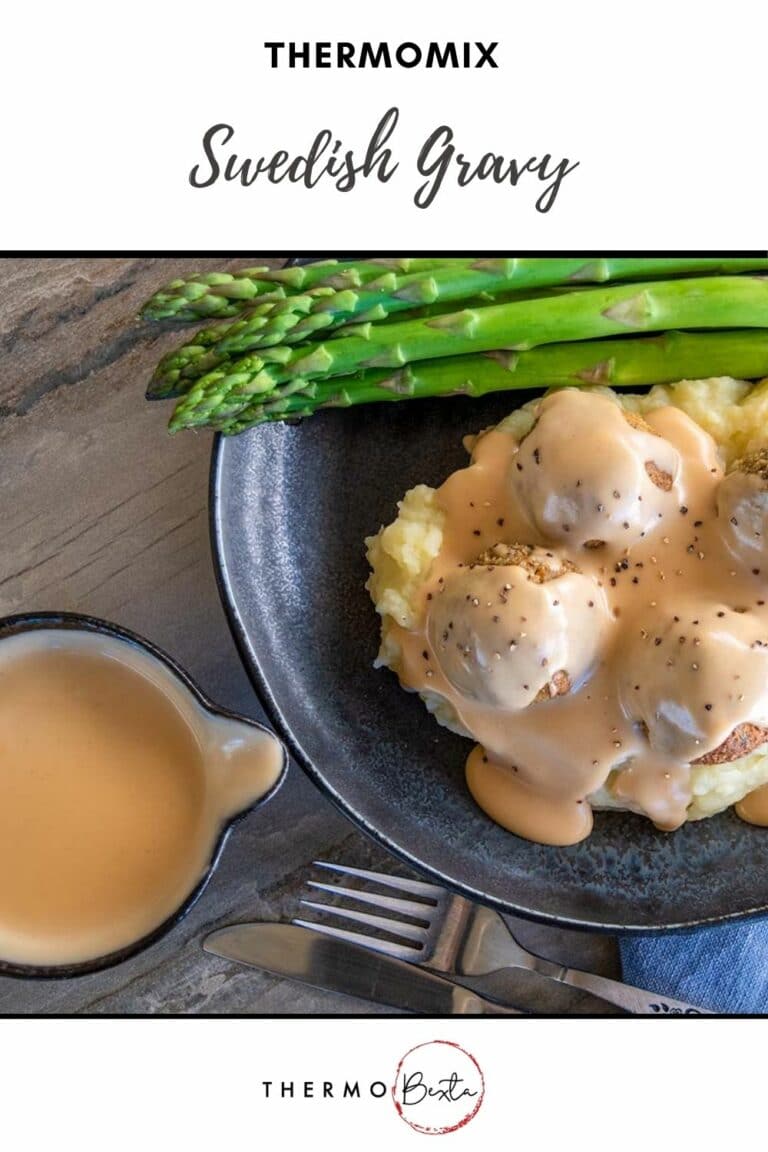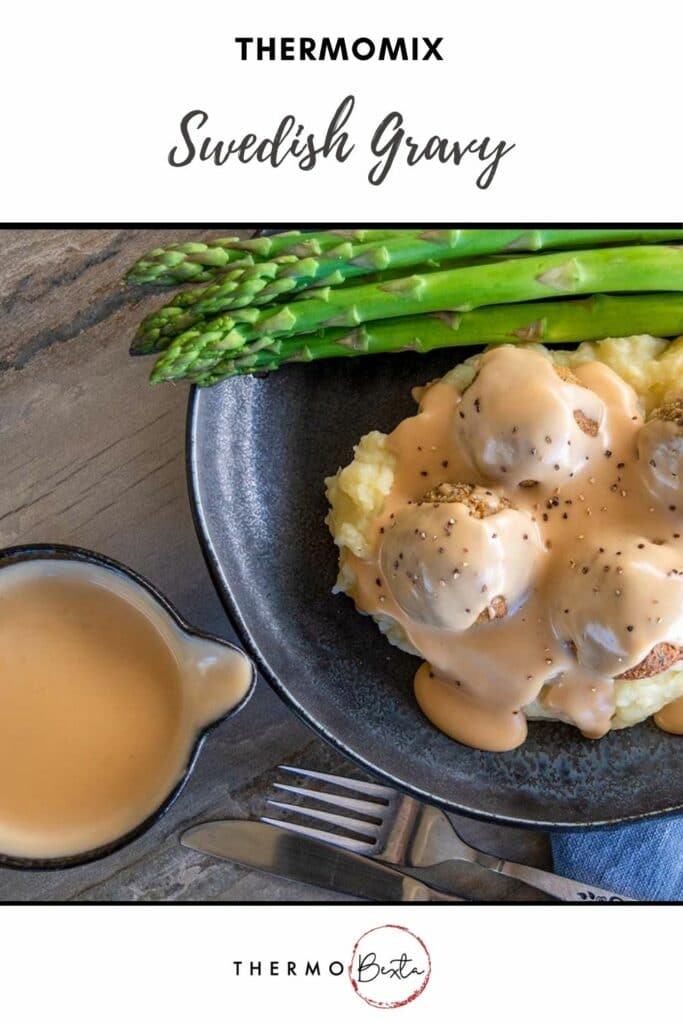 Swedish Gravy (just like IKEA's meatball cream sauce)
This creamy gravy is a divine sauce for all sorts! Try it with my Neatballs, Neat Loaf, meatballs, meat loaf, roast, mashed potato, veggies…
Ingredients
40

g

butter

diced 1.5cm *Note 1

40

g

plain flour

*Note 2

350

g

liquid beef-style stock

plant-based (such as Massel) *Note 3

100

g

double cream

*Note 1

10

g

tamari

10

g

Dijon mustard

Splash

Worcestershire sauce

ensure you use a vegetarian one if vego

Pinch

ground nutmeg
Instructions
Place butter and flour in mixer bowl. Melt 3 minutes/100/speed 1/MC off.

Add all remaining ingredients. Cook 6 minutes/90/speed 3/MC on.
Notes
Note 1: For dairy free / vegan, replace butter and cream with dairy-free spread and plant-based milk.
Note 2: For gluten free, use a gluten free plain flour.
Note 3: If you're not needing to keep it vegan, you can use a 'real' beef stock liquid, however Massel liquid stocks are very yummy ones!
Nutrition
Serving:
1
serve
|
Calories:
101
kcal
|
Carbohydrates:
5
g
|
Protein:
1
g
|
Fat:
9
g
|
Saturated Fat:
5
g
|
Polyunsaturated Fat:
1
g
|
Monounsaturated Fat:
2
g
|
Trans Fat:
1
g
|
Cholesterol:
28
mg
|
Sodium:
300
mg
|
Potassium:
20
mg
|
Fiber:
1
g
|
Sugar:
1
g
|
Vitamin A:
403
IU
|
Vitamin C:
1
mg
|
Calcium:
11
mg
|
Iron:
1
mg
Please note, nutrition information is calculated via an online recipe nutrition calculator and is a guide only. It is provided as a courtesy and is not guaranteed 100% accurate. I am not a nutritionist or trained health professional.
Tried this recipe?
Please rate it and leave feedback in the comments section below, or mention @Thermobexta or tag #Thermobexta on Instagram.
You might also be interested in these recipes...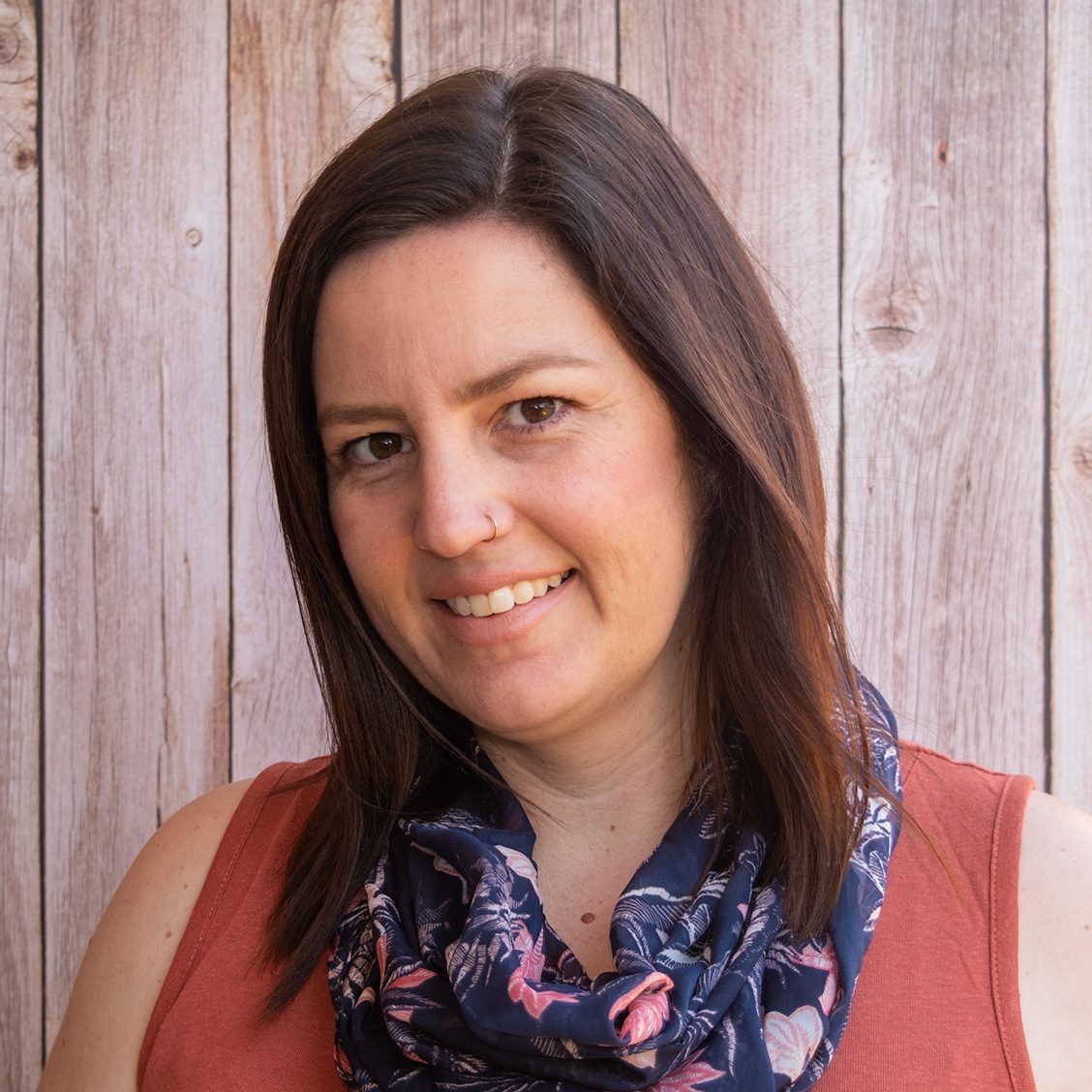 Hi, I'm Bec
I specialise in great tasting vegetarian Thermomix recipes and cater for a wide range of dietary needs. I love sharing here and in my cookbooks my healthy, delicious recipes (of course the odd treat too!) Whether you're looking to ignite your thermo mojo, or just after some new, really tasty family friendly recipes, there really is something here for everyone