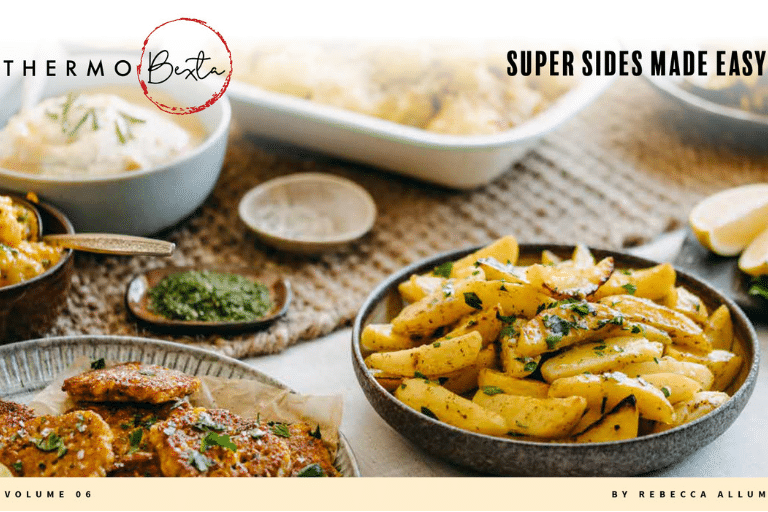 I am incredibly excited to share with you tonight the my sixth cookbook: Super Sides Made Easy. This fantastic collection of 25 side dish recipes for thermal cookers will suit a wide range of cuisines and styles of eating.
Many of the recipes are almost a meal in themselves, needing to be served with just a simple protein to make a complete, nutritious meal. The recipes are very easy to make with little hands on time, leaving you more time to do the things you love.
Here's What's Inside – The Ultimate Side Dish Recipe Collection!
Greek Lemon Potatoes
Mediterranean Pearl Couscous
Cauliflower Cheese
Speedy Satay Vegetables
Garlic and Leek Mushrooms
Fast Veggie Stir-Fry
Broccoli and Fetta Fritters
Corn Fritters
Rustic Mashed Vegetables
Cauliflower Mash
Easy Peasy Gravy
Creamed Silverbeet
Salt and Vinegar Beans
Pumpkin Cornbread
Ratatouille
Red Rice
Yellow Coconut Rice
Zucchini Wedges
Seasoned Crumbs
Persian Cauli-Broc Rice
Parmesan and Garlic Sweet Potato Coins
7 Second Salsa
Eat Your Greens Pesto
Fast Flatbreads
Herby Garlic Butter
Like all of my recipes, the recipes in Super Sides Made Easy cater for a wide range of dietary requirements, including gluten free, vegan, dairy free, egg free, nut free.
Pre-Sale Bonuses
Pre-sale runs until 30 March 2020 and there are a number of bonuses for ordering during the pre-sale period:
> I will be signing the first 200 orders placed.
> I will be signing an additional 200 random orders.
> All orders containing Super Sides Made Easy will receive a bonus PDF index of all recipes in my books, making it easier to find what you're looking for at a glance!
Super Sides Made Easy is available for purchase on its own, in the Salads and Sides Collection and in the Full Collection of all six Thermobexta cookbooks.
Get ready to take your sides up a notch with this awesome collection of side dish recipes: Super Sides Made Easy!
Keep an eye on our Facebook group to see what everyone's making from the book!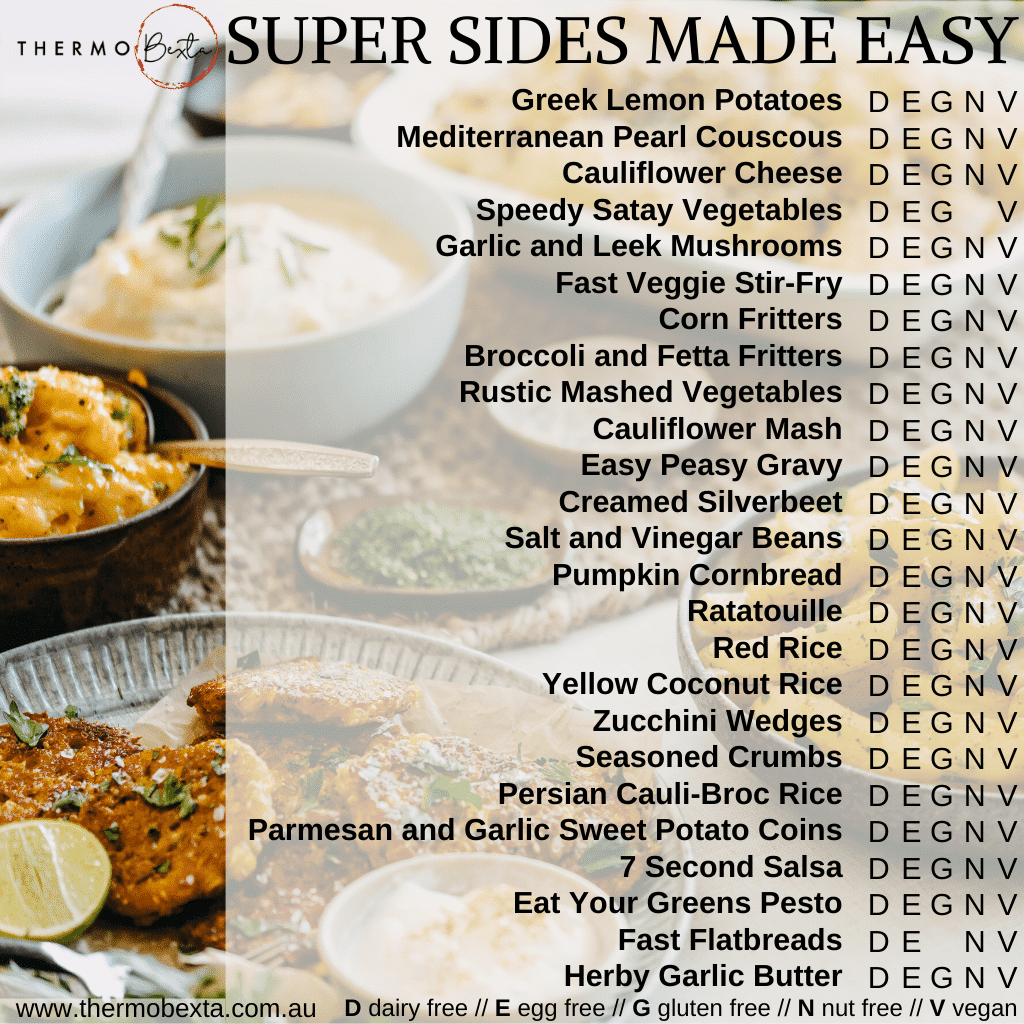 You might also be interested in these recipes...