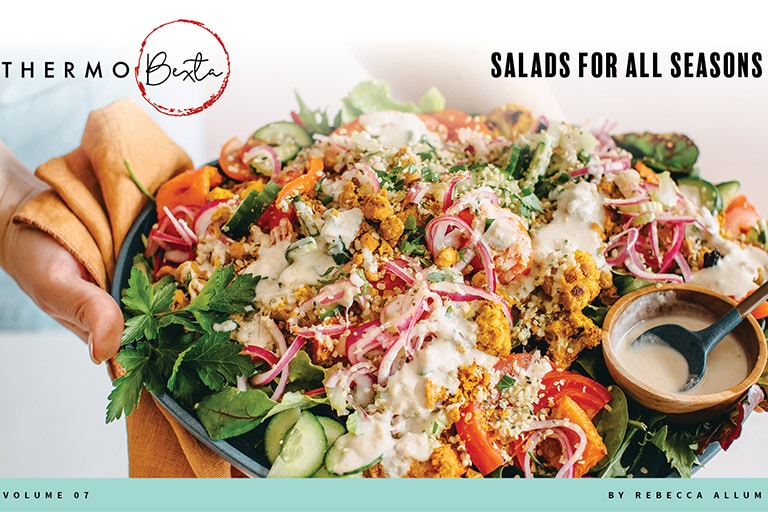 It is with great excitement that I share this evening the much anticipated seventh Thermobexta cookbook: Salads For All Seasons. Pre-sale is officially open! This is the ultimate Thermomix salad collection and my prediction is that it will be used heavily by many over the summer months and beyond.
With stunning full-page professional photographs and clean white recipe pages, this is a vibrant and very appetising book.
Moving past looks, the flavours and textures that we've put together to create these recipes are sure to 'WOW!'
Using easy to access ingredients, the majority being fresh vegetables and herbs, means that the recipes are cheap to make. Most are also very quick!
In usual Thermobexta fashion, these recipes are suitable for a wide range of dietary requirements, being free from (or having variations to make them free from):
Gluten
Dairy
Eggs
Nuts
Most recipes are also Vegan (or have a thoroughly tested Vegan variation).
Thermomix salad recipes galore!
Here is a list of what you'll find in collection of fabulous Thermomix salad recipes! Oh and for added value, I've also included recipes for some impressive breads and delicious dips.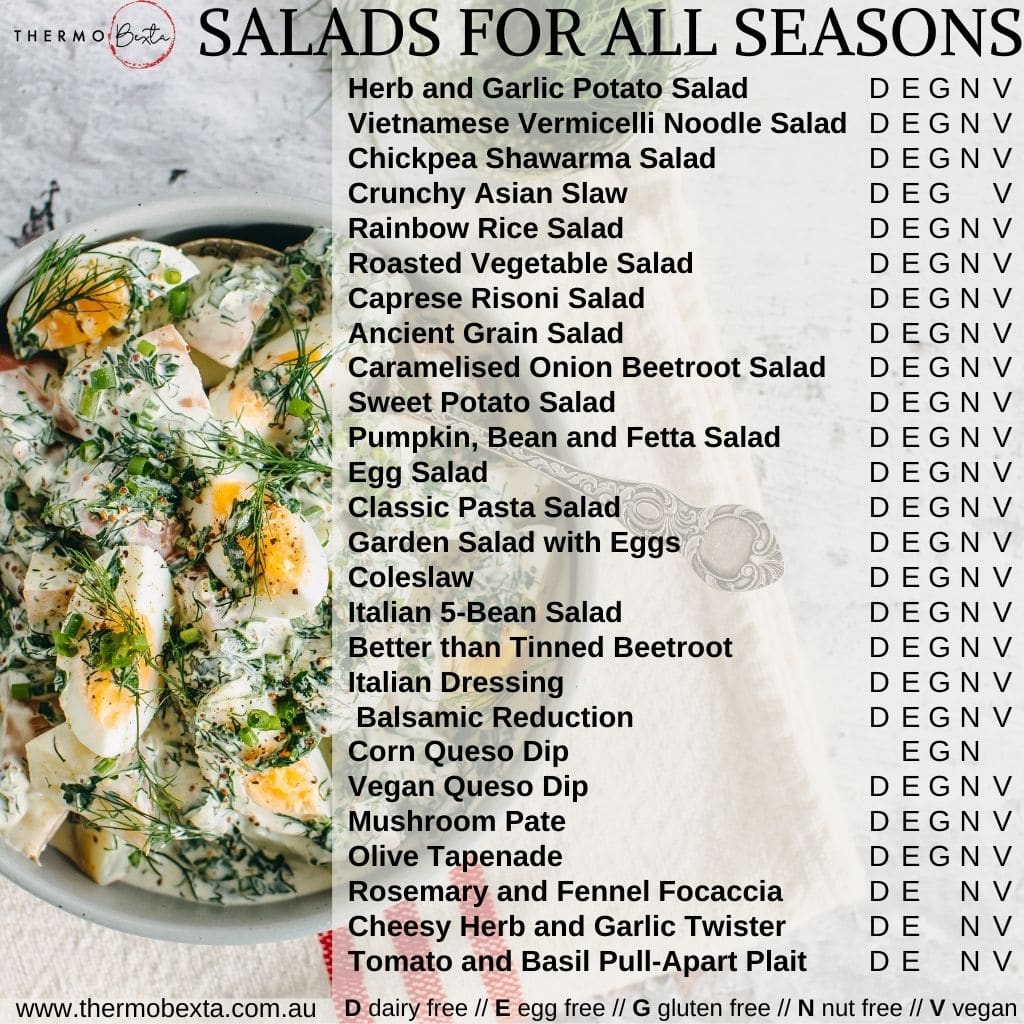 Herb and Garlic Potato Salad
Vietnamese Vermicelli Noodle Salad
Chickpea Shawarma Salad
Crunchy Asian Slaw
Rainbow Rice Salad
Roasted Vegetable Salad
Caprese Risoni Salad
Ancient Grain Salad
Caramelised Onion Beetroot Salad
Sweet Potato Salad
Pumpkin, Bean and Fetta Salad
Egg Salad
Classic Pasta Salad
Garden Salad with Eggs
Coleslaw
Italian 5-Bean Salad
Better than Tinned Beetroot
Italian Dressing
Balsamic Reduction
Corn Queso Dip
Mushroom Pate
Olive Tapenade
Rosemary and Fennel Focaccia
Cheesy Herb and Garlic Twister
Tomato and Basil Pull-Apart Plait
I hope that you enjoy this new collection and that so many of them become favourites for you, your families and friends.
Click here to order your copy of Salads For All Seasons!
Love Bec xx
You might also be interested in these recipes...