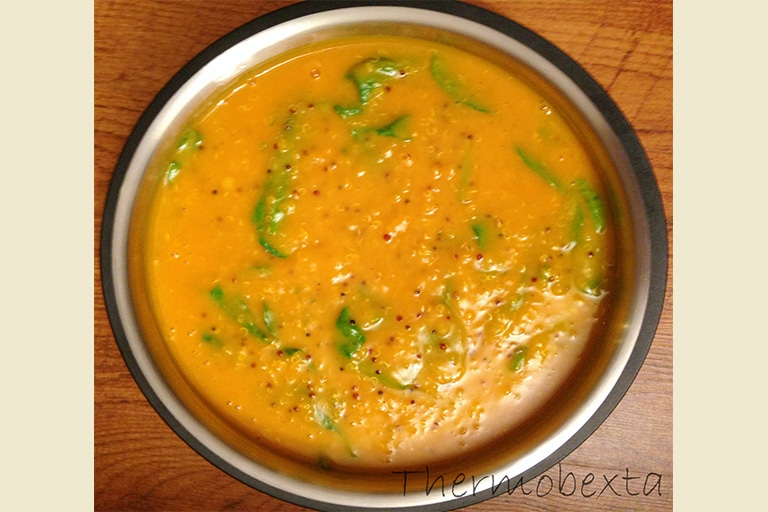 I've never been a fan of puree-style soups, I like to have something to chew or it just doesn't feel like a proper meal. So traditional pumpkin soups have never appealed to me. This one came about a few years ago, when I had an excess of pumpkins and decided I'd better create a soup that appealed to my family and I. After all, what better way is there to use a decent amount of pumpkin, than to turn it into soup?
150g onion, quartered
2 garlic cloves
20g extra virgin olive oil
2 tsp curry powder
140g quinoa, rinsed thoroughly
1kg pumpkin, peeled, deseeded, diced into 2-3cm cubes
2 tsp Herbamare, or 2 tbsp vegetable stock concentrate
Baby spinach
1. Place onion, garlic and oil in mixer bowl. Chop for 5 seconds/speed 5/MC on. Scrape down sides of bowl. Saute for 5 minutes/steaming temperature/speed 1/MC off.
2. Add curry powder. Saute for 1 minute/steaming temperature/speed 1/MC off.
3. Place quinoa in steaming basket and set in place in the bowl, along with 1.2L of water.
4. Place pumpkin in steaming attachment, using both the main section and the tray. Set in place on top of bowl. Steam for 20 minutes/steaming temperature/speed 4. Remove basket and set aside.
5. To the water in the bowl, add Herbamare and set steaming attachment in place again. Steam 8 minutes/steaming temperature/speed 4.
6. Very carefully, transfer pumpkin into the bowl (do not remove the water before adding pumpkin). Puree for 1 minute/speed 8/MC on, ensuring you turn the speed selector up slowly, as the liquid will be extremely hot.
7. Add quinoa to the contents of the bowl. Stir for 15 seconds/reverse/speed 3/MC on.
8. Fill a thermal server or large bowl with baby spinach. Carefully pour the soup out onto the spinach and use a large spoon or spatula to combine.
Tips
Roasting the pumpkin rather than steaming adds another element to this soup.
You might also be interested in these recipes...