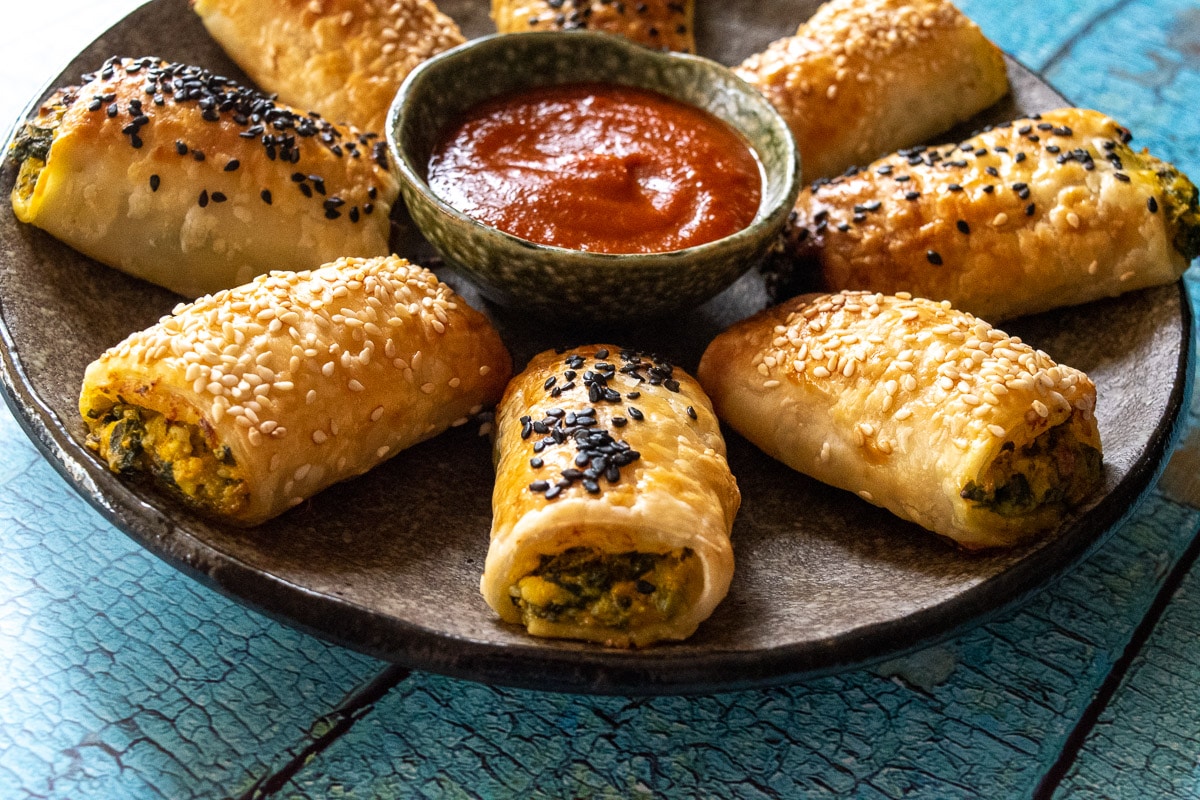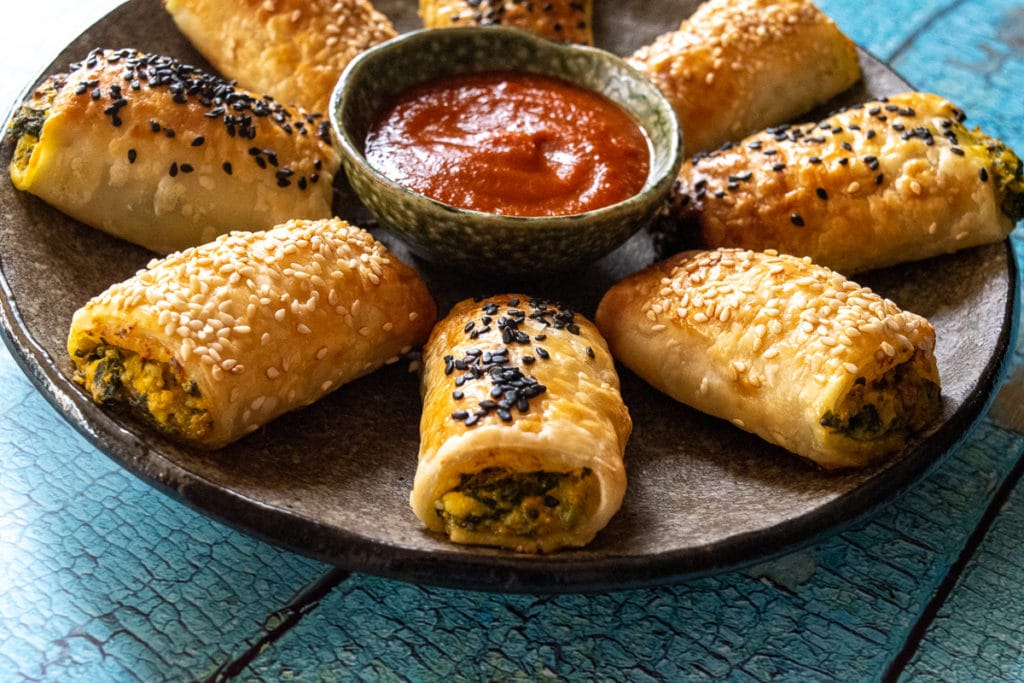 These vegetarian Thermomix Roast Pumpkin and Fetta Rolls are a delicious pastry wrapped meal! They're jam packed full of goodness and so very tasty.
Perfect for entertaining, you're sure to be asked for the recipe by whoever you share them with!
What we need to Make Thermomix Vegetarian Roast Pumpkin and Fetta Rolls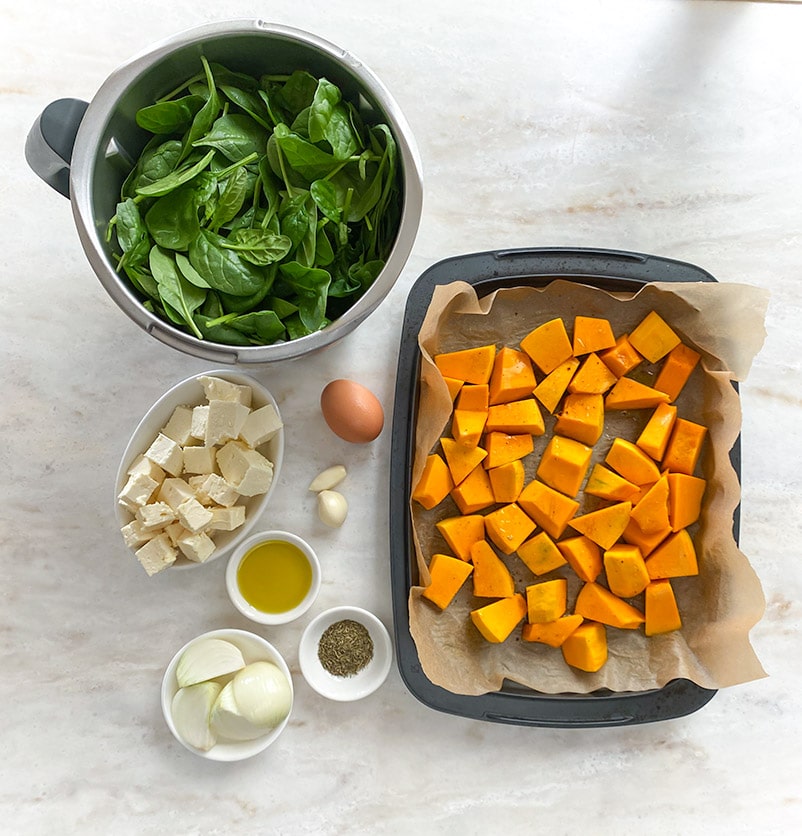 Here's what you need:
Pumpkin Roasting the pumpkin really brings out the flavour.
Oil Used for roasting the pumpkin.
Dried thyme This herb pairs really well with pumpkin and gives these vegetarian rolls a lovely flavour.
Onion
Garlic
Egg Helps to bind the ingredients.
Fetta cheese Well because cheese is awesome.
Ricotta cheese More cheese – on a more serious note now. Cheese IS awesome. As well as great flavour, the cheeses in these rolls add creaminess and pair really well with pumpkin.
Pastry (not pictured). If you can, grab some butter puff pastry, It is superior in ingredient content and tastes the best too, in my opinion. This one and this one are both great.
If you need a dairy free / vegan pastry, you'll find that most supermarket brands are. Frozen gluten free puff pastry is also available at the supermarket.
There is enough filling here to use it to fill four sheets worth of pastry if you're wanting to make a bigger quantity. Using three sheets makes nice full rolls and using four sheets they are a little smaller but certainly full enough.
How to Make Them
It's very easy.
1. Roast pumpin.
2. While the pumpkin is roasting, whip up the rest of the filling. First lightly cook the spinach then squeeze liquid from it.
3. Chop and saute onion and garlic in thermie.
4. Add remaining filling ingredients, including roast pumpkin.
5. Halve three sheets of puff pastry lengthways the distribute filling evenly down the middle of each of the six pieces of pastry.
6. Roll them up, brush with egg, milk or even just water. Top with seeds. Bake.
7. When cooked, serve these fab Thermomix vegetarian 'sausage' rolls with Tomato Ketchup.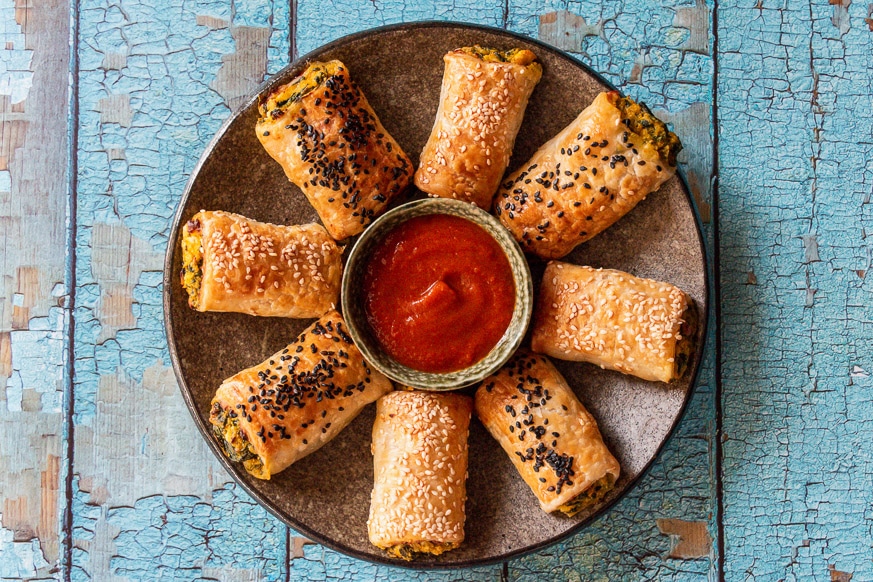 Roast Pumpkin and Fetta Rolls
These tasty morsels are great for parties, entertaining, lunch, dinner and snacks! Packed with veggies and
Ingredients
600

g

pumpkin

diced 2cm (peeled weight)

1-2

tbs

olive oil

salt and pepper

to season

250

g

baby spinach

1

onion

quartered

2

garlic cloves

10

g

olive oil

100

g

fetta cheese

cubed

100

g

fresh ricotta

1

egg

1

tsp

dried thyme

3

sheets

puff pastry

(Note 1)

sesame seeds or poppy seeds

optional

1

egg

beaten, for brushing (or water)
Instructions
Preheat oven to 200°C.

Place pumpkin onto a lined oven tray, drizzle with oil and season with salt and pepper. Roast for 20 minutes then give the pumpkin a stir and roast for a further 10 minutes.

While pumpkin is roasting, place spinach in mixer bowl. Cook 4 minutes/100/speed 2/MC on. Transfer cooked spinach into the steaming basket or a fine colander and use a spatula to push the spinach against the side of the basket (or colander), to remove as much liquid as possible. Set aside.

If you are using frozen puff pastry, remove from freezer now to defrost. Pastry is easiest to work with when it has defrosted enough to roll, but not too much that it becomes really stretchy.

Into mixer bowl, place onion, garlic and oil. Chop 3 seconds/speed 5/MC on. Scrape down sides of bowl. Saute 4 minutes, steaming temperature/speed 1/MC off.

Add pumpkin, spinach, feta, ricotta, egg and thyme. Combine 8 seconds/speed 4/MC on.

Cut each sheet of pastry in half. Place equal amounts of mixture onto each half sheet of pastry, distributing it down the length of each piece. Roll into six long rolls. Brush or spray the rolls with egg (or water) and sprinkle with seeds. Cut each roll into 6-8 pieces.

Place rolls on lined trays and bake for 25-30 minutes, until nicely browned.

Serve with tomato ketchup.
Notes
Note 1: I would recommend a butter puff pastry, as I prefer the taste (and ingredients) to other puff pastries. Most frozen puff pastry is Vegan. If required, use a gluten free puff pastry. If you're wanting a larger quantity of rolls, there is enough filling to use four sheets of puff pastry.
Nutrition
Serving:
1
roll
|
Calories:
106
kcal
|
Carbohydrates:
8
g
|
Protein:
2
g
|
Fat:
7
g
|
Saturated Fat:
2
g
|
Cholesterol:
10
mg
|
Sodium:
70
mg
|
Potassium:
90
mg
|
Fiber:
1
g
|
Sugar:
1
g
|
Vitamin A:
1580
IU
|
Vitamin C:
3
mg
|
Calcium:
26
mg
|
Iron:
1
mg
Please note, nutrition information is calculated via an online recipe nutrition calculator and is a guide only. It is provided as a courtesy and is not guaranteed 100% accurate. I am not a nutritionist or trained health professional.
Tried this recipe?
Please rate it and leave feedback in the comments section below, or mention @Thermobexta or tag #Thermobexta on Instagram.
You might also be interested in these recipes...