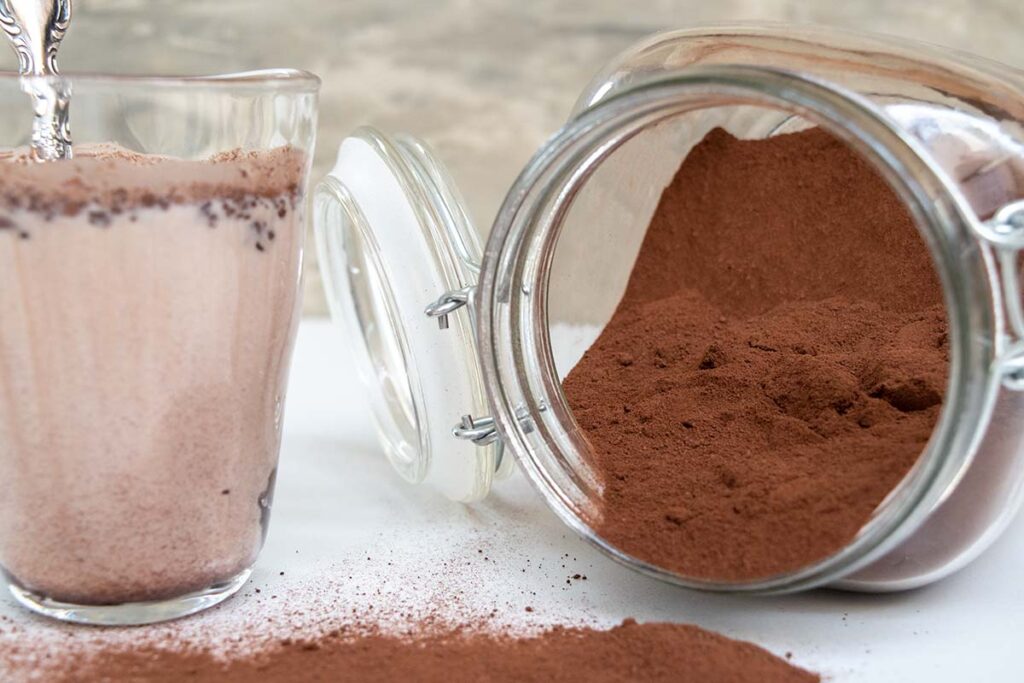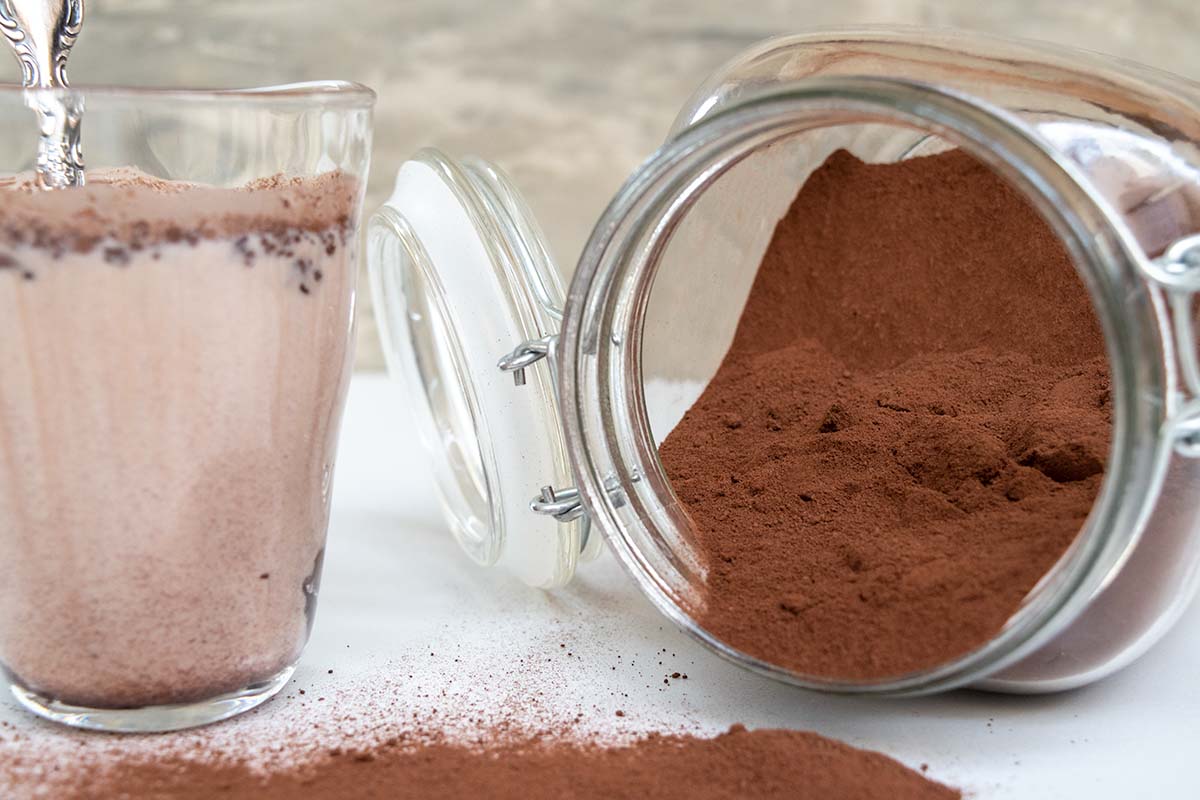 This awesome Milo-like chocolate drink powder recipe for the Thermomix is additive-free and super simple!
Smilo is so simple to make, taking just a few minutes and using just three ingredients. It is free gluten, dairy, grains, nuts, refined sugar and additives.
The recipe makes a large batch which will keep well for months in an airtight container in the pantry.
Once you've made it, it's a simple case of stirring a couple of teaspoons into a glass or (warm or cold) milk! We love it in my Cashew Coconut Milk.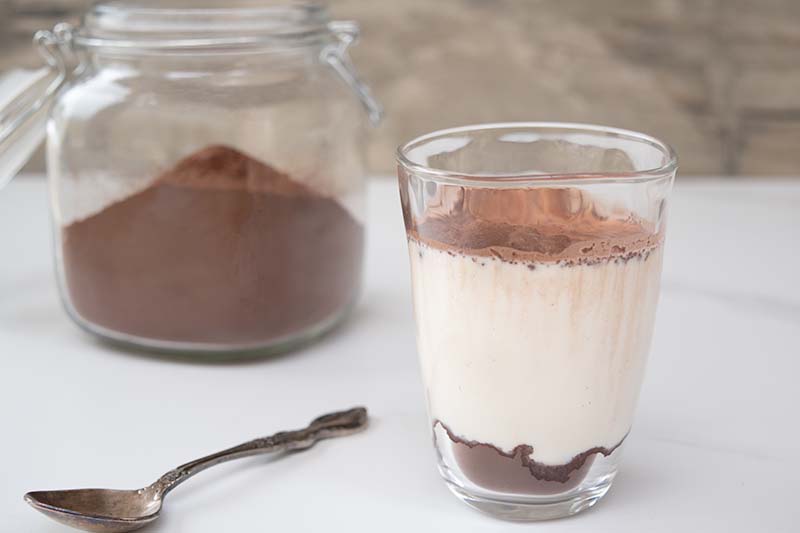 It will dissolve in warm milk, but if adding to cold milk it won't really dissolve, unless you blitz together in your TMX – I don't bother doing this as my kids like eating it off the top then drinking the milk.
So what do we need to make this tasty chocolate drink powder in Thermomix?
Just three ingredients, or four if you want to boost the protein!
Cacao (or cocoa) powder
This is what gives Smilo it's chocolate flavour! Cacao and cocoa powders are similar. They are both derived from the Theobroma Cacao Tree and produced by fermentation. The difference being that cocoa is processed at a much higher temperature than cacao.
This means that cacao powder is more nutritious, as nutrition is lost during the heating process when making cocoa powder. Either will work for this, but if using cocoa, do make sure it is pure, as often sugar and flavours are added to cocoa powder.
Coconut sugar
Due to the fact that cacao/cocoa powder is very bitter, you need quite a bit of sugar to sweeten and make a very delicious chocolate drink powder.
You can use other powdered sugars too, or even low carb sweeteners I would imagine (I've not tried low carb sweeteners in this but would LOVE to hear how you go if you do!)
Coconut sugar definitely gives the best flavour, next best is rapadura sugar. At a last resort you can use raw sugar, it is still nice, but it really does take it up a notch to use coconut sugar, or rapadura.
Vanilla
I love vanilla and it adds a lovely extra bit of flavour to Smilo. Buying real vanilla has gone up so much in price since I wrote this recipe, as there is a worldwide shortage. Back then, I always used vanilla powder, but it's just too costly nowadays.
If I can get my hands on vanilla beans, I use one of those. If not, a couple of teaspoons of extract do the job.
Protein powder
I have added whey protein isolate powder to the most recent batch of Smilo that I made and this is definitely how I will be making it from now on. I wanted to increase the nutrition mainly because two of my kids have a Smilo every morning so I wanted to try and make it that bit healthier. BUT not only has this new addition made it more nutritious, the texture is better!
Don't get me wrong, the OG Smilo is awesome and has been a regularly-made item by so many Bexta's for many years now, but if you would like to increase the nutrition, I do recommend adding 150g pure flavourless protein powder to this recipe.
I did a lot of research on different brands of protein powders a couple of years ago and I finally settled on this brand. I met with the owner of the company, asked her my questions and decided I liked the sound of it. (So much so, I am now an affiliate – this means that if you make a purchase via my links, you don't pay any more than you would otherwise, but I will receive a small commission).
I like that all of their products are as close to their natural state as possible and the milk they make the protein powder from is from grass-fed, hormone free cows.
I use the WPI, they also have a (cheaper but still excellent) WPC and even a vegan protein powder for those that prefer.
Update of Smilo Chocolate drink powder 28 August 2021
I'm updating this recipe today (28 August 2021) as it's been needing a freshen up for a long time. I've added a couple of photos and a little info that I hope you find helpful!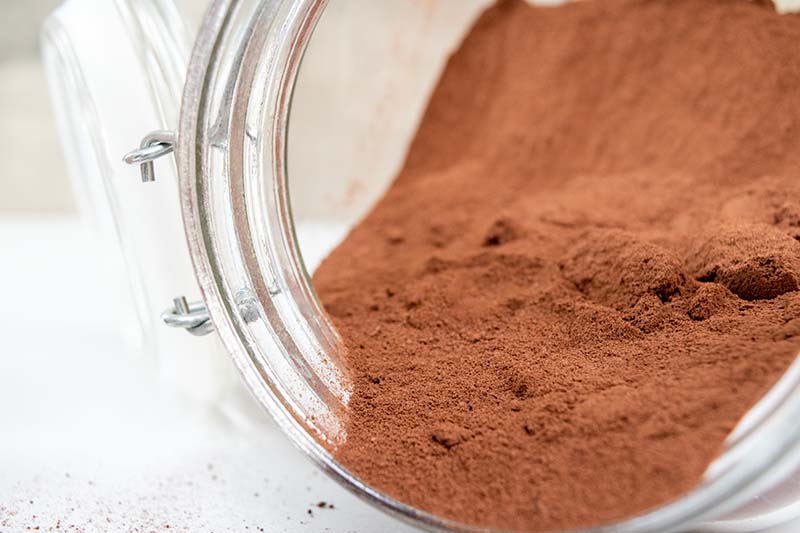 Please tag me on Instagram @thermobexta and/or post your pics in the Facebook group if you make this! I love to hear what you think of my recipes xx
Thermobexta's Smilo
This very popular alternative chocolate powder is a great, additive-free option to add to milk!
Ingredients
100

g

cacao powder

or cocoa powder (1 cup)

230

g

coconut sugar

or rapadura (1.5 cups)

1

whole

vanilla bean

quartered, or 2 tsp vanilla extract

See notes below for adding protein
Instructions
Place all ingredients in mixer bowl. Process for 1 minute/speed 7/MC on (if using extract, 30 seconds/speed 7/MC on is enough)

Store in an airtight glass jar or container.
Notes
For added nutrition, add 150g natural whey protein powder.
Stir 1-2 tsp into a glass of warm or cold milk. It will dissolve in warm milk, but if adding to cold milk it won't really dissolve, unless you blitz together in your TMX – I don't bother doing this as my kids like eating it off the top then drinking the milk.
Nutrition
Serving:
1
jar
|
Calories:
978
kcal
|
Carbohydrates:
258
g
|
Protein:
20
g
|
Fat:
14
g
|
Saturated Fat:
8
g
|
Sodium:
472
mg
|
Potassium:
1524
mg
|
Fiber:
33
g
|
Sugar:
152
g
|
Calcium:
128
mg
|
Iron:
14
mg
Please note, nutrition information is calculated via an online recipe nutrition calculator and is a guide only. It is provided as a courtesy and is not guaranteed 100% accurate. I am not a nutritionist or trained health professional.
Tried this recipe?
Please rate it and leave feedback in the comments section below, or mention @Thermobexta or tag #Thermobexta on Instagram.
You might also be interested in these recipes...