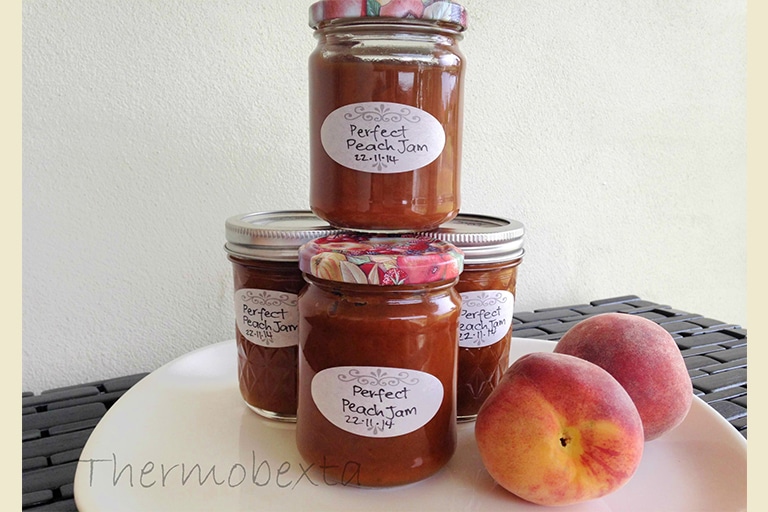 Jams in the Thermomix are so very easy and this Peach Jam is no exception! In fact, this recipe uses just three ingredients and has just a few simple steps.
Sweet and delicate in flavour, the peaches really shine in this one. That said, you can replace them with other stone fruit if you like. I've made this recipe with plums and nectarines too, both also fab.
During summer when peaches are in season, I like to go out to the growers and pick up a tray of 'seconds' to turn into jam. You can usually also pick up seconds from the local fruit and veggie shop.
Seconds produce is not perfect – it has blemishes and usually needs to be used pretty quickly. The upside is that it's usually cheap! And cooking it is the perfect thing to do with it. You can cut off any reeeeally bad bits, but leaving some bruises is perfectly fine. You'd never tell the quality of the fruit once it's been turned into jam. In fact, the riper it is, the sweeter.
It's so easy to whip this up and the results will see you through possibly months of jam eating. Or possibly not as long as that, depending on how much jam you like to eat.
How easy it is to make the Perfect Thermomix Peach Jam
The Thermomix makes Perfect Peach Jam in no time, it couldn't really get much easier than this recipe. Firstly, just three ingredients:
Peaches
Of course. The star ingredient! I've listed 1.2kg just because it's the most you'll want to use per batch, but go with anywhere between 1-1.2kg. There's really no need to cut open a fresh peach just to use a portion of it to get to exactly 1.2kg in weight. Total weight doesn't include the seeds. Remove them and weigh as you go.
Apple
Just one. The natural pectin in the apple helps the jam to set.
Sugar
I've used Rapadura in this with awesome results. It should also be good with raw sugar. I've also made it with coconut sugar (the sugar of choice in my kitchen) however we found it a bit overpowering in this unfortunately.
The Process
To make the jam, the apple actually goes into the bowl first. Cored and quartered, it's blitzed down to small pieces in seconds. By the times it's cooked, it's undetectable.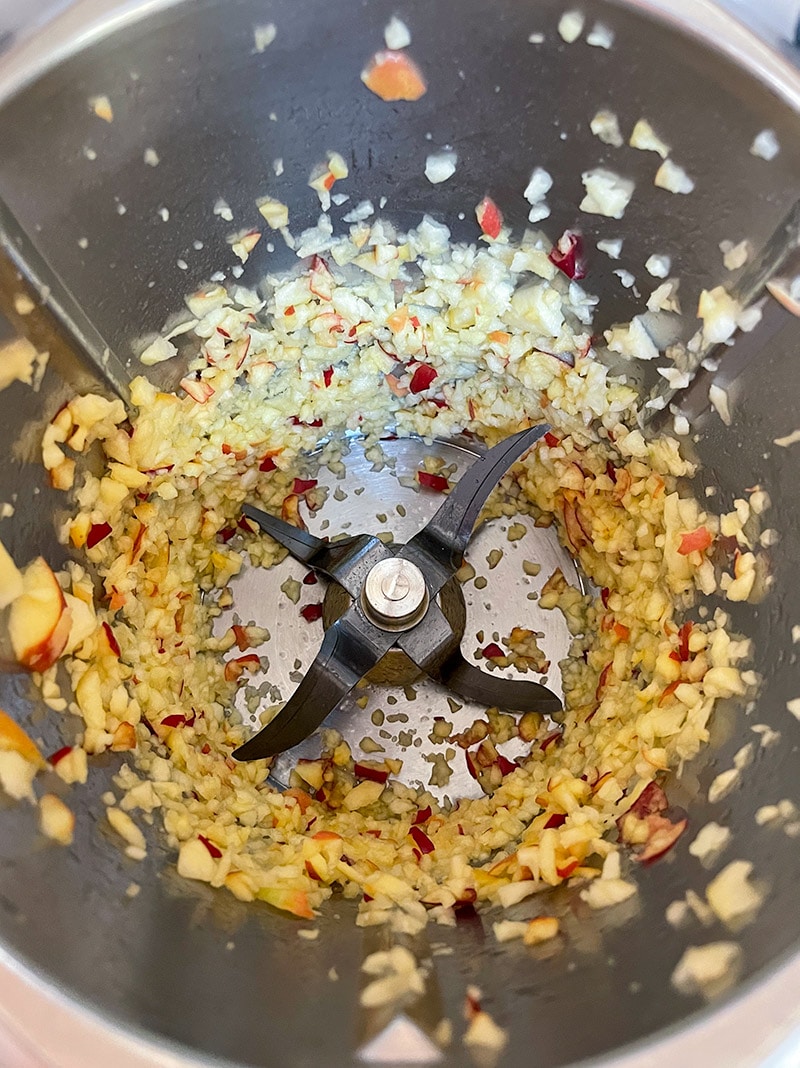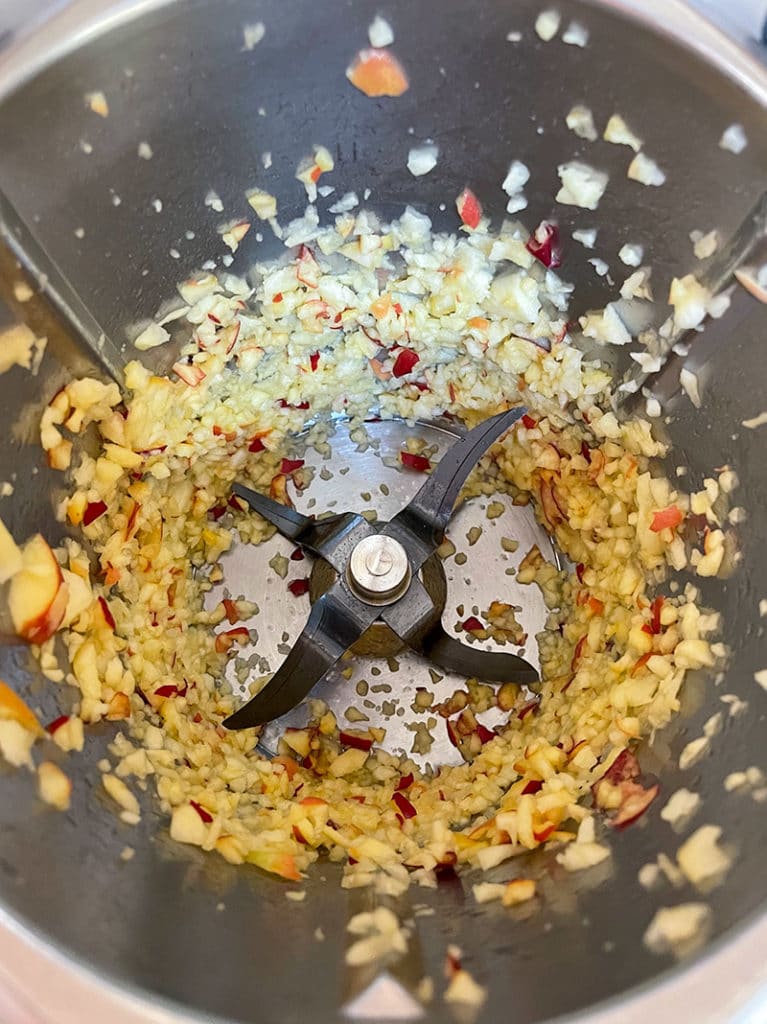 Next the peaches are added and chopped just a bit. They don't need to be pureed, or evenly chopped. Rough enough IS good enough here.
Sugar goes in next. The amount of sugar in this might seem like a lot, but it's actually not much when compared to pretty much any other (non-Bexta) jam recipes out there.
Out of the Thermomix and in jars… now what to do with Perfect Peach Jam?
Bake up a batch of scones while it cooks and you could be enjoying them slathered in divine peach jam before you know it! The scones in the photo below were a slack version of the date scones from Lunches and Snacks Made Easy (no changes other than leaving out the dates, plus lazy cutting lol)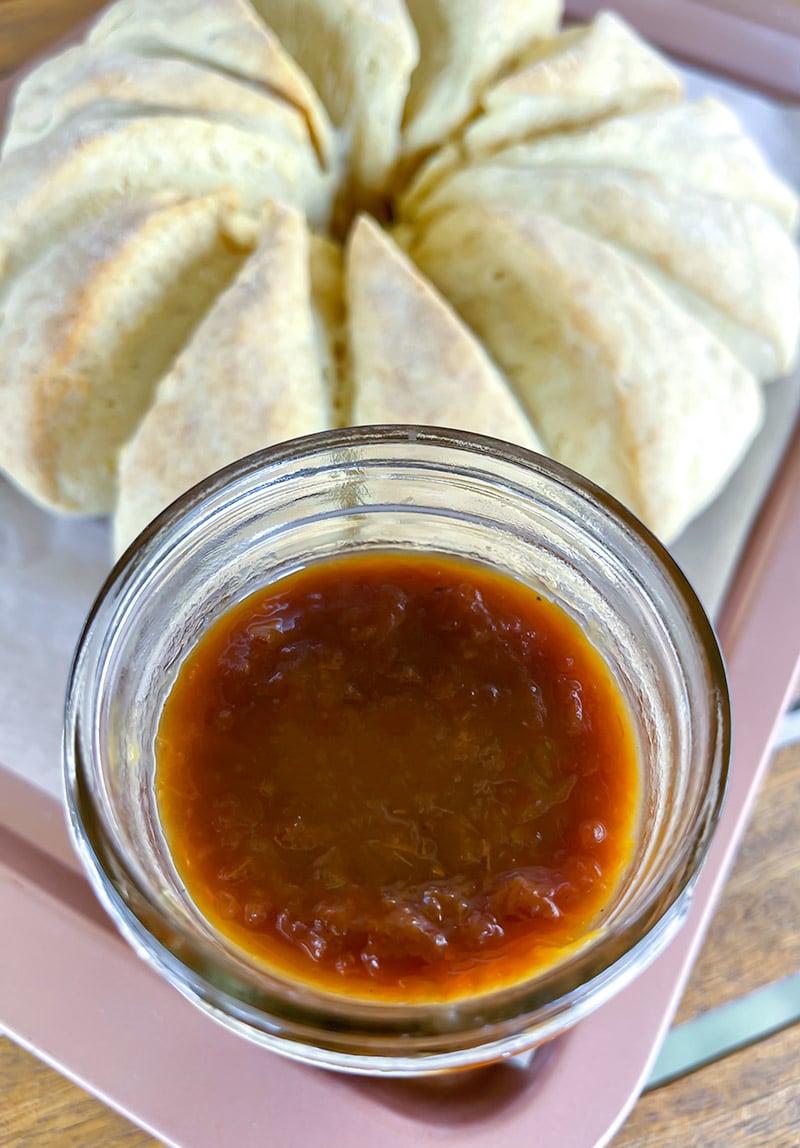 Scones are my favourite thing to accompany any jam if you ask me, however there are so many other ways it can be used.
Spread on toast, banana pancakes, crepes, waffles or Dutch baby pancakes. As part of a fruit tart, swirled through cheesecake. I haven't tried it like this, but think that it would also be good with cheese.
This recipe makes about five 8 oz Ball mason jars worth. For more information on preserving for maximum shelf life and just general jamming stuff, check out this post.
Perfect Peach Jam
Just three ingredients and a few steps, the gorgeous flavours of the peaches really shine here.
Servings:
5
small/medium jars
Ingredients
1

apple

cored, quartered

1.2

kg

peach flesh

(no need to peel)

300

g

rapadura sugar
Instructions
Place apple in mixer bowl. Blitz 3 seconds/speed 5/MC on. Scrape down bowl.

Add peaches. Chop 3 seconds/speed 5/MC on. (Pieces of peach don't need to be uniform sizes)

Add sugar. Cook 45 minutes/steaming temperature (115 for TM5/TM6)/reverse/speed 1.5/MC off, basket on top of the lid to prevent splatters.

Transfer hot jam to hot, sterilised jars, leaving 1-2cm of space at the top. Seal immediately.
Notes
The pectin in the apple is what will help your jam to set – green apples contain more pectin than red ones, but it doesn't matter which type you use in this.
This length of time with this combination of fruit and sugar has never failed me, the consistency is perfect! To test consistency is to your liking, place a small plate in your freezer before you start then when the time goes off after 45 minutes, take the plate out of the freezer and spoon a small amount of hot jam onto the plate. The jam will immediately cool to the consistency the entire batch will if you stop cooking now. If you want it thicker, cook for 5-10 minutes longer.
Nutrition
Serving:
1
8oz jar
|
Calories:
352
kcal
|
Carbohydrates:
88
g
|
Protein:
2
g
|
Fat:
1
g
|
Saturated Fat:
1
g
|
Sodium:
2
mg
|
Potassium:
512
mg
|
Fiber:
4
g
|
Sugar:
83
g
|
Vitamin A:
802
IU
|
Vitamin C:
18
mg
|
Calcium:
24
mg
|
Iron:
1
mg
Please note, nutrition information is calculated via an online recipe nutrition calculator and is a guide only. It is provided as a courtesy and is not guaranteed 100% accurate. I am not a nutritionist or trained health professional.
Tried this recipe?
Please rate it and leave feedback in the comments section below, or mention @Thermobexta or tag #Thermobexta on Instagram.
You might also be interested in these recipes...