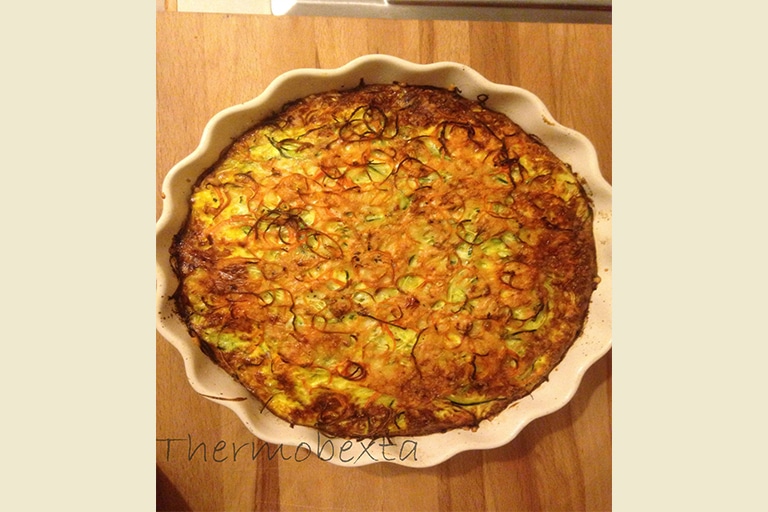 Essentially this pie is a pimped up quiche with brown rice crust and a gorgeous balance of flavours. It is sure to impress!
Around Christmas time each year when people are putting their menus together, I regularly see posts in the Facebook group from people looking for amazing vegetarian mains for their Christmas spread.
This is a fab recipe to take care of that! It's unique, interesting and absolutely delicious (as well as being healthy!)
Starting with the flavoursome Rice Crust, there are a number of (easy) elements to this
This layered bake is a savoury open topped pie held together by a flavoursome rice crust. To 'build' it we layer several different elements:
Brown Rice Crust
Cook rice (and quinoa) in thermie then combine with garlic and Parmesan for flavour and eggs to bind. Now bake in the oven while preparing the other layers.
Caramelised Onion
Cook onions with oil, sugar and vinegar to caramelise them. Spread this straight onto the rice crust.
Baby spinach
Top caramelised onion with a big handful of baby spinach. This adds colour and nutrition.
Bocconcini
These are halved and placed side by side on top of the spinach, to form a layer of cheesy deliciousness!
Spiralised zucchini and carrot
This is the spiraliser I use, mine has lasted years! If you don't have a spiraliser, you can peel strips of veg with your vegetable peeler, or even grate it. Pile zucchini then carrot on top of the bocconcini.
Grated cheese
This goes on next. It is grated in thermie while the bowl is still dry.
Egg/milk mixture
Combine eggs, milk, salt and pepper in thermie, then pour on top!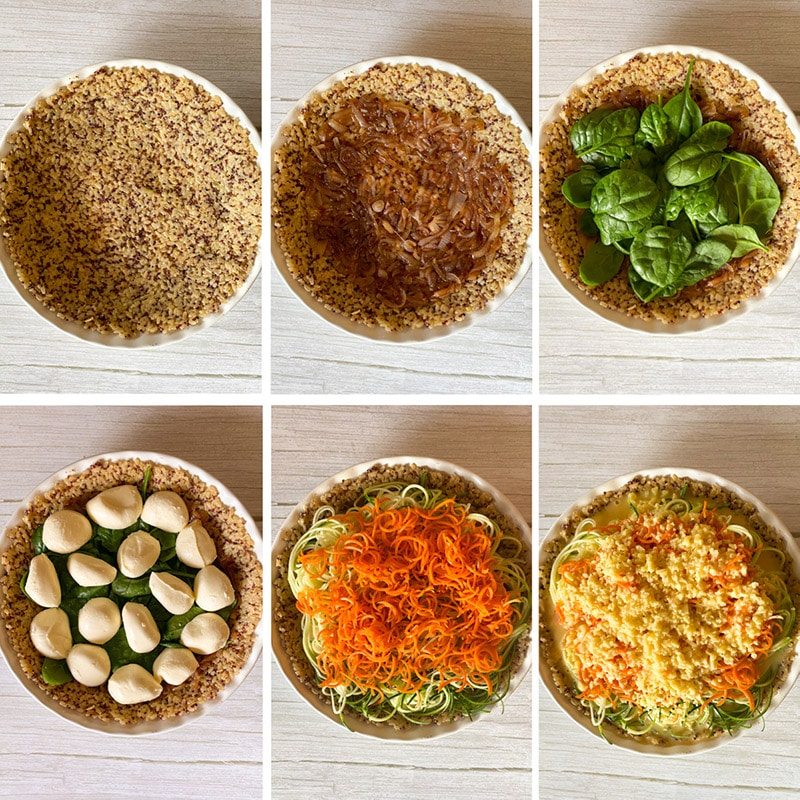 Once all the ingredients are in the dish, into the oven it goes. Here it bakes to perfection, all of the elements coming together into a really great pie.
Don't let the total recipe time put you off. If need be, it's quite fine to do some things in advance then put it all together right before baking. Trust me, it's definitely worth it.
More Great Vegetarian Mains
Here are some other great vego mains recipes, to make and serve with side dishes.
Spinach and Ricotta Stuffed Crepe Bake
Roasted Broccoli and Fetta Quiche, Cheesy Stuffed Vegetables or Mushroom Tart in Summer Meal Mix Up.
Of course for a really awesome collection of side dishes perfect to serve with these sorts of mains, check out my latest cookbook, Super Sides Made Easy. Visit the Facebook group to see what people are thinking of these recipes!
Three Cheese Caramelised Onion Pie
This unique layered pie consists of a brown rice and quinoa crust, filled with caramelised onion, spiralised veggies and a savoury cheesy egg custard to bind.
Ingredients
Filling
70

g

cheddar cheese

diced 1.5cm

Handful

baby spinach

220

g tub

bocconcini

drained, halved

200

g

zucchini

spiralised, or grated, or peeled into strips with a vegetable peeler

1

medium

carrot

spiralised, or grated, or peeled into strips with a vegetable peeler

6

eggs

150

g

milk

salt and pepper
Brown Rice Crust
butter or olive oil

for greasing

20

g

Parmesan cheese

diced 1.5cm

1

cup

brown rice and quinoa (uncooked)

(Note 1)

2

garlic cloves

10g

1

egg
Caramelised Onion
150

g

brown onion

halved, sliced

10

g

olive oil

or other oil of your choice

15

g

sugar

my favourites for caramelising are rapadura and coconut sugar

15

g

balsamic vinegar
Instructions
Preheat oven to 180°C. Grease a pie dish or deep quiche dish with butter or oil.

Place cheddar cheese in mixer bowl. Blitz 3 seconds/speed 8/MC on. Transfer to a small bowl, set aside.
To make the Crust
Place Parmesan and garlic in mixer bowl. Chop 6 seconds/speed 7/MC on. Transfer to a small bowl, set aside.

Place rice and quinoa in the steaming basket. Set in place inside mixer bowl. Add 1.2L water. Cook 30 minutes/steaming temperature/speed 4/MC on, or until rice is tender.

Remove basket. Discard water. Transfer cooked rice/quinoa, Parmesan/garlic mixture and egg into mixer bowl. Combine 10 seconds/reverse/speed 4/MC on.

Press rice mixture into prepared pie dish. Bake 10 minutes, or until just starting to brown. While crust is cooking, make the caramelised onion.
To make Caramelised Onion
Place onion and oil in mixer bowl. Cook 5 minutes/steaming temperature/reverse/speed 1/MC off.

Add sugar and vinegar. Cook 12 minutes/steaming temperature/reverse/speed 1/MC off.
To Construct the Pie
Spread caramelised onion onto the rice crust as evenly as you can. Top this with baby spinach, then bocconcini (cut side down), then zucchini and carrot, then the cheddar cheese you grated in Step 1.

Place eggs and milk in mixer bowl. Season with salt and pepper. Beat 10 seconds/speed 3/MC on. Carefully pour egg mixture onto the other ingredients in the pie crust. It will appear there is not enough liquid at this stage. Don't worry, it will work!

Bake 40-45 minutes, until golden brown and when you gently push the middle, it springs back and no raw egg mixture seeps out. Allow to cool for 10 minutes before slicing and serving.
Notes
Note 1: For the brown rice and quinoa, I like to use mostly rice with a small portion of quinoa – I measure about 1/5 cup quinoa into my cup measure then fill the rest with rice. You can use any ratio you like, but I'd recommend a minimum of half a cup of rice.
Nutrition
Serving:
1
serve
|
Calories:
304
kcal
|
Carbohydrates:
26
g
|
Protein:
16
g
|
Fat:
16
g
|
Saturated Fat:
6
g
|
Cholesterol:
166
mg
|
Sodium:
190
mg
|
Potassium:
283
mg
|
Fiber:
2
g
|
Sugar:
5
g
|
Vitamin A:
2484
IU
|
Vitamin C:
7
mg
|
Calcium:
255
mg
|
Iron:
1
mg
Please note, nutrition information is calculated via an online recipe nutrition calculator and is a guide only. It is provided as a courtesy and is not guaranteed 100% accurate. I am not a nutritionist or trained health professional.
Tried this recipe?
Please rate it and leave feedback in the comments section below, or mention @Thermobexta or tag #Thermobexta on Instagram.
You might also be interested in these recipes...