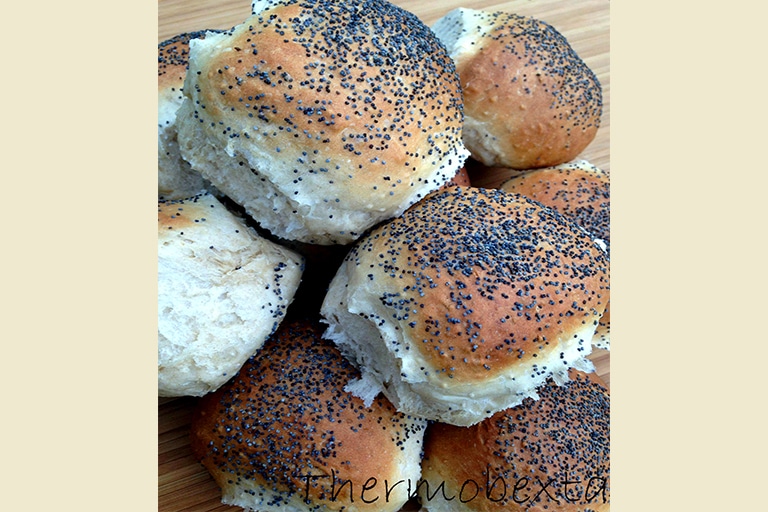 These rolls are the only ones I ever make anymore – they are so very soft and fluffy! The dough is really easy to work with and doesn't stick to your hands at all while shaping. Perfect for burgers, filling with your favourite sandwich fillings, making into a variety of shapes or dividing into smaller pieces and using as dinner rolls.
290g water
2 tsp dried yeast
520g organic unbleached white spelt flour
20g chia seeds
20g macadamia oil (or oil of your choice)
1 tsp salt
1 tsp coconut sugar (or rapadura or honey)
1 tsp natural bread improver (see note under recipe)
Seeds of your choice, for the tops of your rolls.
1. Place water, yeast, flour, chia, oil, salt, sugar and bread improver in mixer bowl. KNEAD/3.5 minutes/MC on. (Spelt flour doughs don't need as much kneading as wheat flour doughs do).
2. When kneading is done, wrap the dough in a silicon mat or place in an oiled bowl and cover with a tea towel. Leave in a warm place to double in size.
3. When dough has doubled in size, unwrap and knock it back then roll into a log. Cut into pieces of equal weights and work into shape, placing your rolls onto a large baking tray as you go. They will grow in size a lot and you want them close enough to eventually touch each other. When all rolls are shaped, spray the tops of them with water and sprinkle with seeds then leave in a warm place to double in size.
4. When doubled in size, place into your cold oven. Turn the oven on to 200°C. Cook for 20 minutes, or until lightly browned.
Note
Bread improver is optional but does make for a nicer bread roll/loaf. The commercial brands available at the supermarket are full of nasties, so try to get your hands on a natural one – the brands I go between are Demeter Farm Mills and All About Bread. I buy through my co-op, or from a specialist bread shop. I have recently also discovered Simply No Knead is another fantastic natural bread improver.
You might also be interested in these recipes...