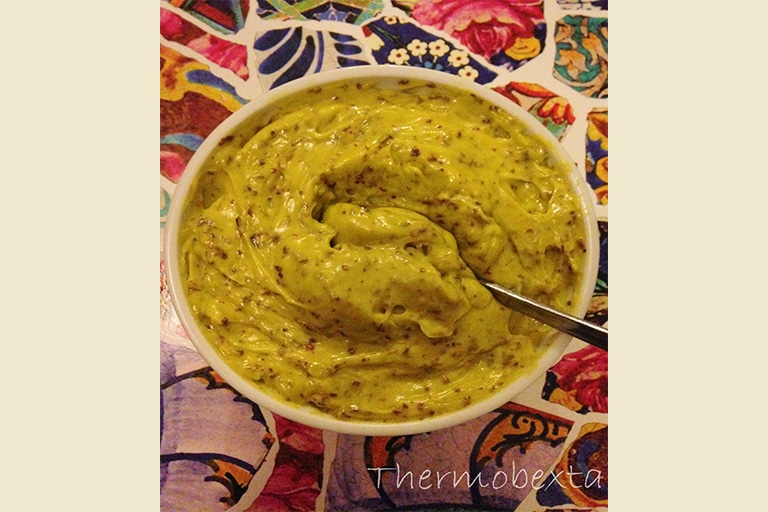 I bought a bottle of avocado oil a long time ago after hearing how good it is in mayonnaise.  It was soon lost and forgotten in my small, overfull pantry, until recently.  I made this mayonnaise the other night when I decided to make sushi for my girls' lunch boxes and realised I had limited filling ingredients – a flavoursome mayo was essential. This turned out even better than expected!  The oil I used was lime infused, which added another fantastic element and if you can find the same one, I highly recommend it.  If not, a plain avo oil will be fine, but I would suggest increasing the apple cider vinegar a little if so.  A friend has since made my recipe in this way and was hooked upon first taste.
20g apple cider vinegar
2 egg yolks
2 tsp dulse flakes
1/2 tsp Himalayan salt
200g avocado oil – I used the lime infused oil in this link, which I purchased at my local Coles, but if you can't find it, use a plain avocado oil and increase the vinegar by an extra 10g
1. Place vinegar, egg yolks, dulse and salt in mixer bowl. Combine for 10 seconds/speed 3/MC on.
2. Set butterfly in place on blades. Place lid on bowl, ensuring measuring cup is in place. Set time to 3 minutes and speed to 4 and very slowly, pour the oil onto the lid. Take the entire 3 minutes to add all of the oil.
3. Transfer mayonnaise to a sterilised jar and store in the fridge for around 2-3 weeks.
Tips
– Be sure to not pour the oil in too fast, if you do you risk splitting your mayonnaise. If this does happen, simply remove it from the bowl and place another egg yolk in the bowl (butterfly in place). Set to speed 4 and slowly add your split mayonnaise in the way you previously added the oil.
– This is a flavoursome and quite tangy mayonnaise that will add a delicious flavour to anything you'd normally use mayonnaise in.
You might also be interested in these recipes...