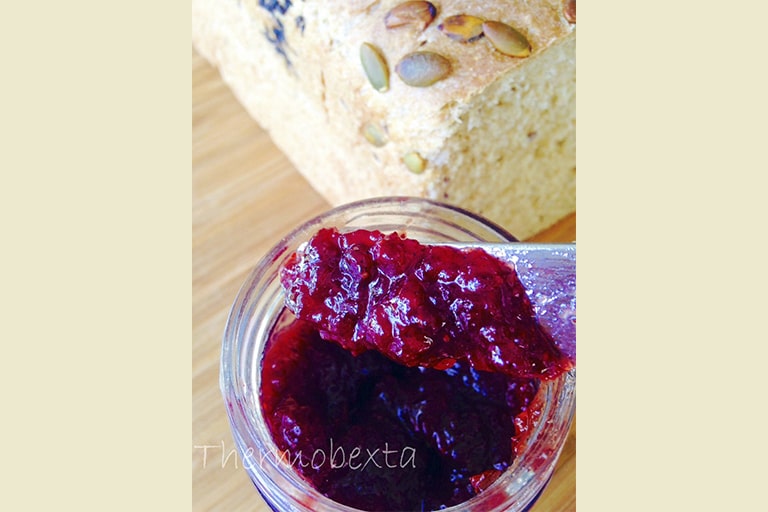 I came up with this recipe after trying a few recipes for Thermomix strawberry jam that were just way too sweet for us.
My Strawberry Vanilla Jam recipe uses a small amount of sugar, as far as jam recipes go. It has been incredibly popular amongst the Bexta's.
The Best Jars for Storing Thermomix Strawberry Vanilla Jam
I can't stress enough that when making jam it's important to use quality jars, using brand new lids each time you preserve a new batch of something in them.
Using cheap jars you run the risk of them cracking, which no one wants when they've just spent time making delicious jams!
Re-using lids means they are not going to be as reliable with holding an airtight seal as new lids. New lids are cheap and worth it, rather than risk contaminated preserves.
I have used Ball Mason jars for many years, which can be purchased at a reasonable price from Big W. You'll find their range of Ball products here. My preference in size for jam preserving are these jars. The lids for Ball jars are here.
More recently I've purchased some Kilner jars. They have a good reputation and have been great for me.
Water Bathing: How to get the Maximum Shelf Life from Homemade Jams
Water bathing is the process of boiling filled jars of freshly made hot jam (or other preserves) in plenty of water for an appropriate amount of time.
The purpose of water bathing is to kill any potential pathogens, ensuring nothing will grow in your jam while it's sitting unopened. It also drives out air, which can cause the food to spoil. This causes a vacuum seal.
Some equipment you will need for water bathing, is:
As above, good quality jars with new lids.
A large pot.
A round cake cooling rack (that fits in the bottom of your large pot).
A jar lifter.
A jam funnel.
For an easy to follow, comprehensive guide on exactly how to water bath, this is a great resource.
More Great Thermomix Jam Recipes
I have a couple of other jam recipes here on the website, both are equally as delicious as this one!
Spiced Fig, Honey and Lemon Jam
Thermobexta's Strawberry Vanilla Jam
With just enough sugar for the ingredients to morph in to jam, we're not overpowering the natural sweetness and flavour of the strawberries.
Ingredients
1

apple

quartered and cored (Note 1)

1

kg

strawberries

hulled (hulled weight)

300

g

coconut sugar or rapadura

(Note 2)

1

vanilla bean

quartered (or 1 heaped tsp vanilla powder, or 2-3 tsp vanilla extract)
Instructions
Place apple in mixer bowl. Blitz 4 seconds/speed 6/MC on.

Add strawberries and sugar. Roughly chop a few seconds/speed 4/MC on.

Add vanilla. Cook 45 minutes/steaming temperature/(or 115 for TM5 and TM6 users)/speed 2/MC off, with the basket on top of the lid to prevent splatter. (Note 3).

Pour jam into sterilised jars and put the lids on immediately. Leave to cool completely, up the correct way – do not turn them upside down. Store in the pantry until opening, then in the fridge after opening. For a longer shelf life, see Note 4.
Notes
Note 1: The apple is in this recipe as the pectin it contains will set the jam – leave the skin on. Green apples contain more pectin than red apples, but both types contain enough pectin to do the job, so use whichever you have on hand.
Note 2: I highly recommend using rapadura or coconut sugar in this recipe and do not replace with raw/white sugar. Rapadura and coconut sugar give the most divine flavour to the jam. Also, I have seen people having issues with the jam coming out the top of the bowl during cooking when sugars other than those recommended.
Note 3:

I have never made a batch of this jam that hasn't been ready after 45 minutes. If you want to be sure the texture is to your liking, place a saucer into the freezer before you start cooking. When the 45 minutes is up, spoon a small amount of jam onto your cold saucer. It will set almost immediately to the consistency the jam will be at when it cools. If you want it thicker, cook for an additional 5-10 minutes.
Note 4: Please ensure you use good quality jars, like Ball Mason (you can pick these up at Big W). For the longest shelf life, water bathe your filled jars of jam. To do this, place them into a large stock pot, cover with water and bring to the boil. Boil for 15-20 minutes. Leave in the pot until the water cools, or remove them very carefully and leave to cool on your kitchen bench. Preserves will last like this for a very long time. If you choose to not water bathe them, they will be fine to keep sealed in the pantry for at least 9 months.
Nutrition
Serving:
1
jar
|
Calories:
468
kcal
|
Carbohydrates:
121
g
|
Protein:
2
g
|
Fat:
1
g
|
Saturated Fat:
1
g
|
Sodium:
200
mg
|
Potassium:
575
mg
|
Fiber:
8
g
|
Sugar:
88
g
|
Vitamin A:
73
IU
|
Vitamin C:
199
mg
|
Calcium:
57
mg
|
Iron:
1
mg
Please note, nutrition information is calculated via an online recipe nutrition calculator and is a guide only. It is provided as a courtesy and is not guaranteed 100% accurate. I am not a nutritionist or trained health professional.
Tried this recipe?
Please rate it and leave feedback in the comments section below, or mention @Thermobexta or tag #Thermobexta on Instagram.
You might also be interested in these recipes...