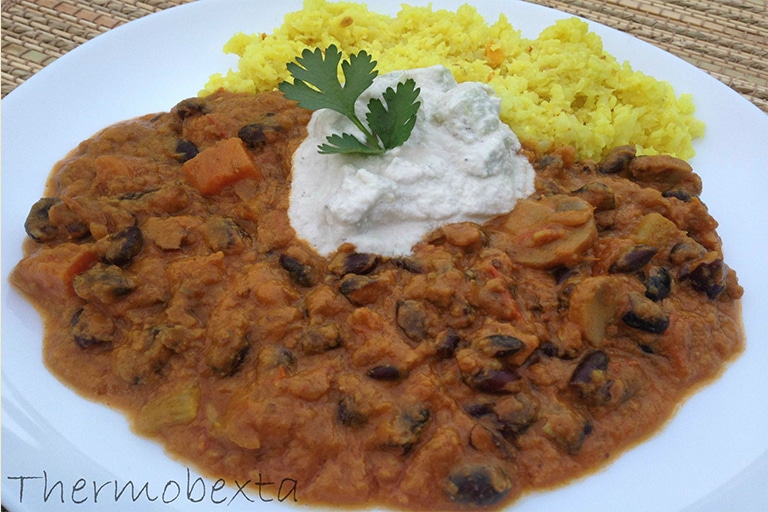 This is a mild, flavoursome curry that the whole family will love.  Black beans are nutritious and really suit this dish, but if you would like to use an alternative legume, I think that any would work well – just remember to adjust the cooking time in the first step if you do use something different.
for the curry…
250g dried black beans (or 2 x tins black beans, drained)
200g brown onions, halved
5 cloves garlic (25g)
40g extra virgin olive oil
2 tsp cumin seeds
2 tsp ground coriander
1 tsp turmeric
1/2 tsp ground ginger
1 1/2 tsp cinnamon
500g vine-ripened tomatotes, quartered
80g tomato paste
200g carrots, diced 1/2cm
100g celery, diced 1/2cm
200g mushrooms, sliced
1 tsp salt
270ml Ayam brand coconut cream
for the raita…
160g cashews, soaked for 2-3 hours then drained and rinsed
120g water
20g lemon, juice only
1/4 tsp salt
1 Lebanese cucumber, diced into 1/2cm pieces
handful fresh mint (optional)
for the curry…
1. Firstly, you will need to cook the black beans (skip this step if using canned beans). Place beans in internal steaming basket and set basket in place inside mixer bowl. Fill bowl with water to the maximum fill point (see markings on the inside of the bowl). Heat for 12 minutes/100/speed 3/MC on, then leave the beans sitting in the water with the lid on for 1 hour. After this time, remove basket from bowl and discard cooking water. Rinse beans then replace basket (still containing the beans) in bowl and fill the bowl with fresh water to the maximum fill point again. Cook for 20 minutes/100/speed 3/MC on. Remove basket from bowl and set aside. Discard cooking water.
2. Place onions, garlic and oil in bowl. Chop for 5 seconds/speed 5/MC on. Scrape down sides of bowl then saute for 5 minutes/steaming temperature/speed 1/MC off.
3. Add cumin, coriander, turmeric, ginger and cinnamon. Cook for 1 minute/steaming temperature/speed 1/MC off.
4. Add tomatoes. Chop for 5 seconds/speed 4/MC on.
5. Add tomato paste, carrots, celery, mushrooms and salt. Cook for 20 minutes/100/reverse/speed 1/MC on.
6. Add coconut cream and beans. Use a spatula to push the beans down under the surface of the curry. Cook for 10 minutes/steaming temperature/reverse/speed soft/MC off, with the basket on top of lid.
7. Transfer curry to a thermal server to thicken up while you make the raita and cauliflower rice.
To make the Raita…
1. Place cashews, water, lemon juice and salt into mixer bowl. Process for 1 minute/speed 5/MC on. Scrape down sides of bowl.
2. Process for 2 minutes/speed 7/MC on, stopping when necessary to scrape down sides of bowl.
3. If using mint, add this now and blitz on speed 6/a few seconds/MC on, until it is chopped and combined.
4. Add cucumber and mix for 8 seconds/reverse/speed 3/MC on.
The recipe for the cauliflower rice in my photograph above can be found here.  I have substituted the parsley with 15g fresh turmeric to suit this dish better 🙂
You might also be interested in these recipes...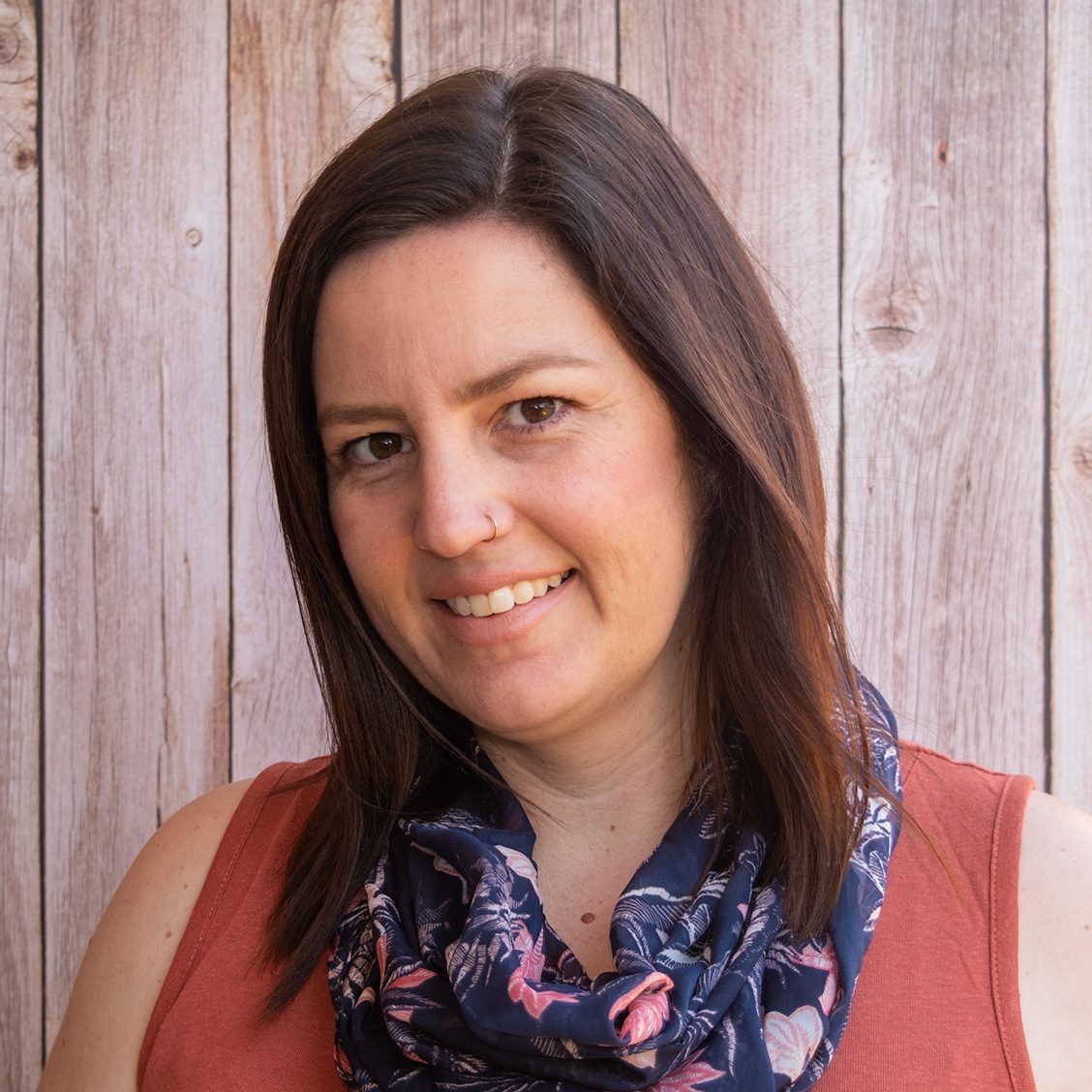 Hi, I'm Bec
I specialise in great tasting vegetarian Thermomix recipes and cater for a wide range of dietary needs. I love sharing here and in my cookbooks my healthy, delicious recipes (of course the odd treat too!) Whether you're looking to ignite your thermo mojo, or just after some new, really tasty family friendly recipes, there really is something here for everyone