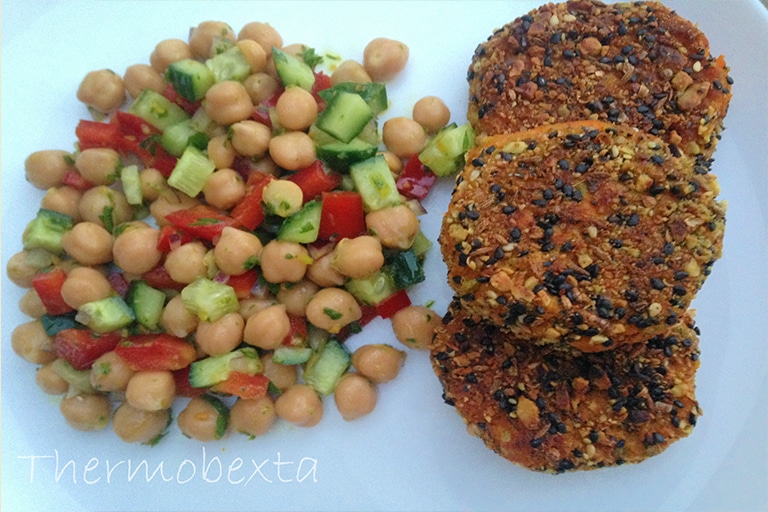 his is a fresh tasting, really lovely meal.  The dukkah on the fritters is amazing!
Fritters
500g carrots, roughly chopped
5 spring onions, thinly sliced
1 tsp sweet paprika
big handful of coriander
2 eggs
25g coconut flour
60g pistachio dukkah
coconut oil, for frying
Chickpea Salad
350g cooked chickpeas (or 1.5 cans of chickpeas, drained and rinsed well)
100g red capsicum, diced into small pieces
1 lebanese cucumber, diced into small pieces
20g red onion, diced into very small pieces
3cm length of fresh turmeric, peeled
1 garlic clove
1 strip lemon rind
large handful of parsley
small handful of coriander
50g extra virgin olive oil
1/2 lemon, juice only (20-30g)
big pinch of salt
pepper, to taste
1. Place carrots in steaming basket then set basket in place inside bowl, along with 600g water. Cook for 15 minutes/steaming temperature/speed 4/MC on. Remove basket from bowl and set aside to cool while you make the salad. Discard water.
2. To make the salad, place lid on mixer bowl and set to speed 8. Through the hole in the lid, add turmeric, garlic, lemon rind, parsley and coriander. Leave blades running for 20 seconds. Add all remaining salad ingredients. Mix for 30 seconds/reverse/speed 1/MC on. Remove from bowl.
3. Into mixer bowl, place carrots, spring onions, paprika, coriander and eggs. Combine for 6 seconds/speed 5/MC on.
4. Add coconut flour. Mix for 10 seconds/reverse/speed 3/MC on. Shape mixture into 15 round, fairly flat portions.
5. Place dukkah into a small bowl and coat both sides of each fritter with it.
6. Heat a large frying pan and add a good dollop of coconut oil to it. When it has melted, use it to coat the bottom of the frying pan then carefully place the fritters in (you may have to cook them in two batches). Cook for 2-3 minutes on each side.
7. Serve fritters with chickpea salad.
You might also be interested in these recipes...