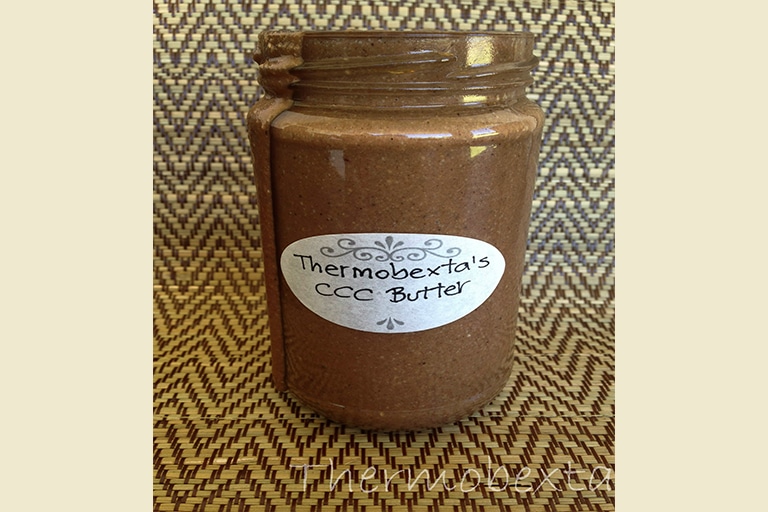 Chocolate + Nut butter =  A match made in heaven, really.  The subtle hint of cinnamon takes this to the next level. Try it, you won't be sorry! This can be made either into a spreadable nut butter, or a mylk chocolate block!
300g cashews
60g cacao butter
20g cacao powder
1/2 tsp cinnamon
15g raw honey
1/4 tsp himalayan salt
up to 50g macadamia oil, as required
1. Place cashews in a dry frying pan and toast until they begin to change colour. Transfer to mixer bowl.
2. Add cacao butter, powder, cinnamon, honey and salt. Process for 30 seconds/speed 8/MC on. Scrape down sides of bowl.
3. Process for 3 minutes/speed 5-6/MC on, stopping a few times to scrape down sides of bowl.
4. Add 30g of the macadamia oil and process for 20 seconds/speed 5/MC on. Scrape down of bowl and add remaining oil, if needed.
5. Blend for 1 minute/speed 5/MC on, pausing half way through to scrape down sides of bowl.
6. Transfer to a clean jar and store in a cool, dark place. This is best stored at room temperature to keep it easily spreadable, but if you live in a very hot climate, it will last much longer stored in the fridge.
Mylk Chocolate Block variation: For the ultimate treat, reduce the salt to a big pinch and add only 20g of the macadamia oil. When finished all processing steps, transfer the mixture to a small, lined tray. Refrigerate until set then cut into pieces and enjoy! This is much creamier and not as rich as regular home made dark chocolate.
You might also be interested in these recipes...