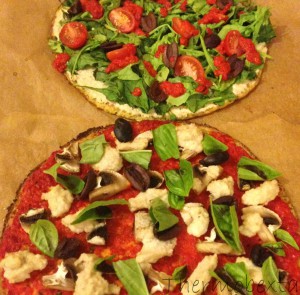 This is a great low carb option for pizza – something that is usually so high in carbs!  The bases are grain free and dairy free and if you use my toppings, the whole meal is free of these things actually.  Oh and what I love about my recipe is that you can pick them up with your hands, you don't have to use a knife and fork (unlike most other recipes I have seen).
Serves 2

Roasted capsicum sauce
1 red capsicum, halved, cored and rubbed with a little oil (you should have around 200g flesh)
1 clove of garlic, rubbed with a little oil
10g extra virgin olive oil
5g apple cider vinegar
big pinch of salt
cracked black pepper, to taste
Cashew cheeze
180g raw cashews, soaked for 2-3 hours then drained and rinsed
100g filtered water
30g lemon juice
1/2 tsp salt
Pizza bases
600g cauliflower, broken into florets
3 cloves garlic, peeled
2 spring onions, trimmed and cut into 8-10cm lengths
1/2 tsp Herbamare
1 tsp dried basil
1 tsp dried oregano
2 eggs
Other toppings
basil leaves
baby spinach
rocket
10 kalamata olives, halved lengthways
5 cherry tomatoes, halved lengthways
30g mushrooms, halved and sliced


1. Preheat oven to 200°C. Line 3 trays with parchment paper – rub a little oil onto the parchment paper on two of the trays.
2. To make the Roasted capsicum sauce, place capsicum (skin side up) and garlic, onto the tray that you didn't oil. Roast for 10 minutes, then remove garlic.
3. Roast the capsicum for 10 minutes longer then remove from oven and allow to cool a little. When cool enough to touch, peel and discard the skin.
4. Tear capsicum into a few pieces and place in mixer bowl, along with oil, vinegar, salt and pepper. Add the roasted garlic by squeezing it from its skin. Blitz for 10 seconds/speed 5/MC on. Scrape down sides of bowl. Repeat. Remove from bowl and set aside until needed.
5. To make Cashew cheeze, place all ingredients in mixer bowl. Blitz for 2 minutes/speed 8/MC on, stopping to scrape down sides of bowl as needed. Remove from bowl and set aside until needed.

6. To make the Pizza bases, place half of the cauliflower florets in mixer bowl. Process for 7 seconds/speed 5/MC on. Transfer to steaming basket. Repeat with remaining cauliflower.
7. Rinse bowl and add 500g water. Set basket in place inside bowl. Cook for 10 minutes/100/speed 3/MC on. After this time, thoroughly stir contents with a spatula and cook for a further 6 minutes/100/speed 3/MC on.
8. Remove basket from bowl and discard remaining water. Set basket aside to allow cauliflower to cool down.
9. Meanwhile, place lid on mixer bowl and set to speed 8. Drop garlic and spring onion in through the MC hole, leave blades running for 6-8 seconds. Scrape down sides of bowl.
10. When cauliflower is cool enough to touch, pour it into a nut milk bag. Pull the drawstring to close the bag and squeeze every bit of liquid you can out of it – you will be surprised at how much comes out!
11. Add cauliflower to the chopped garlic and onion in mixer bowl. Add Herbamare, basil, oregano and eggs. Process for 3 seconds/speed 4/MC on. Scrape down sides of bowl. Repeat.
12. Divide mixture in two and place each of the halves onto the remaining two trays. Use a spatula to form 2 x 20cm thin disks.
13. Place trays in oven and cook for 20 minutes then remove from oven and carefully turn each base over. They are now ready to top!

14. Base 1 – Spread with 70g cashew cheese, top with torn basil leaves, baby spinach, rocket, tomatoes and half of the olives then dollop with 1-2 tbs red capsicum sauce in small amounts. Bake for 5 minutes.
15. Base 2 – Spread with remaining red capsicum sauce, top with mushrooms and remaining olives, then dollop with cashew cheese. Bake for 8 minutes then scatter over some torn basil leaves.
Notes
Use the leftover cashew cheese as a dip, an accompaniment to tacos, using my Meat-free Taco Mince, thin it out with water to make a dressing for salads, or use in place of cheese in any recipe that suits.
You might also be interested in these recipes...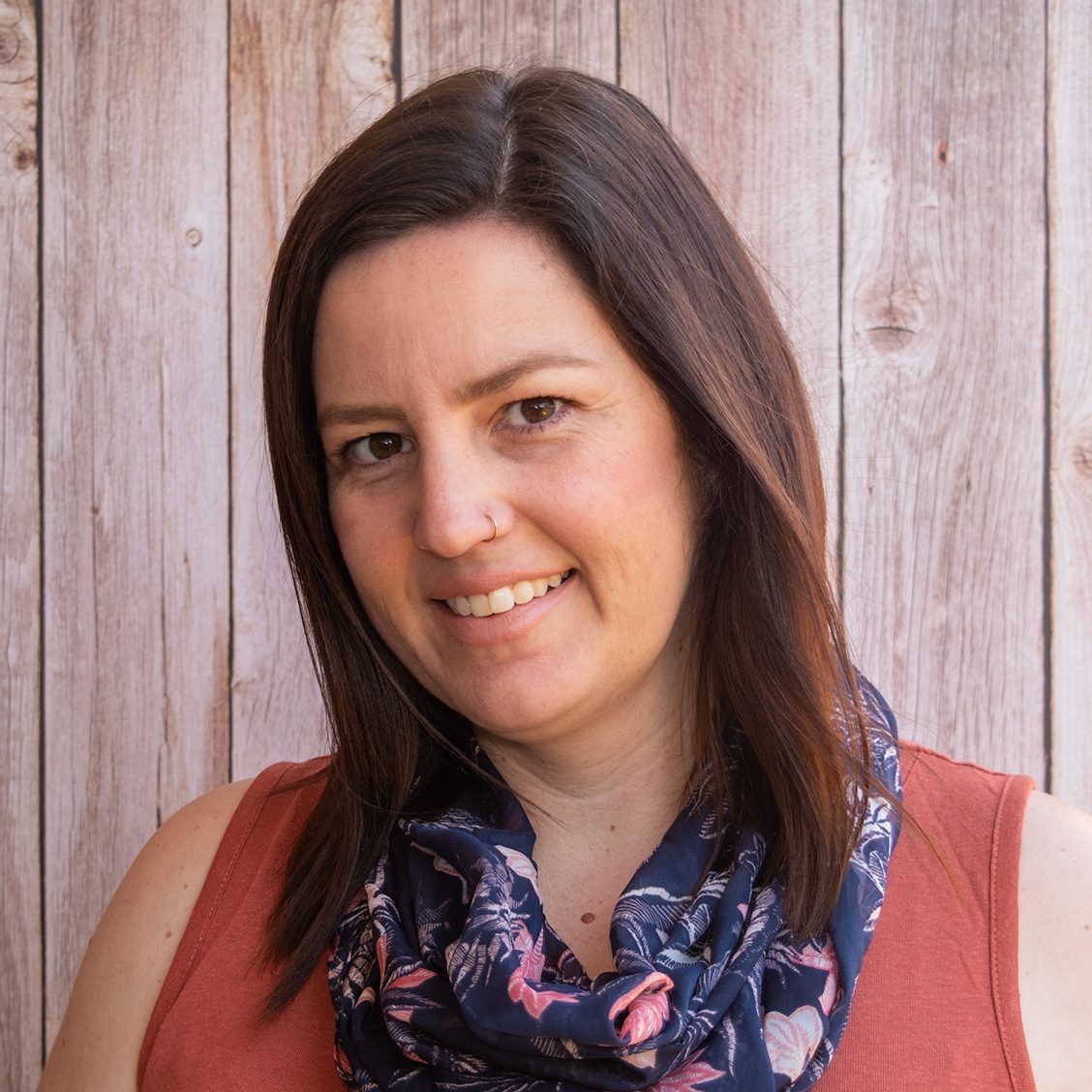 Hi, I'm Bec
I specialise in great tasting vegetarian Thermomix recipes and cater for a wide range of dietary needs. I love sharing here and in my cookbooks my healthy, delicious recipes (of course the odd treat too!) Whether you're looking to ignite your thermo mojo, or just after some new, really tasty family friendly recipes, there really is something here for everyone