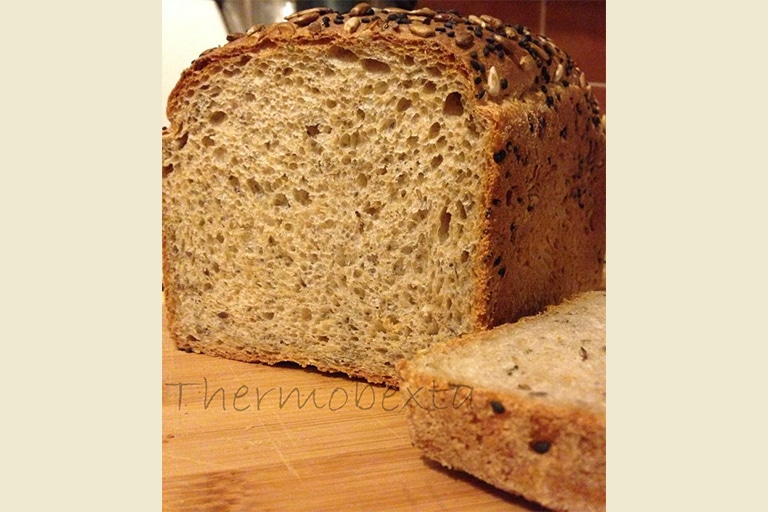 The Thermomix makes awesome spelt bread (actually bread of any kind!) With the ease at which it kneads, making bread is quick to get started and something that I really enjoy.
I love the bread making process. I love trying different mixes of ingredients and have done an awful lot of experimenting with it over the years.
Back when my kids were really little and I decided our diet needed an overhaul, bread was one of the first things I stopped buying.
After making an awful loaf of bread, I decided we would just go without. But as time went on, my partner brought home a loaf or two of store bought bread. It was then that I decided I needed to work out how to make a great loaf!
It didn't take long for me to master regular wheat bread. I then started playing with spelt flour. After a few loaves, I came up with this recipe. It is very good.
First I published it on the Thermomix Recipe Community and it was incredibly popular there. So when I started blogging, I removed my recipes from the Recipe Community and re-published this Thermomix spelt bread recipe here.
Wholemeal and White Versions
The recipe as written is for a wholemeal loaf of bread. Be sure to check the Notes underneath the recipe if you'd prefer a white loaf.
The wholemeal version does use some white flour, as using all wholemeal flour results in a very heavy brick loaf of bread.
Best Ever Spelt Bread
This is a fantastic recipe for an amazing spelt bread! With both white and wholemeal options, you can make it your way.
Ingredients
*See Notes underneath recipe for a white loaf*

2

tbs

chia seeds

400

g

lukewarm water

2

tsp

dried yeast

150

g

wholemeal spelt flour

(Note 1)

400

g

unbleached white spelt flour

2

tsp

salt

2

tsp

natural bread improver

(Note 2)

1

tsp

honey

20

g

olive oil

50

g

linseeds
Instructions
Firstly, combine chia and 120g of the water in a glass and set aside. It should sit for a little bit to form a gel before adding to the other ingredients. By the time you get the rest of your ingredients out and ready and it comes time to add it, it is about right.

Into mixer bowl, place remaining 280g water, yeast, wholemeal and white flours, salt, bread improver, honey, oil, linseeds and chia gel. KNEAD/4 minutes/MC on. The dough may be quite sticky.  If it is, don't add more flour. Sticky dough = fluffy bread.

Remove dough to either a silicon bread mat or a large oiled bowl. Either wrap in the mat or cover the bowl with glad wrap and leave in a warm place to double in size.

Oil your hands then knock all air out of the dough. Transfer to a bread tin, spray the top with water using a spray bottle (this will give a crunchy crust) and if you would like seeds on top, sprinkle them on now. Cover the top of the bread tin and leave to double in size again.

When dough has doubled in size, the bread is ready to cook. Spray the surface with water again then place in the oven (do not pre-heat oven when making bread). Turn oven on to 200°C. Bake for 30 minutes from the time you close the oven door.

When cooked, turn bread out onto a cooling rack straight away and leave to cool completely before slicing.
Notes
Note 1: For a white loaf, replace wholemeal and white flour above with 590g unbleached white spelt flour. You'll notice that this is not a direct swap (weight) and that is because wholemeal flours absorb more water than white flours do.
Note 2: Bread improver is something I avoided for a long time in bread making, as the brands I saw at the supermarkets contained ingredients I didn't want to use for my family. Then, I discovered that you can get natural bread improvers. I have been using them ever since, as they make a big difference to the finished product. The brands I use are Simply No Knead, Demeter Farm Mills and All About Bread.
Nutrition
Serving:
1
loaf
|
Calories:
2718
kcal
|
Carbohydrates:
435
g
|
Protein:
90
g
|
Fat:
66
g
|
Saturated Fat:
6
g
|
Sodium:
4711
mg
|
Potassium:
1125
mg
|
Fiber:
93
g
|
Sugar:
7
g
|
Calcium:
342
mg
|
Iron:
29
mg
Please note, nutrition information is calculated via an online recipe nutrition calculator and is a guide only. It is provided as a courtesy and is not guaranteed 100% accurate. I am not a nutritionist or trained health professional.
Tried this recipe?
Please rate it and leave feedback in the comments section below, or mention @Thermobexta or tag #Thermobexta on Instagram.
You might also be interested in these recipes...