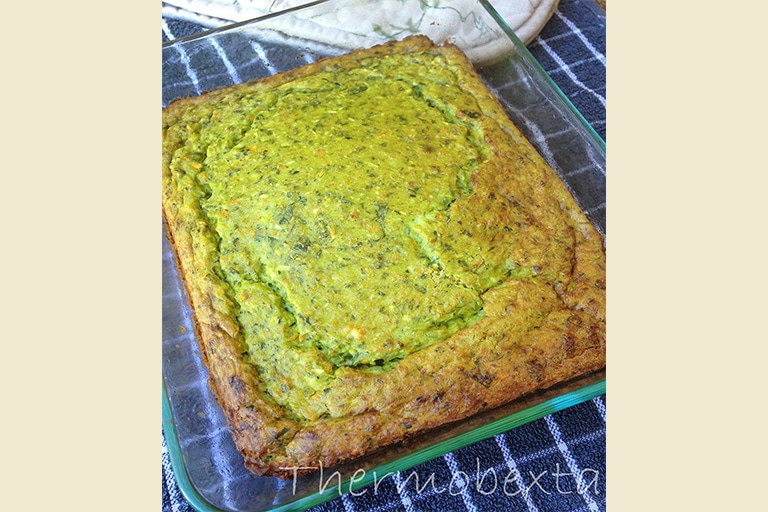 This recipe also appears in my cookbook, along with a delicious collection of other great main meals, Main Meals Made Easy, which you can check out here. The version in the book also include dairy free and 'Make it Meaty' variations.
This is my delicious version of zucchini slice – terrific eaten hot or cold, for any meal of the day!
600g zucchini, roughly chopped
150g carrot,roughly chopped
70g onion, peeled, quartered
200g tasty cheddar cheese or feta, diced into 1.5cm cubes (dairy free version available in Main Meals Made Easy)
30g baby spinach
60g besan (chickpea flour) or spelt flour
1 tsp baking powder
6 eggs
pepper, to taste
1. Preheat oven to 180°C.  Grease an oven safe dish (I use a Pyrex dish, base measurements 17cm x 22cm). Set aside.
2. Place zucchini in mixer bowl. Chop for 10 seconds/speed 4/MC on, or until no large chunks of zucchini remain. Transfer to a nut milk bag and squeeze as much moisture from it as you can.
3. Into mixer bowl, place carrot, onion, cheese and spinach. Blitz for 30 seconds/speed 4/MC on.
4. Add zucchini, eggs, flour, baking powder and pepper. Combine for 30 seconds/reverse/speed 4/MC on.
5. Transfer mixture into your greased dish and bake for 45 minutes, or until golden and set.
6. Enjoy with salad or cooked veges, for a delicious meal.
You might also be interested in these recipes...