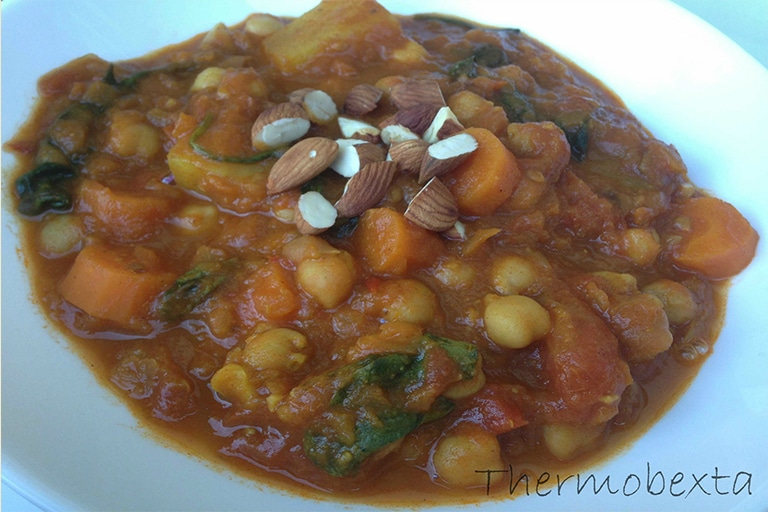 This is a rich, hearty stew filled with warm, Moroccan inspired flavours.  It will be a regular on our dinner table this winter!
1 onion, quartered
3 garlic cloves
20g extra virgin olive oil
3 tsp sweet paprika
2 tsp ground cumin
2 tsp ground ginger
1 tsp cinnamon
1 tsp turmeric
500g vine ripened tomatoes, halved
150g tomato paste
4 medjool dates, deseeded and diced into small pieces
1/2 tsp himalayan salt
250g sweet potato, peeled, cut into large bite-sized pieces
150g carrot, peeled and sliced into 1cm pieces
400g tin chickpeas, drained, rinsed
60g baby spinach
handful of almonds, roughly chopped and toasted
1. Place spinach into a thermal server. Set aside.
2. Place onion, garlic and oil into mixer bowl. Chop for 5 seconds/speed 5/MC on. Saute for 5 minutes/steaming temperature/speed soft/MC off.
3. Add paprika, cumin, ginger, cinnamon and turmeric. Saute for 1 minute/steaming temperature/speed soft/MC off.
4. Add tomatoes, tomato paste, dates and salt. Cook for 5 minutes/100/speed 2/MC on.
5. Add sweet potato and carrots. Cook for 15 minutes/100/reverse/speed soft/MC on.
6. Add chickpeas. Cook for 5 minutes/100/reverse/speed soft/MC on.
7. Pour contents of the bowl into thermal server and place the lid on for 5 minutes to allow the hot stew to soften the spinach.
8. Use a spatula or large spoon to combine the spinach with the stew. Sprinkle with almonds.
9. Enjoy with rice, cauliflower rice, or in a bowl on its own!
Tips
– To always have chickpeas on hand, I soak a few cups of dried chickpeas overnight then drain, place in a large saucepan and cover liberally in water and boil until they are cooked (this will often take a couple of hours). Measure them into 240g lots and freeze in zip lock bags with some of the cooking water in each bag – each bag is equal to 1 can of chickpeas.
– The tomato paste recipe I have linked in the ingredients list has salt to add flavour, if you use a different tomato paste, you may need a little extra salt to your stew.
You might also be interested in these recipes...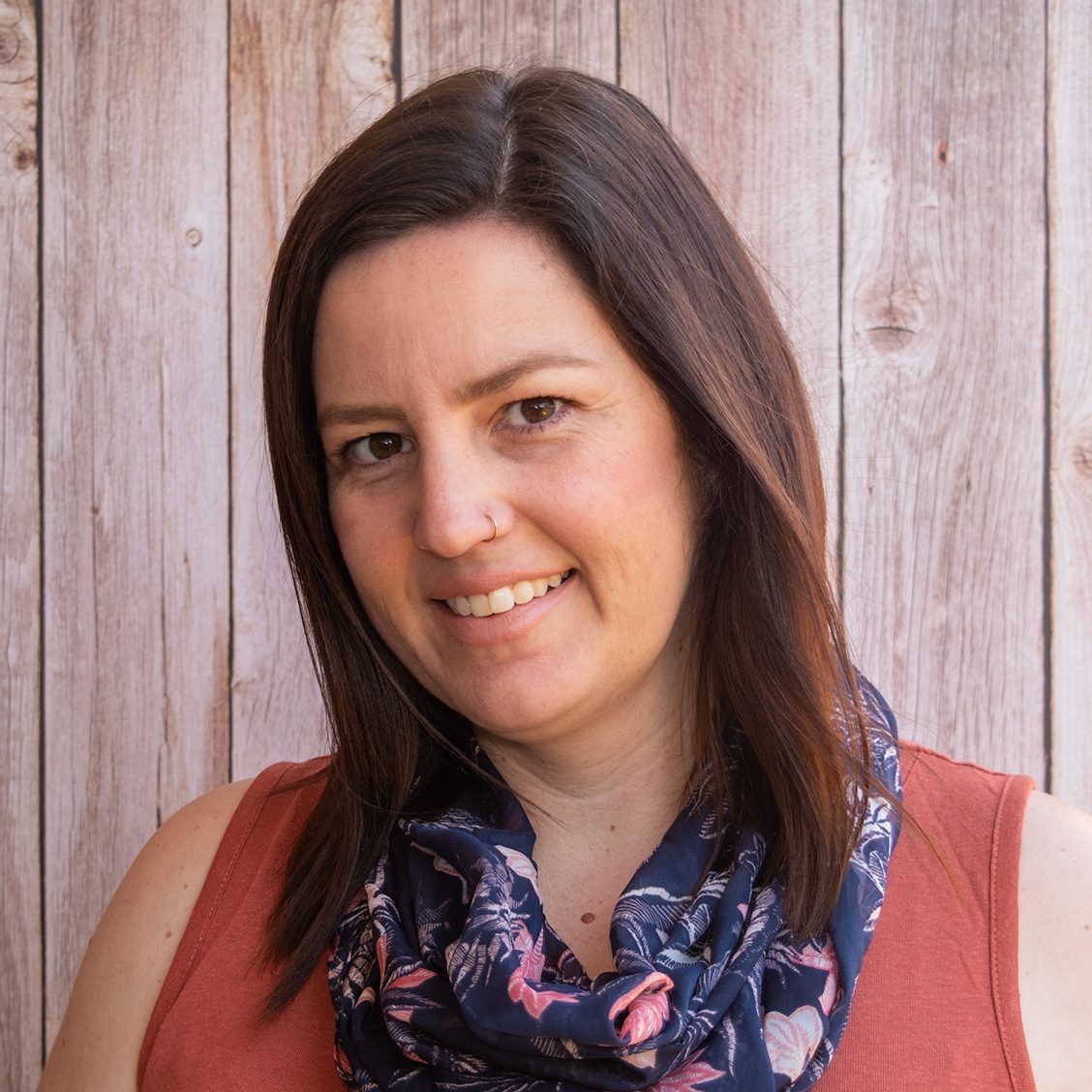 Hi, I'm Bec
I specialise in great tasting vegetarian Thermomix recipes and cater for a wide range of dietary needs. I love sharing here and in my cookbooks my healthy, delicious recipes (of course the odd treat too!) Whether you're looking to ignite your thermo mojo, or just after some new, really tasty family friendly recipes, there really is something here for everyone