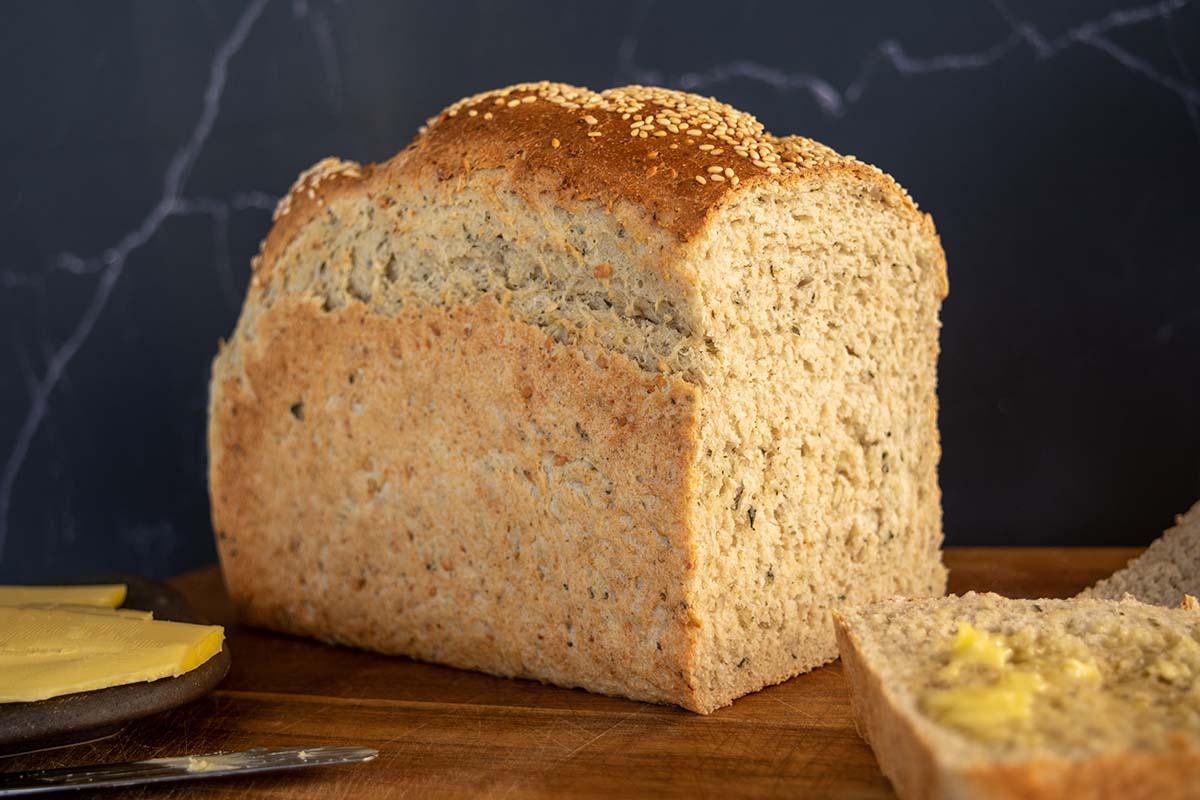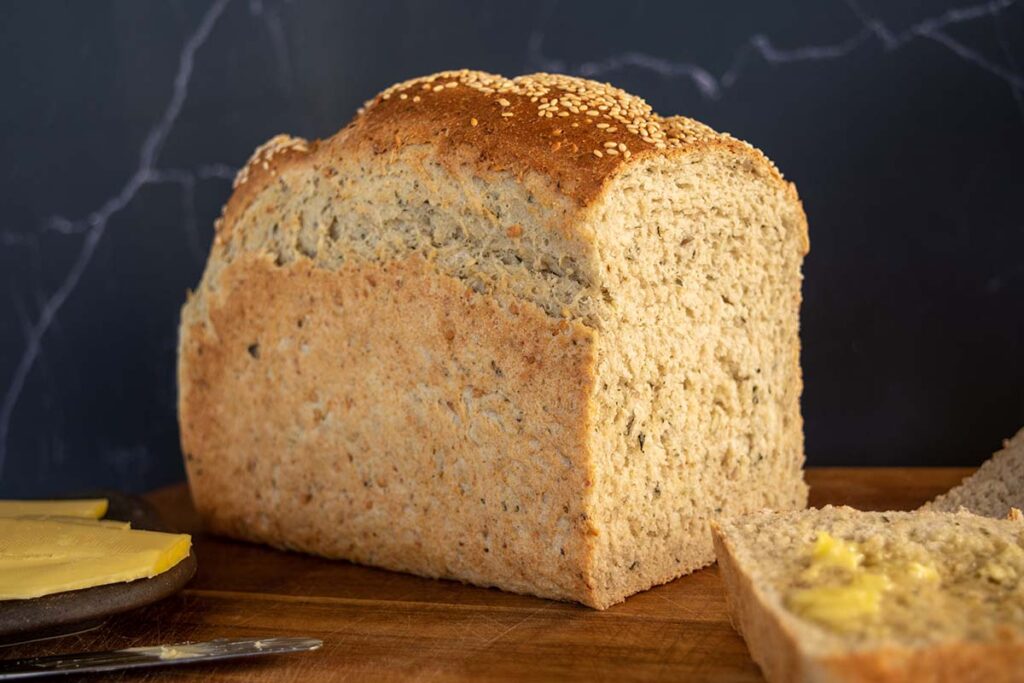 Super Seeded Bread is a Thermomix multigrain bread loaf so soft and fluffy! It's a fantastic everyday bread.
The bread is great for sandwiches, toast, toasted sandwiches. And like all bread, if it isn't eaten before it goes stale, you can blitz what's left into breadcrumbs and keep them in the freezer ready for use… Not that home made bread ever lasts more than a day or so around here!
With a combination of freshly milled wheat grain, white bakers flour and of course plenty of seeds, this bread is nutritious and filling! If you can't source whole wheat grains, you can replace with the same quantity of wholemeal flour. Just bear in mind that freshly milled grain is more thirsty, so if replacing it with flour, have a feel of the dough after it's been kneading a couple of minutes and add a dash more flour if needed.
You can use any mix of seeds, just stick to the 150g combined weight of them. Here are some suggestions you can make combinations out of – use one, or a mix of a few or even all!
buckwheat
hemp seeds
sesame seeds
pepitas
sunflower seeds
linseeds
chia (I wouldn't use more than a couple of tablespoons of this)
Whatever the mix you make, I hope you absolutely love this Thermomix wholemeal multigrain bread!
Looking for more Thermomix bread recipes?
I really really love making bread. It takes a little time, but the hands-on time is very minimal and freshly made bread, hot out of the oven, is well worth the wait!
Here are some more brilliant bread recipes you can find on the website: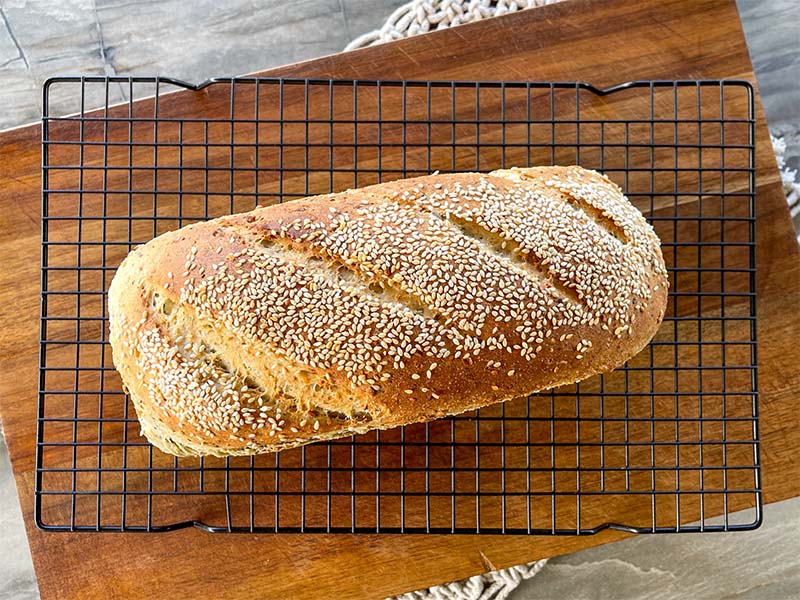 This recipe makes a large loaf – you will need a 900g bread tin, or two smaller tins.
Super Seeded Bread – wholemeal multigrain
A fantastic, soft and fluffy loaf perfect for everyday!
Ingredients
200

g

wheat grain

Note 1

400

g

water

lukewarm

3

tsp

dried yeast

450

g

bakers flour

150

g

seeds of your choice

(For the loaf pictured I used 50g linseeds, 30g buckwheat, 30g sunflower seeds, 20g pepitas, 20g black sesame seeds)

30

g

olive oil

10

g

honey

Note 2

2

teaspoons

natural bread improver

Note 3

2

tsp

salt
Instructions
Place wheat grain in mixer bowl. Mill 2 minutes/speed 9/MC on.

Add (in this order) water, yeast, flour, seeds, oil, honey, bread improver and salt. KNEAD/6 minutes/MC on.

Transfer dough to either a silicon bread mat or a large oiled bowl. Either wrap in the mat or cover the bowl with glad wrap and leave in a warm place to double in size.

When dough has doubled in size, knock all air out of it and shape into a loaf. Transfer dough to bread tin, spray the top with water from a spray bottle (this assists with a crunchy crust) and if you would like seeds on top, sprinkle them on now. Cover the top of your bread tin and leave to double in size again.

When dough has doubled in size, the bread is ready to cook. Spray the surface with water again then place the bread tin into your oven – do not preheat oven when making bread, heating the oven with the bread in it gives one last quick rise. Turn oven on to 200°C and cook for 30 minutes from the time you close the oven door.

When cooked, turn bread out onto a cooling rack immediately. Try to resist cutting until completely cool.
Notes
1. If you can't get wheat grain, replace with wholemeal flour and skip Step 1, simply add with all other ingredients.
2. VEGAN: Replace honey with sugar.
3. Bread improver is not essential in bread making, but it does help produce a very nice loaf of bread that will stay fresh for longer.  You can find natural ones in health food stores and at specialty bread shops, I recommend these over the ones you can get at the supermarket, which are loaded with nasties.  The brands I recommend, are Simply No Knead, All About Bread and Demeter Farm Mills.
Nutrition
Serving:
1
loaf
|
Calories:
3532
kcal
|
Carbohydrates:
554
g
|
Protein:
115
g
|
Fat:
105
g
|
Saturated Fat:
12
g
|
Sodium:
4748
mg
|
Potassium:
2771
mg
|
Fiber:
84
g
|
Sugar:
13
g
|
Vitamin C:
1
mg
|
Calcium:
541
mg
|
Iron:
37
mg
Please note, nutrition information is calculated via an online recipe nutrition calculator and is a guide only. It is provided as a courtesy and is not guaranteed 100% accurate. I am not a nutritionist or trained health professional.
Tried this recipe?
Please rate it and leave feedback in the comments section below, or mention @Thermobexta or tag #Thermobexta on Instagram.
You might also be interested in these recipes...