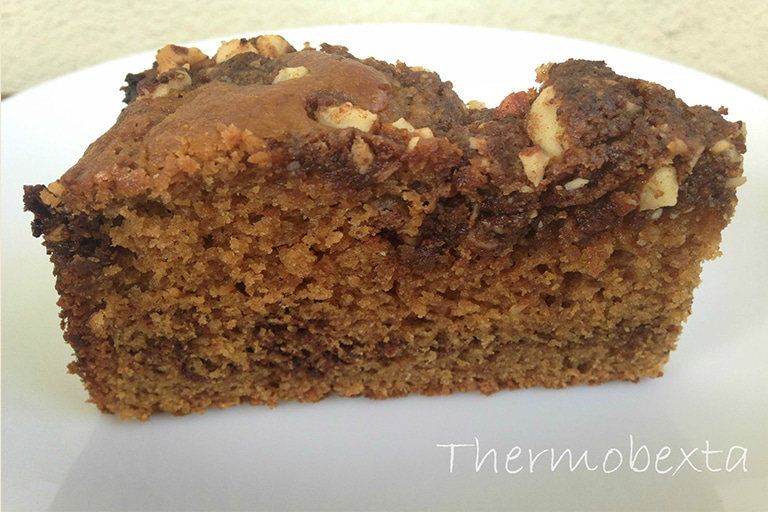 This delicious cake is perfect for morning or afternoon tea with friends or just a treat for the family! If you like cinnamon, you will love this. Although there are three components, it is a basic recipe that produces a special result.
Cinnamon sugar
20g rapadura sugar
2 tsp cinnamon
1 large Granny Smith apple, cored and quartered (optional)
Crumble
60g salted butter
50g rapadura sugar
50g almonds
30g unbleached white spelt flour
1 tsp cinnamon
Cake
75g salted butter
200g milk
2 eggs
1 tsp vanilla powder
250g unbleached white spelt flour
70g rapadura sugar
3 tsp baking powder
pinch of salt
1. Preheat oven to 180°C. Line the base and grease the sides of an 18-20cm round or square cake tin.
2. Place Cinnamon sugar ingredients in mixer bowl. Combine for 5 seconds/speed 5/MC on – if you are including apple, set to speed 6 instead. Remove and set aside.
3. Place all Crumble ingredients in mixer bowl. Combine for 10 seconds/speed 5/MC on. Remove and set aside (in a separate bowl to the cinnamon sugar).
4. To make the Cake batter, place butter in mixer bowl. Melt for 2 minutes/60/speed 2/MC on.
5. Add milk, eggs and vanilla. Combine for 5 seconds/speed 4/MC on.
6. Add flour, sugar, baking powder and salt. Combine for 10 seconds/speed 4/MC on.
7. Pour half of the cake batter into prepared tin. Use a spatula to spread and cover entire base. Top with cinnamon sugar, ensuring a fairly even coverage.
8. Top with remaining cake batter. Use your spatula to carefully spread to cover the cinnamon sugar completely. Use a butter knife to gently "swirl" the layers of cake with cinnamon sugar.
9. Pinch off pieces of the crumble and scatter it over the surface of the cake as evenly as possible.
10. Bake for 35-40 minutes, or until golden and a skewer inserted into the middle comes out clean.
11. Leave in the tin for 5 minutes before removing onto a cake cooling rack. Serve warm or cold.
You might also be interested in these recipes...