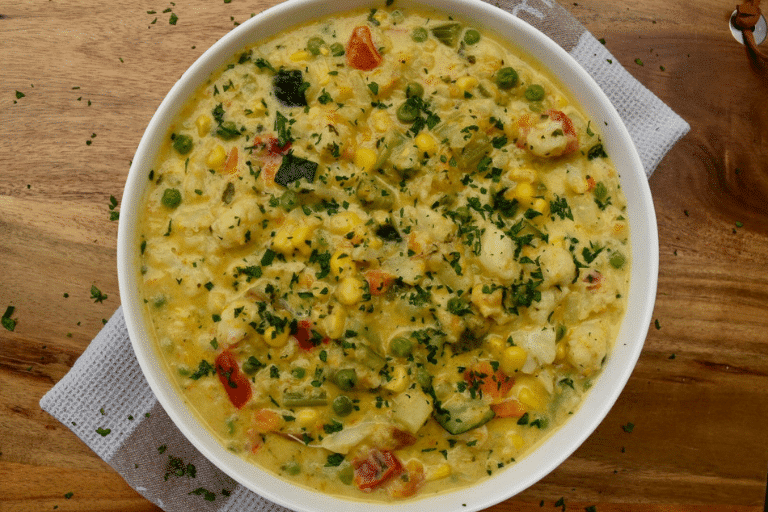 My Thermomix creamy vegetable casserole is simple yet delicious, dairy free and so creamy!  Best of all – it's versatile 🙂  I have served it on rice, on pasta, in a dish on it's own and my favourite – AS A PIE FILLING!!  It is the perfect consistency for any of these things.
4 garlic cloves
handful of fresh herbs – basil or parsley are my favourites to use
160g leek, sliced
30g butter, ghee or extra virgin olive oil
200g carrot, diced
80g parsnip, diced
80g celery, sliced
70g red capsicum, diced
1 tbsp vegetable stock concentrate
270ml tin coconut cream
salt and pepper
200g cauliflower, broken in to small florets
150g zucchini, diced
100g corn kernels
100g frozen peas
1. Place garlic and herbs in mixer bowl. Chop for 5 seconds/speed 7/MC on. Scrape down bowl.
2. Add leek and butter. Saute for 5 minutes/steaming temperature/speed 1/MC off.
3. Add carrots, parsnip, celery, capsicum, stock paste and coconut cream. Cook for 10 minutes/100/reverse/speed soft/MC on.
4. Taste and season with salt and pepper if required. Add cauliflower, zucchini, corn and peas. Stir to incorporate. Cook for 8 minutes/100/reverse/speed 1/MC on.
5. Serve with rice or pasta, or use as a pie filling – you can use a pastry top and bottom, or top with mashed sweet potato.
You might also be interested in these recipes...